Like most destination cities, Santa Cruz enjoys its well-known touristed spots as well as its hidden gems. From concealed gardens to a killer swimming hole, these "secret" spots are those special places usually only revealed by a well-informed friend. We've collected a few of our favorites below. Seek them out and you'll soon be the one in the know!
Garden of Eden
Henry Cowell Redwoods State Park With a name like Garden of Eden, you know it's good. The biblical honorific refers to a series of magnificent pools that form along the San Lorenzo River as it winds its way through redwood forests. Getting there is half the fun. You'll park at the Ox Trail lot and trounce down a short path until you come to railroad tracks which, after turning right, lead to signs that prohibit alcohol, dogs, and diving. These signs mark a short path that descends to a picturesque grotto swimming in beauty.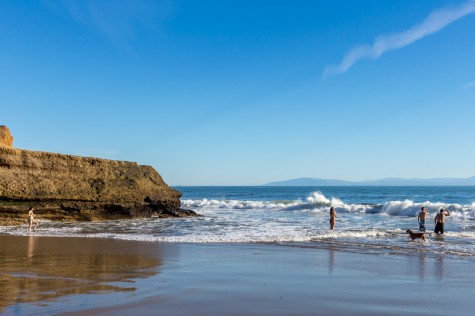 Sunny Cove Beach
This local favorite is exactly what its truth-in-advertising name suggests: a gorgeous sunny cove that's sheltered by coastal cliffs and obscured from the nearby road. You'll catch locals frolicking amidst the surf and sunning themselves on the large sandy expanse. Extend your stay by snagging a cottage at Ocean Echo Inn which sits at the entrance to the cove.
Rooftop Garden
Santa Cruz Museum of Art + History seeks out this hidden gem that sits high above Downtown streets offering a peaceful oasis from the bustle below. Officially dubbed the Mary and Harry Blanchard Sculpture Garden, it features bold sculptures, colorful succulents, a soothing fountain, and relaxing seating to take it all in. Afterward, wander the indoor galleries whose engaging exhibits often transcend the usual museum experience.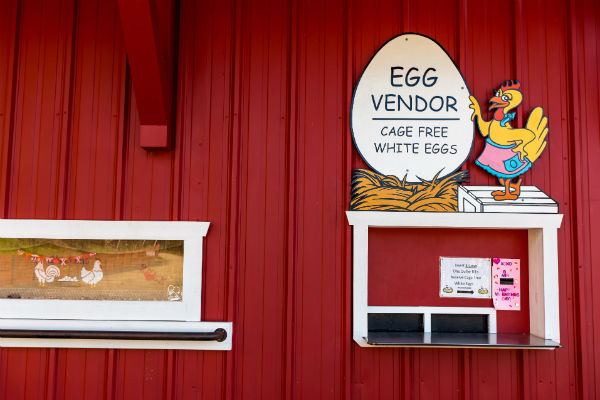 Egg Vending Machine
Glaum Egg Ranch The family-owned Glaum Egg Ranch in Aptos is home to a unique vending machine that provides not only fresh eggs but a song and dance too. As the automated machine dispenses a flat of eggs, a curtain lifts on an adjacent window to reveal a chorus line of animatronic chickens dancing and clucking along to Glenn Miller's "In The Mood." The brief show is made all the more festive by the decor and handmade costumes that celebrate the nearest holiday, from Valentine's Day to Christmas. Although you won't find vending machines at every local farm, you can find a wealth of other fresh-from-the-field products that are sure to please.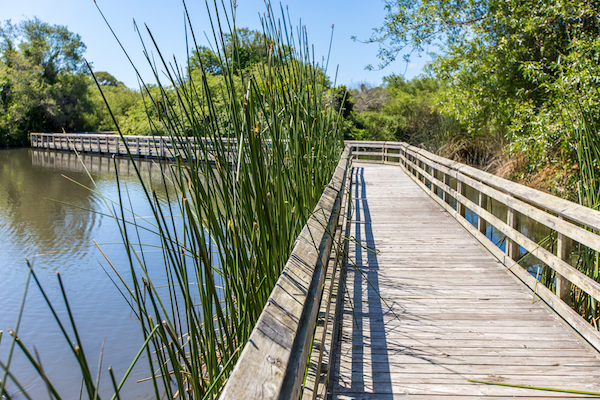 Neary Lagoon
Standing on a wooden walkway surrounded by a serene expanse of water and wetland reeds, you'd never guess you were smack dab in the middle of a residential neighborhood. Yet a short ten-minute walk inland from the Santa Cruz Wharf reveals this serene wildlife refuge. A multitude of feathered friends makes it a birder's paradise.
Land of Medicine Buddha
Hidden at the end of a narrow winding road in the hills above Soquel, you'll discover this Buddhist retreat center that welcomes visitors to its lush redwood setting. No need to feel intimidated if you think you won't belong. Families and hikers of all stripes come to explore the extensive series of forested trails and marvel at ornate prayer wheels and statues that dot the property. Parking here is limited, so it's best to hike in.
Seaside Gardens
Seymour Marine Discovery Center You hopefully already know of the Seymour Marine Discovery Center, an incredible exhibition and research facility perched on the Westside's coastal bluffs. But did you know there is an exceptionally scenic – and free to the public – garden just behind the center? You can stroll a seaside path that leads you through beds of flowering native plants and delivers knockout views of the wild Pacific.
Sesnon House
Cabrillo College Tucked between the classroom buildings of Cabrillo College sits a historic mansion that hides an upscale student-run restaurant. Pino Alto offers guests a chance to dine in this striking Mission style structure built in 1911 as a grand summer home for the Sesnon Family. Outside, a pleasant terrace allows for al fresco dining. Note that the restaurant is open for lunch and dinner during Spring and Fall semesters only (currently open through May 6th, 2016). There are no formal tours of the house itself but guests are welcome to visit Monday through Friday during normal business hours. If you're planning a wedding, you may also want to check out this hidden jewel.
Updated July 2020