2018 is wrapping up and we're taking a look back to see what our fans loved most on our Facebook and Instagram feeds! Take a look below for some of the best of the best of 2018 based on fan likes, comments, and shares. Enjoy the gallery and rest assured that we will keep providing more of this wildly beautiful, adventurous, and inspiring Santa Cruz content in 2019! And don't forget to keep tagging @visitsantacruz & using #visitsantacruz in your posts!
FACEBOOK FAVES:
King Tides Reign Supreme for 2018
We recently shared a story about the King Tides happening December 22 & 23, 2018 and January 20 & 21, 2019, and our fans loved this informative heads up. These naturally occurring and predictable events are when the highest tides take place, and equally impressive, when the lowest, most dramatic negative tides occur. These extreme low tides pose prime conditions for tide pooling, miles of beach walking, and extended beach exploration. We were able to hit the coast on the December King Tide dates and the low tides were absolutely incredible! (See photos below!) So be sure to mark your calendar for the January 2019 dates!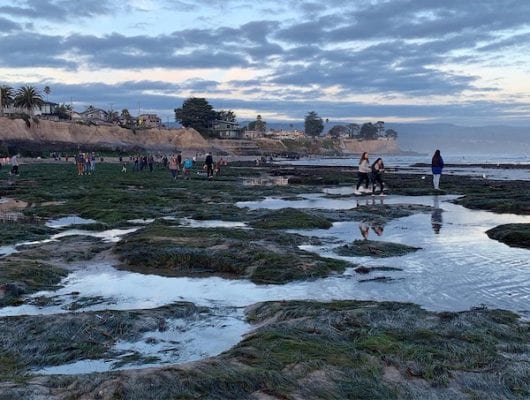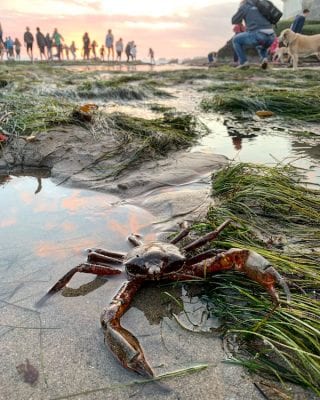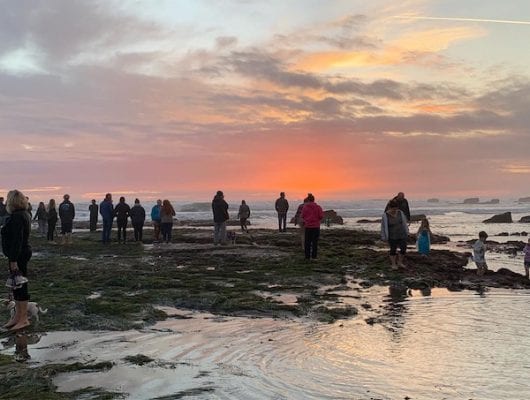 Super Blue Blood Moon Captivates
On January 31st we experienced a Super Blue Blood Moon and Santa Cruz County was a breathtaking backdrop for this rare lunar eclipse. We shared a collection of amazing shots that gave an impressive overview of just how unusual and beautiful this moon really was.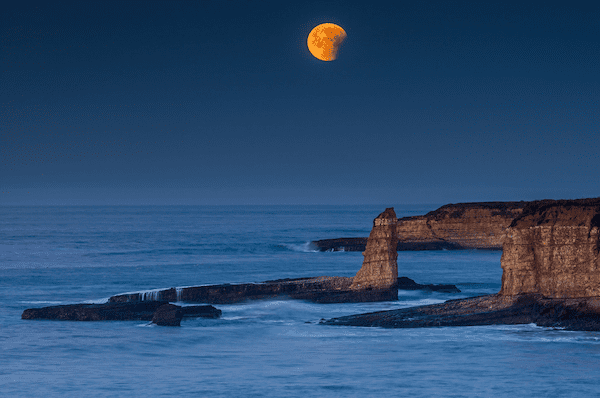 Friendly Wildlife
Santa Cruz wildlife can be as thrilling as breaching humpback whales or as tranquil as fluttering monarch butterflies, but a happy hello from an otter in the Santa Cruz Harbor is hard to top! Folks loved seeing the seemingly posed, jolly little otter enjoying some winter sunshine. And this shot was pretty popular on our Instagram feed as well – in fact, it took the #1 spot for the year!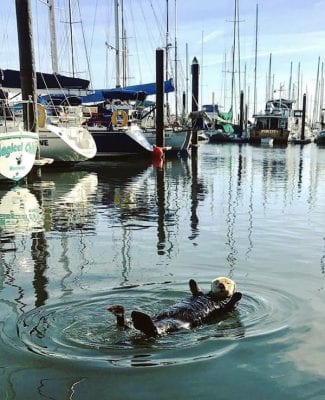 Event Love
Classic Santa Cruz events were big winners again this year. Event info is easily seen and shared on Facebook and favorites like the Annual Aloha Polynesian Festival, Welcome Back Monarchs, and Friday Night Bands on the Beach at the Boardwalk were inspiring thousands to get out and enjoy the fun. Expect us to keep sharing info on the best Santa Cruz County events! And, for the third year in a row, we shared video from the beloved Lighted Boat Parade which fans love – especially those who may have not been able to attend!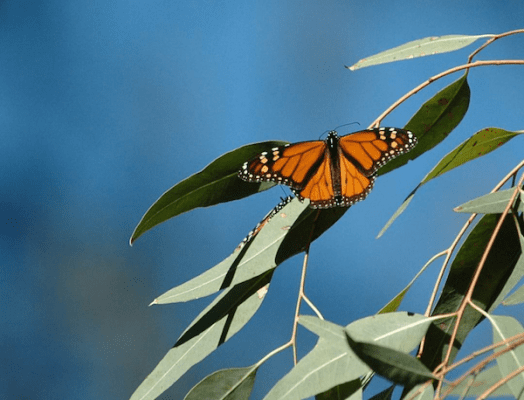 Hallmark Holiday
We love sharing an inspiring photo with a heartfelt message during the holidays and apparently our fans do too! This Valentine's Day post from a field of Calla Lilies in Watsonville was shared by thousands and seemed to be a nice little virtual Valentine's wish to many on Facebook.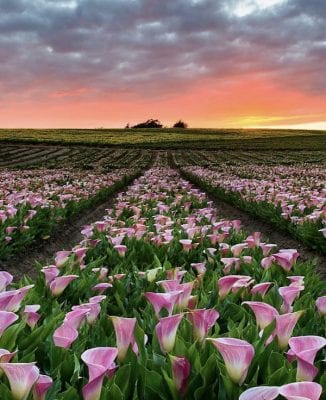 INSTAGRAM FAVES:
Natural Beauty Meets Artsy Intrigue on the Davenport Coast
It's no surprise that this Instagram-worthy location broke into the top spots for 2018. The Old Davenport Pier combines natural beauty, historical intrigue, and artistic flair into one framed shot. A location well worth the visit on your North County adventures.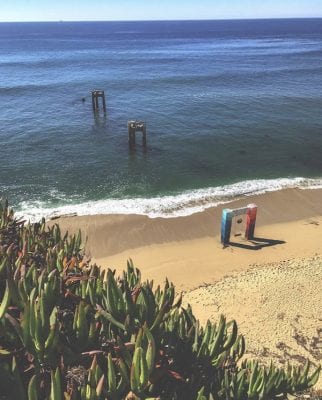 Perspective is Everything
Anyone who has had even a glimpse of the Santa Cruz County coast knows its beauty, but in 2018 we were flooded with aerial photography that gave us a whole new level of appreciation. Just look at his aerial view of Sunny Cove Beach!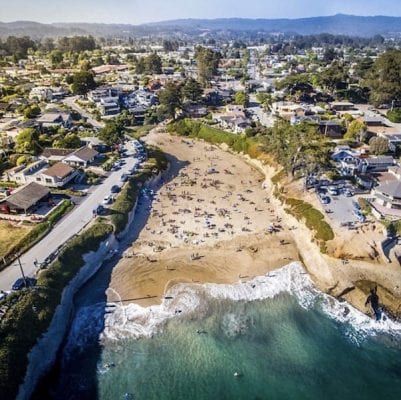 More Rugged Davenport Coast
The less developed northern coast of Santa Cruz County has become a more widely known must-see in recent years. Places like the already featured, Old Davenport Pier, plus Shark Fin Cove and Panther Beach, are arguably some of the most Instagrammable locales in the county. Here are a few fan favorites from the year below.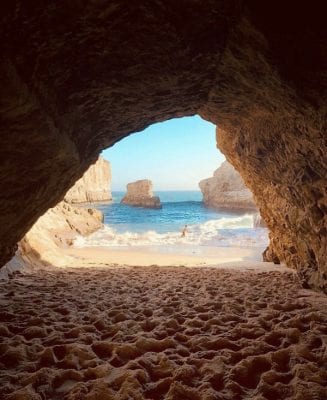 Getting Lost in the Woods
Our Instagram followers appreciate the whole, wanderlust, #OptOutside vibe. Fans loved this enchanting koi pond found in the Santa Cruz Mountains on the Pogonip Trails.
Boardwalk Classics
The Santa Cruz Beach Boardwalk is another top Instagram photo location. The beachfront rides, games, vibrant colors, delicious treats, and 'endless summer' atmosphere make it an iconic photo op that's always a must when visiting. But this year, the Boardwalk's top feature on our Instagram page was the iconic Lost Boys Bridge.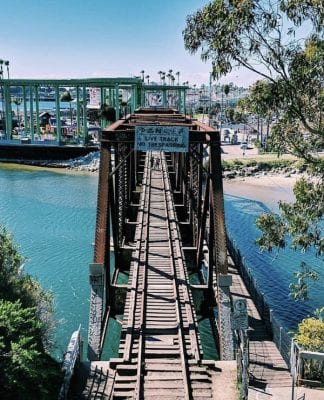 #MoodyGram
Santa Cruz can really put on a moody show and photographers jump at the opportunity. Dark clouds, a fiery sunset afterburn, and churning seas really set the mood in this Pleasure Point stair photo – and it's safe to say that mood is moody.

Thanks for taking a look at the best of the best of 2018 and be sure to follow us on Facebook, Instagram and Twitter for more of your favorites in 2019! Happy New Year!