All Photos by Garrick Ramirez
Thanks to an enviable setting between redwood-filled mountains and the wondrous Monterey Bay, one of the most rewarding activities in Santa Cruz County is simply strolling its scenic landscape. Whether you're seeking a post-brunch dawdle or pre-sunset stride, you'll discover many pleasing pathways throughout the region-nearly all stroller and wheelchair accessible. So ditch the car, lace up the tennies, and walk, don't run to the following picturesque spots!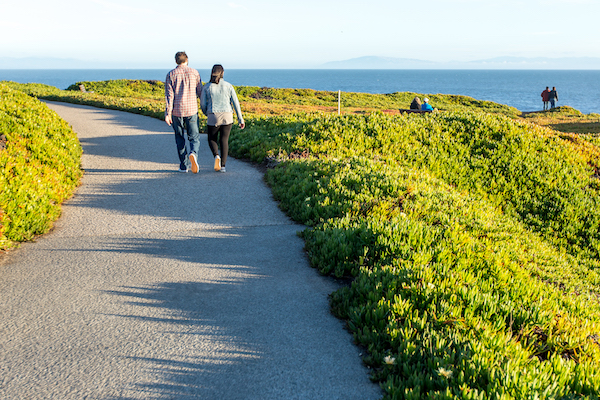 SEASIDE SAUNTERS
For seaside splendor, it doesn't get more spectacular than the dazzling promenade along West Cliff Drive which winds over ice plant-blanketed bluffs and alongside scenic beach coves. Not to be outdone, East Cliff Drive in Pleasure Point traverses sheer coastal bluffs with exceptional views of the surfer-filled sea. In Aptos, you can amble along a lengthy beachfront path that stretches from Rio Del Mar to Seacliff State Beach. On the western shore of the Santa Cruz Harbor, you'll find a short but sweet path that skirts the harbor channel-side by side with sailboats, kayakers, and paddleboarders headed out to sea-before reaching Walton Lighthouse which stands on the edge of a dramatic, wave-splashed jetty. At adjacent Seabright State Beach, watch for scores of cute, tiny sanderlings playing chicken with the crashing surf.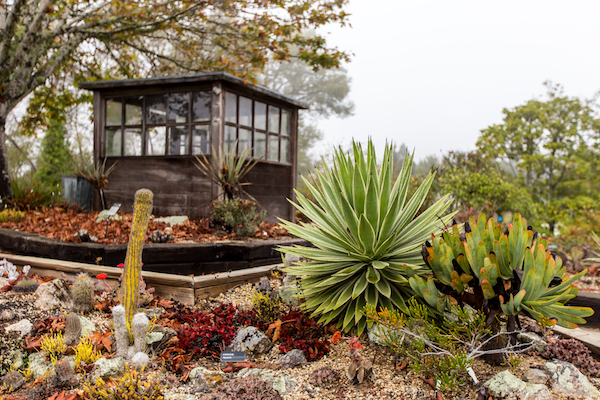 GARDEN VARIETY STROLL
You needn't know a poppy from a protea to appreciate the tranquil respite found at the UCSC Arboretum. The Westside's best-kept secret features numerous paths that meander through peaceful gardens of exotic plants and succulents from such far-flung destinations as New Zealand, Africa, and Australia. Watch for a pair of elusive-and very rare-white hummingbirds darting about the lush Hummingbird Trail.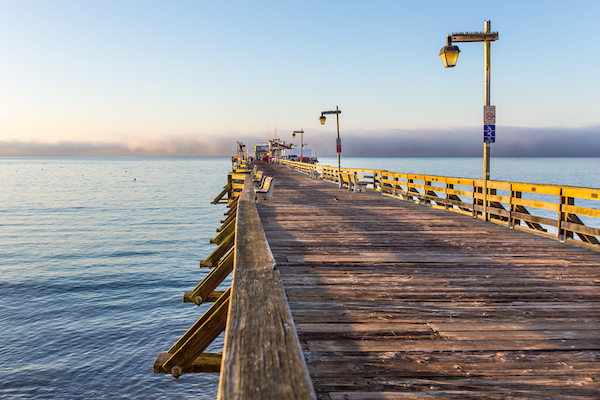 AMONG PIERS
Who's going to refuse a stroll that ends with a crab cocktail and bag of oyster crackers? At 2,745 feet, the Santa Cruz Wharf is one of the longest wooden piers on the West Coast, allowing visitors to venture far out into the Monterey Bay with up-close views of sea lions-and even closer views of fresh, local seafood. At the far end of Capitola Beach, you can stroll out along the Capitola Wharf pausing to gaze back upon the colorful, palm-tree lined village. At Seacliff State Beach, a wooden fishing pier leads to the waterborne ruins of the S.S. Palo Alto, a former tanker-turned-1930s-dancehall whose revelers have since been replaced with a spirited soirée of seabirds.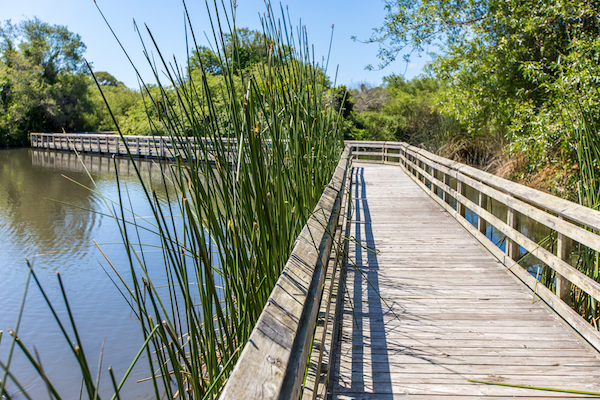 MARSHLAND MOSEY
Once you get over the shock of discovering Neary Lagoon – an unexpected and serene wildlife refuge located smack dab in the middle of town-you'll be even more delighted to explore its plant and wildlife-filled waters via a floating, nearly 1-mile walkway. In Watsonville, you can stroll a pleasant pathway alongside the birder's paradise of Struve Slough, one of the area's many scenic waterways that teem with diverse sea and shorebirds and flows out to the Monterey Bay.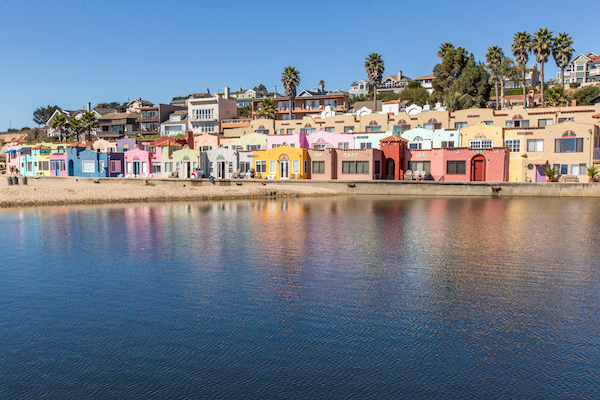 HUB CRAWL
Craving some good people-watching-and maybe a little window browsing, too? Head to Pacific Avenue, a bustling, nine-block thoroughfare that's chock-a-block with colorful boutiques, historic architecture, and lively restaurants and bars that spill out onto the sidewalk. In Capitola, Neapolitan ice cream-colored buildings, cute shops, and heaps of seaside charm make strolling the resort village a delight. Don't miss the waterfront esplanade whose 500-foot seawall that's lined with 1,400 colorful tiles created by locals sharing their memories of Capitola.
You haven't reached the end of the road just yet! There are many more ways to stretch your legs in Santa Cruz County, including gaining some elevation-and killer views-with our list of scenic stairways, or swapping the trainers for hiking boots on one of these top trails.