If you haven't explored the Pleasure Point neighborhood recently, you will be pleasantly surprised the next time you visit. With a wonderful variety of shops and restaurants, plus a fabulous atmosphere and a near-to-the-ocean location, it's hard to beat. Here are three can't-miss venues.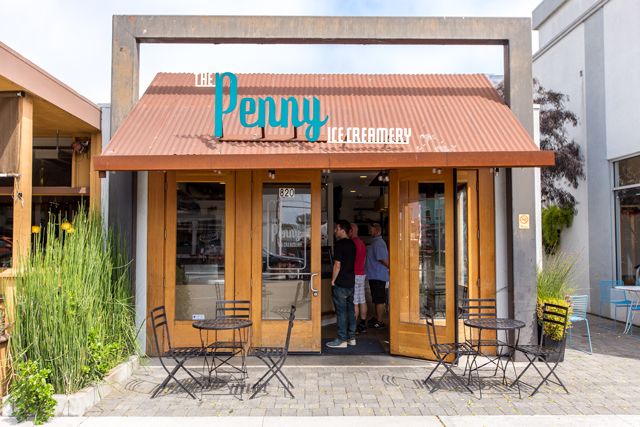 THE PENNY ICE CREAMERY
The Penny Ice Creamery's popular 41st Avenue outpost has been satisfying Pleasure Point locals—and visitors from neighboring cities and beyond—since 2013. They offer seven rotating flavors of seasonal artisan small-batch ice cream (with regular or gluten-free cones), two non-dairy sorbets (dark chocolate plus a rotating seasonal fruit variety), sundaes, popsicles, ice cream sandwiches, bonbons, shakes, and floats. Vanilla is the most popular flavor across all locations. Co-owners Kendra Baker and Zach Davis are very enthusiastic about their current direct source for vanilla: a Tahiti farm. After vanilla, another customer favorite is Dark Chocolate Sorbet. Also, despite the fact that the Pleasure Point location is right next door to Verve (in their old roastery in fact), their Verve Coffee with Chocolate Almond Praline flavor is extremely popular. "Apparently, the denizens of Pleasure Point can't get enough Verve coffee," says Zach. Beyond those three flavors, it's all about the seasonal selections. "In the winter when citrus is abundant that might be the Candied Buddha's Hand or the Satsuma Creamscicle using satsumas from Abounding Harvest farm in the Santa Cruz mountains," Zach shares. Bourbon Persimmon has been a popular autumn choice. During other seasons it's been Black Tea Peach or Straight Up Strawberry. "People also love flavors we can make year-round, the Chocolate Caramel Sea Salt being an all-time favorite," he adds.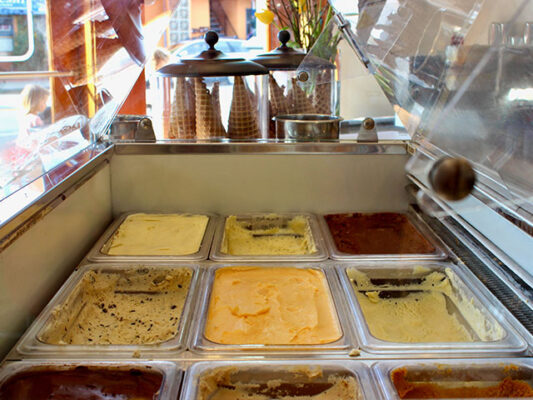 Kendra (who serves as chef) and Zach first became friends after a chance meeting in downtown Santa Cruz in 2000. Several years later, they co-created the concept behind The Penny. After a lot of hard work and planning, they opened the flagship Cedar Street location in 2010. The newest shop in Aptos Village opened in 2020. They are both excited that their network of local resources that provide ingredients is continuing to grow. Something Kendra really enjoys is experimenting in the kitchen. For example, for the 2020 holiday season, The Penny offered an all-new gingerbread house kit that quickly sold out. Zach and Kendra are committed to Santa Cruz County advocates. From the beginning, their goal has been to "…be a place that brings people joy," says Zach. "More specifically, we want to create exceptional ice cream that draws people to our locations for a delicious treat that they can feel good about eating—as well as the chance of running into friends and engaging with other members of their community." Zach is quick to point out that he and Kendra really love their staff, and that they work with an amazing group. "It's an honor to be a part of these people's early lives and it's always fascinating to see what they go on to do," he says.
FREELINE SURF SHOP
Freeline is a great store for families. Surfing originated with Hawaiian royalty, and it was something men and women could do together. "Today, it's something everyone can participate in," says Peter Mel, who owns Freeline with his wife Tara. "The family can enjoy it together, unlike some sports. Surfing as a whole is a shared experience, and it bonds a family." Walking into the shop, you can sense that the Hawaiian spirit of Aloha—encompassing qualities like kindness and warmth—is instilled in Freeline. Because it's a small store, Peter says, they don't usually get a lot of customers at once, resulting in each person receiving extra time and attention. Employees are easy to talk to, don't apply high sales pressure to customers, and provide educational knowledge in a non-intimidating manner. These qualities are ones that Peter learned from his dad John (owner of the store until he sold it to Peter and Tara in 2017). They believe it's important to give customers plenty of information. If Peter doesn't know the answer to a customer's question, he will find it himself or refer them to the right place. Peter teaches this when training new employees, too. This philosophy is probably what makes Freeline such a great resource for everyone—including surfing newbies and experienced surfers.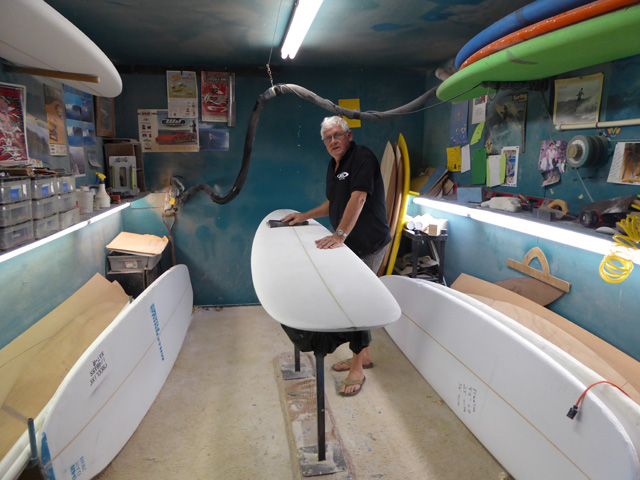 Many surfer customers buy their "first" at Freeline—their first wetsuit or first board. Although the store is very comfortable, don't let the laid-back vibe fool you: with a history spanning more than 50 years, Freeline has products and expertise you can rely on. John Mel, who opened the store in 1969, is still actively involved. He does custom board shaping and occasionally you can spot him at Freeline setting up a board with grip and fins. And by the way, Peter is an internationally known Big Wave surfer! The store sells surfboards of course and rents them, but Freeline's inventory also features accessories such as surfboard leashes and fins, board bags for travel, and protection. Then there are wax and traction pads for grip, wetsuits, booties, hoods, rashguards, changing ponchos, and more. The soft goods area includes footwear and apparel for men, women, and youth. They also carry seasonal items like beanies, products such as hooded wetsuits and thicker booties for the cold water and weather, and lifestyle items like Saint Christopher necklaces (the patron saint of travelers), a popular medallion among the surf culture. Other items include books, candles, beach towels, and pretty much anything else you would need for a beach outing.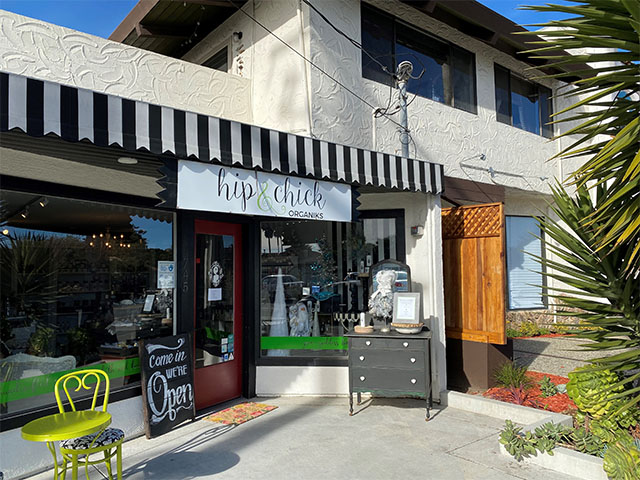 HIP AND CHICK ORGANIKS
Maria and Vanessa Neu are not only the co-owners and partners running Hip & Chick Organiks, they are also mother and daughter! The two women create small-batch, handmade bath and body products—plus a few home items like hand-poured natural soy wax candles—featuring organic ingredients. With the help of their team, they produce the entire 'Hip & Chick' branded line on site. They even have a dog wash with a blend of essential oils including lavender, eucalyptus, and Valencia orange. In addition to selling their signature collection, the Hip & Chick Organiks shop offers bath and body selections and gifts created by other artisans including California-made and women-owned businesses. With their own H&C collection, the top-selling products are ones scented with "Maui Wowie," especially candles and lotions. Vanessa believes that one reason for Maui Wowie's popularity is the "tropically delicious blend of coconut, pineapple, and cilantro." Another luscious scent is "Purple Haze;" ingredients include lavender. Seasonal products include Holidaze Hand & Foot Cream scented with cranberry, Persian lime, and basil. As far as products made by others, one customer favorite is natural probiotic deodorant from the company SmartyPits. "It's wildly popular for its amazing formulation and great scents," says Vanessa. It was one of the first items they brought in to supplement their own creations when they opened the store in 2015. Now they carry the entire SmartyPits line and it has quite a Santa Cruz following.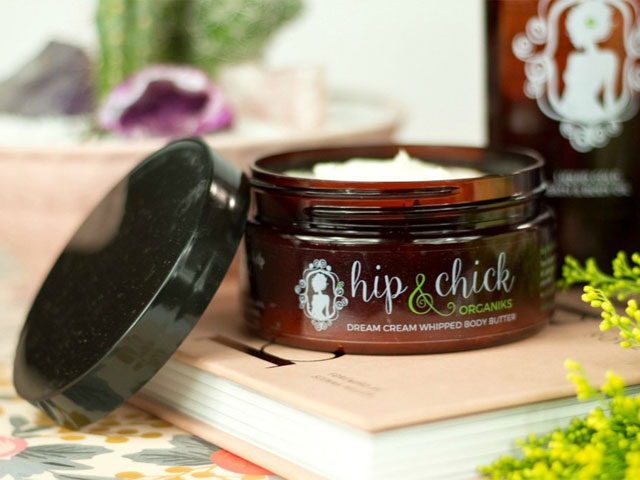 The mother-daughter team started the business in 2012, first working from a studio on Seventh Avenue. Maria's background is in interior design. Vanessa earned a visual communications degree from FIDM and previously worked in corporate retail environments. Then they decided to join forces and create their own business, and the rest is history! Vanessa and Maria have accumulated a great deal of knowledge while building their business. You can learn some interesting facts on their website's blog, which includes articles by each of them plus other team members. For example, Vanessa wrote a 2020 article, "Why we whipped our Cinnamon + Coffee Body Scrub," which includes details about caffeine and cinnamon's antioxidant and anti-inflammatory properties.