All Photos by Garrick Ramirez
Nearly every aspect of Santa Cruz life-from the art that adorns local galleries to the vibrant dishes served up by local eateries-has been inspired by the region's coastal splendor, classic surf culture, and verdant organic farms. Now we're adding cocktails to the list. We asked three local cocktail pros to create a Santa Cruz cocktail, a drink that captures the region's essence in a glass. While wine has terroir, bartenders have more poetic license, pulling from an assortment of spirits, juices, and aromatics. Below, we've shared their creations, plus each drink's inspiration and recipe so that you can enjoy them at home!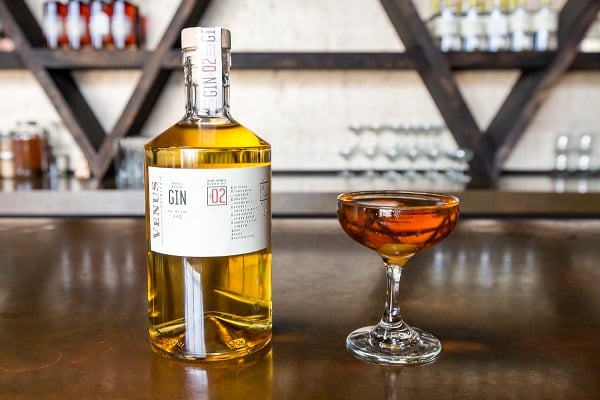 WEST CLIFF COCKTAIL
A spirit-forward salute to the Westside
We couldn't consider a Santa Cruz cocktail without calling upon Venus Spirits. Situated four blocks from the shore, the Westside distiller embodies Santa Cruz with its aromatic craft spirits fashioned from local, organic ingredients. Owner Sean Venus has no doubt converted countless gin-detractors with his floral, mellow, and utterly delicious takes on the often polarizing spirit. Swing by the stylish Westside distillery and tasting room—designed by local firm Stripe Design—and sample a flight that might include the only "tequila" made in California. Stop by during Friday Happy Hour (5-7pm) and enjoy fresh, craft cocktails often made with local produce.
For a Santa Cruz cocktail, Sean created a clever homage to Santa Cruz County's two craft distilleries—and their proximity to the West Cliff surf—blending his gently aged Venus Gin #2 with alembic brandy from Osocalis Distillery in Soquel (sold by co-owner Jeff Emery at his nearby Santa Cruz Mountain Vineyard tasting room). A healthy splash of Cynar, an Italian artichoke liqueur, is a fun nod to the spiky flower that thrives along the Central Coast. The drink's strong, complex flavor evokes the fragrance of the coast with botanicals of sage, fennel, and bay leaf from the gin combined with sweetness from the brandy. The Cynar adds a rich, slightly bitter note while citrus oil from an expressed lemon peel rounds out the drink. It's a delicious sipper, herbaceous and spirituous.
West Cliff Cocktail
1 oz. Venus Gin #2
1 oz. Osocalis Rare Brandy
¾ oz. Cynar
Lemon peel
Combine all ingredients in a stirring glass. Add ice, stir, and strain into a cocktail or coupe glass. Garnish with a twist of lemon, expressing its oils over the glass.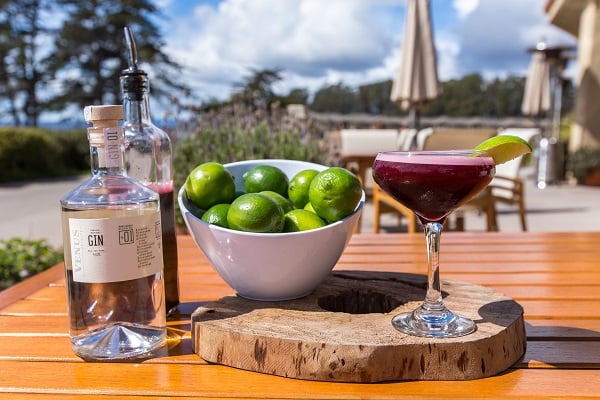 HIBISCUS FIELDS FOREVER COCKTAIL
Transcending the taqueria with a refreshing adult "jamaica"
Given the breathtaking vistas at Sanderlings—the signature eatery at Seascape Beach Resort—we'd be happy to sip water. Luckily, the resort's bar director, Lindsay Eshelman, has more interesting things in mind. Her vibrant cocktail menu transcends humdrum resort staples with a playful mix of inventive drinks that prioritize flavor over fuss. For a Santa Cruz cocktail, Eshelman—who became endeared to Santa Cruz Country as a child after regularly vacationing with her family in Capitola—chose a luscious, burgundy-hued cocktail made from hibiscus flowers. She says, "I was inspired by jamaica," that agua fresca staple of taquerias. "I wanted to figure out how to incorporate it in a cocktail, but initial attempts resulted in a watery drink," she explains. "But then I thought to concentrate it and and it worked!"
Eshelman says the love goes into the hibiscus tea reduction which takes several hours to brew. "I feel this cocktail, with it's Latin influence and our beloved local Venus Gin is uniquely Santa Cruz," she says. The drink is bright and refreshing, with the perfect balance of sweet, tart, and sour. We recommend pairing it with the restaurant's new Sope Tazos or Korean Pork Tacos and sunny patio overlooking Monterey Bay.
Hibiscus Fields Forever Cocktail
1.5 oz Venus Gin #1*
2 oz Hibiscus tea reduction**
.5 oz House simple syrup**
.5 oz Fresh-squeezed lime juice
*This recipe is actually three drinks in one. The bar at Sanderlings usually makes the cocktail with Venus Gin #1, but also subs in vodka or tequila for a distinctly different, yet equally delicious drink.
**To make the hibiscus tea reduction, add hibiscus flowers (found at most Mexican food markets) to a pot, cover with water, and heat, ensuring water stays below a boil. Simmer until liquid has reduced and is a deep burgundy color. Add sugar to taste.
***Combine equal parts sugar and water in a pot over gentle heat until sugar crystals have dissolved.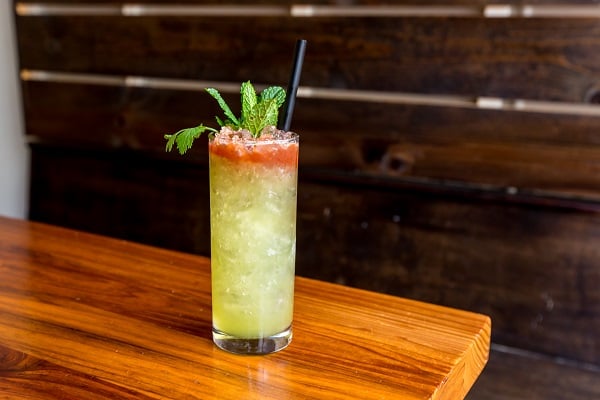 SURF MONKEY COCKTAIL
A delicious, farm-fresh riff on the Mojito
The Surf Monkey Cocktail was created for the former downtown restaurant, Assembly. Although Assembly has since closed and the hip eatery, Snap Taco has taken its place, this delicious and refreshing spin on a Mojito lives on.
For this Santa Cruz cocktail, they offered a cilantro-infused riff on the mojito, the traditionally mint-fueled rum drink. No stranger to our local farmers markets, cocktail creator, Zane Griffin turned to Route 1 Farms whose market stand teems with the fresh mint and cilantro that he used in his cocktail. "I think the drink's delicate aromatics reflect Santa Cruz's fresh, foggy coastal mornings." Plus, mojitos are traditionally a sunny-day beach drink which speaks to the 29 miles of sandy shore in Santa Cruz County.
Cilantro Mojito
2 oz. Silver rum infused with cilantro & mint*
1 oz. Lime juice
¾ oz. Simple syrup**
Fresh mint and cilantro
Splash of soda water
Dash of Angostura Bitters
Combine mint and cilantro leaves in a glass with a splash of soda water and muddle. Add remaining ingredients, shake, and strain into collins glass filled with crushed ice. Top with a few dashes of Angostura Bitters. Garnish with mint and cilantro leaves.
*To infuse rum with cilantro and mint, combine 12 ounces of rum with 6-12 sprigs of cilantro in a jar, and let steep for 1-2 days. When ready, fine strain through a tea strainer. Zane used Flor de Cana Extra Seco rum, but any silver or unaged rum will do.
**Combine equal parts sugar and water in a pot over a gentle heat, and stir until sugar crystals have dissolved.