Photo courtesy of the Santa Cruz Beach Boardwalk
What's better than a destination that can double as the perfect day-trip and extended getaway? A destination that has free activities and events to keep you entertained all day or all season long! Below are a few hand-picked tips for enjoying Santa Cruz County on a limited budget, or no budget at all! For more info, check out our Top 12 Free Things to Do in Santa Cruz County for Spring and Summer.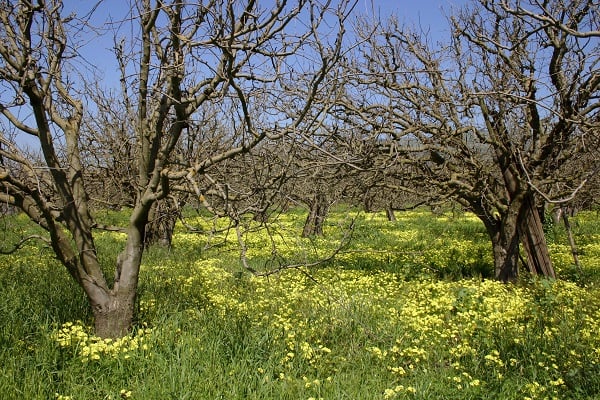 Photo by Mark Barnes
Watsonville and Pajaro Valley
The Pajaro Valley Arts Council Gallery is a free gallery, open Wednesday through Sunday from 11:00 AM until 4:00 PM. From there, take a free studio tour of Annieglass, also located in Watsonville, Thursdays through Saturdays at 1:30 PM or by appointment. Move outside and experience a free walking tour that brings to life the history of the Victorian homes and public murals of Watsonville. Venture a bit further into nature by joining a free weekly guided nature walk of the Wetlands of Watsonville, which offers an up-close way to witness the area's bird population. Be sure to pick up a copy of Visit Santa Cruz County's free Wildlife Watching Guide, which is a handy tool for knowing where to go and what to look for. For more fun in the South County outdoors, pack your disc and play a round or two at Pinto Lake County Park's Championship Disc Golf Course.
Bonus: Watsonville turns 150 this year, and the city has compiled a comprehensive guide of 150 things to do and see in Watsonville. (Take note, some of these items may not be free!)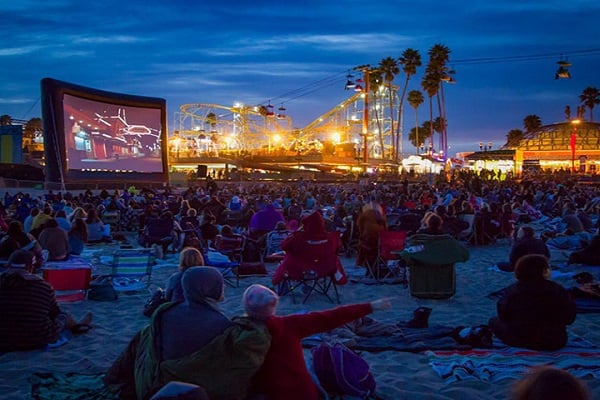 Photo courtesy of the Santa Cruz Beach Boardwalk
Summer Concerts and Movies
Weekly concerts and movies? On the beach?? For free?! Catch your favorite '70s, '80s, and '90s artists playing their hits on Main Beach every Friday night from June 15th through August 31st. The free performances, sponsored by the Santa Cruz Beach Boardwalk, take place at 6:30 PM and 8:30 PM. And grab your spot for free screenings of classic movies right on the sand, Wednesday nights at 9:00 PM from June 20th to August 15th (don't forget to bring your family, friends, blankets, and low-back chairs)! In Capitola Village, adjacent to the beach, Esplanade Park hosts free Wednesday Night Twilight Concerts from June 6th through August 29th, 6:00 PM to 8:00 PM. Enjoy a wide range of musical styles, including jazz, western, Latin, swing, orchestra, and rock n' roll! Esplanade Park also shows free movies on four Fridays throughout the summer: August 25th and September 2nd, 8th, and 15th. This is a good place to note that Capitola offers a free weekend and holiday shuttle, between the Crossroads Center parking lot on Bay Avenue and Capitola Village, starting Memorial Day Weekend and concluding mid-September. For more music fun, take in the tunes at Music at Skypark in Scotts Valley, held the last Sunday of the month from July through September.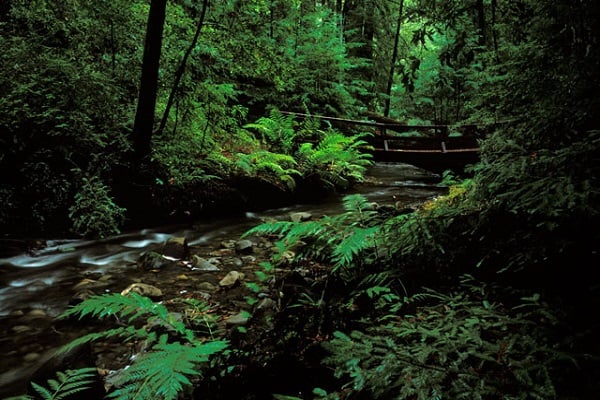 California Coast Redwoods
You don't have to spend green to see green! A number of great hiking trails and parks throughout Santa Cruz County are admission-free, including DeLaveaga Park and Quail Hollow Ranch, among others. State parks like Big Basin Redwoods and Henry Cowell Redwoods charge a small parking fee, but if you plan your trip for the second Saturday of the month, your parking will be free (fee waived the second Saturday of every month through 2018)! Want a more interactive experience in the great outdoors? Play disc golf at DeLaveaga Park and San Lorenzo Park in Santa Cruz.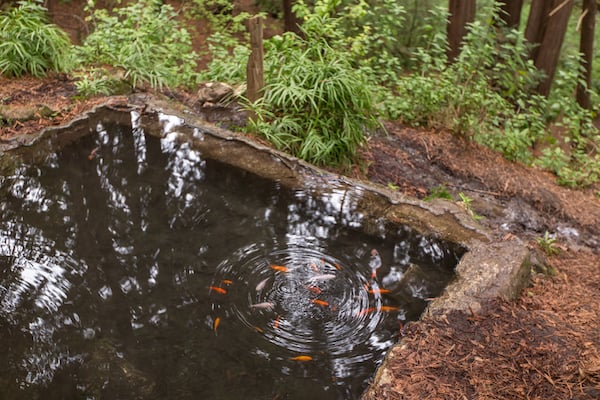 Photo by Garrick Ramirez
On Campus at the University of California, Santa Cruz
There are no student loans required to soak in the gorgeous sights of the university, which sits atop a steep hill and boasts rolling fields and elusive charms around every turn. Start at the base of campus, where the Arboretum offers free admission the first Tuesday of every month. Take a self-guided tour of the unique UCSC Farm & Alan Chadwick Garden, free every day year-round between 8:00 AM and 6:00 PM. On the other side of campus, discover Pogonip Open Space; take the Rincon Trail down to the eastbound Spring Box Trail, and a few steps will lead you to a spring-fed koi pond underneath a redwood tree. After you head back to the Rincon Trail, veer north and you'll come upon 19th century limestone kilns and a spectacular rock garden decorated with handwritten notes left by visitors.
In addition, travel mid-week and save money on hotel rates! Information and ideas for summertime fun like surfing, kayaking, and visiting the Santa Cruz Beach Boardwalk or Roaring Camp Railroads can all be found online at www.VisitSantaCruz.org. Or chat in person with us at our visitor center, located at 303 Water Street in Santa Cruz. We have a variety of free materials that you can take with you, like the Santa Cruz County Traveler's Guide, Bicycle Adventure Kit, and Wildlife Watching Kit.