For your next outdoor adventure, consider Scotts Valley. Once famed for its roadside attractions—remember kitschy-cute Santa's Village?—the diminutive community hides oversized scenery and lesser-known trails. Tucked in the foothills of the Santa Cruz Mountains, the city's numerous wilderness areas brim with quiet redwood groves and evergreen forests. Plus, some new nature preserves recently made acres of wildflower-filled grasslands available to the public. Here are three Scotts Valley nature spots whose family-friendly trails offer up exceptional scenery and serenity.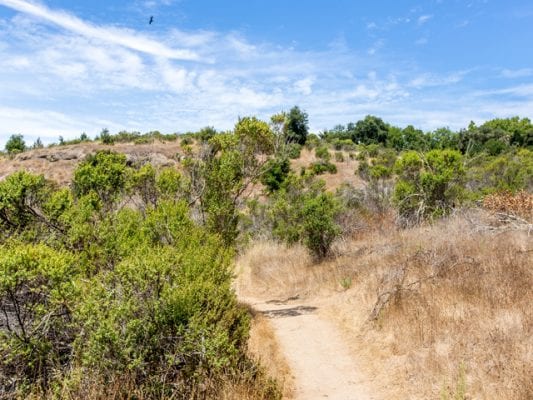 Set on the rolling hills adjacent to Scotts Valley High School, West Glenwood Open Space Preserve features four miles of pet-friendly, multi-use trails that traverse a delightfully diverse landscape. The 166-acre preserve currently features five, color-coded loop trails which lead through a botanic garden's worth of habitats including redwood forests, grassland prairies, and freshwater marshes. Though unveiled in 2019, the preserve was 18 years in the making, the happy result of the local community's conservation efforts. Best of all, as of summer 2020, a complimentary eastern segment is now open and offers an additional five miles of trails, including a creek and fishing pond. Dogs and bikes are not allowed on the East Glenwood trails, but the preserve is currently open for hiking, and come fall, for horseback riding. Either East or West, plan your visit in spring when hillsides are electrified by brilliant wildflowers such as California poppies, lupine, and owl's clover. Note that the preserves' parking lot at 350 Glenwood Drive is roughly 100 yards from either the West or East trails entrances.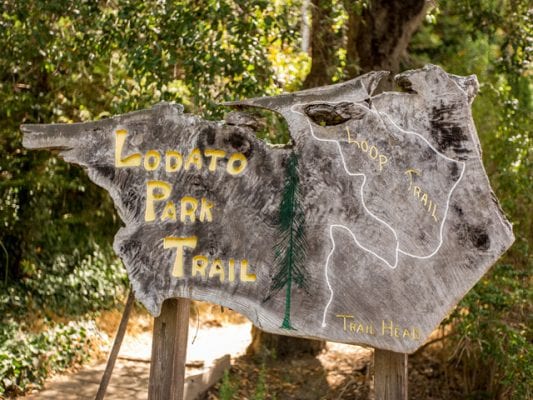 This little-known gem offers a rewarding escape near the center of town. Seek out its hidden trailhead—located in the back of a business park east of Highway 17—and follow it to a beautiful forest of second-growth redwoods and evergreen trees. From the trailhead, a short spur trail leads to the park's shaded loop trail which meanders through the 49-acre property which feels worlds away despite being minutes from town. The entire route clocks in at 1.2-miles and a leisurely stroll will likely take less than 45 minutes. Parking is free, and leashed pups are welcome to enjoy the redwoods by your side. Just mind the poison oak which can creep close to narrow segments of the trail.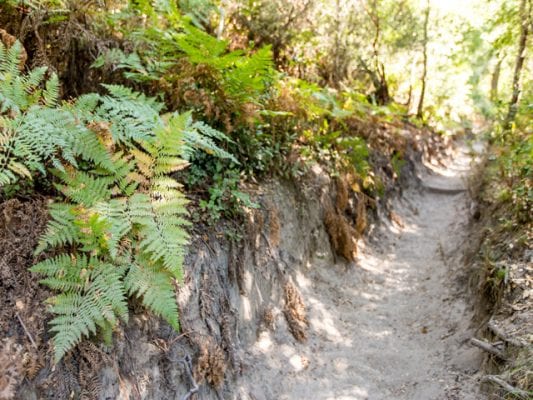 This 4,140-acre park is beloved for its atmospheric, old-growth redwood groves—a rarity in a region that was logged extensively throughout the 19th century. While much of the park lies within the town of Felton, a handful of trailheads are located on the eastern side of the park in Scotts Valley. This less-explored side of Henry Cowell is home to unique sandhill habitats, rare ecosystems that serve as a reminder that millions of years ago, the area was once a seafloor (as evidenced by marine fossils discovered amidst the pines). You'll traverse this sandy terrain on the family-friendly Pine Trail, a breezy 2.1-mile jaunt through an evergreen forest that leads past an observation deck with panoramic vistas of Monterey Bay. Alternatively, the 1.7-mile out-and-back Eagle Trail is another beginner-friendly trail that picks up from the park's campground and skirts Eagle Creek as it leads down to the San Lorenzo River. You'll find two additional trailheads off Graham Hill Road between Treetop Drive and Nepenthe Drive.
While the Graham Hill Trail skirts the highway with expected road noise, The Powder Mill Trail is a quiet, nearly 8-mile fire road loop that bypasses Powder Mill Creek and connects with other trails, including the Buckeye Trail which drops down to the banks of the San Lorenzo River.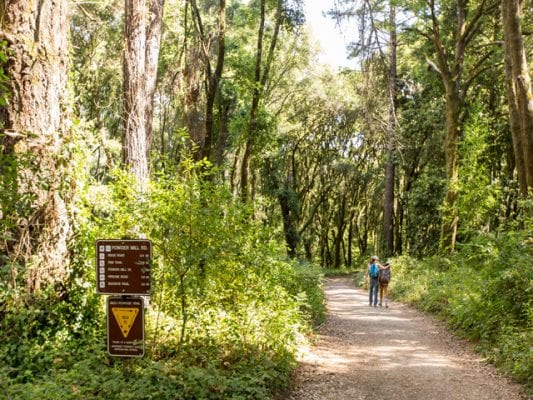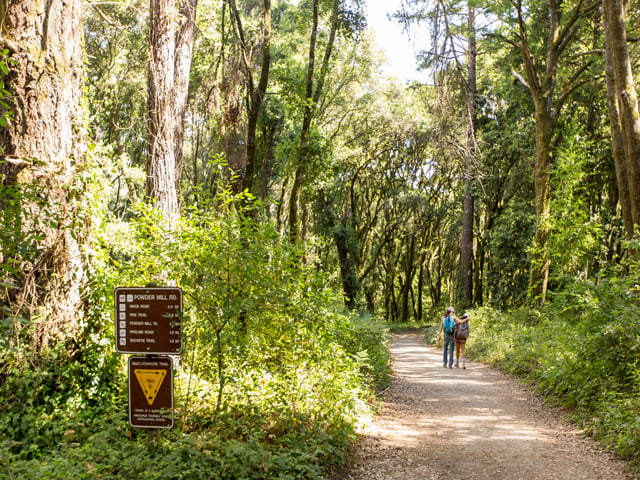 Let's Get Going!
Once you've trekked each of the trails listed above, you still won't have reached the end of the road. With a striking, mountains-meet-the-sea setting, the region abounds with nature-based outings. For recs to other notable sites— including where to cap your hike with a frosty pint—check out our guides on outdoor recreation in Santa Cruz County.
Updated July 2020