With miles of Monterey Bay coastline and monumental redwood forests, you're never far from an inspiring view in Santa Cruz County. And, nothing pairs better with a view than good food and drink. Below are five spots that deliver all three:
SHADOWBROOK
This destination restaurant is enveloped by nature. The original building began as a log cabin summer home alongside the gentle Soquel Creek which the restaurant still gazes upon today. To reach the restaurant, you'll descend through a lush jungle-of-a-garden – via petite cable car or meandering path – rippling with creeks and waterfalls. Along the way, you'll pass a scenic herb garden where chefs pluck seasonal greens for the kitchen. Inside, the views aren't so bad either. A dramatic stone hearth rises up out of the main dining room and massive picture windows blur the line between inside and out. The atmospheric Garden Room takes it to the extreme with vines that creep overhead while you indulge in the famous Prime Rib next to a mature tree that shoots straight through the roof!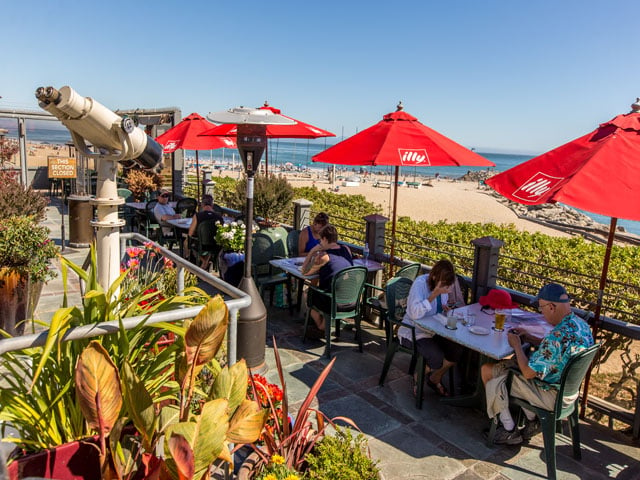 CROW'S NEST
It seems like legacy restaurants have access to the best views simply because they got there first. No exception with the Crow's Nest which opened in 1969 with a commanding view of the Santa Cruz Harbor and Twin Lakes State Beach. It's a magnificent place to watch the sunset as twilight descends over the bay and the Walton Lighthouse starts to twinkle. Guests have their choice of four distinct dining areas: a formal downstairs room and outside patio as well as an upstairs, fireside pub, and deck (whose noteworthy view is acknowledged by a telescopic viewfinder). Everyone's here for the seafood, but don't pass up the teeming salad bar that stretches a mile long.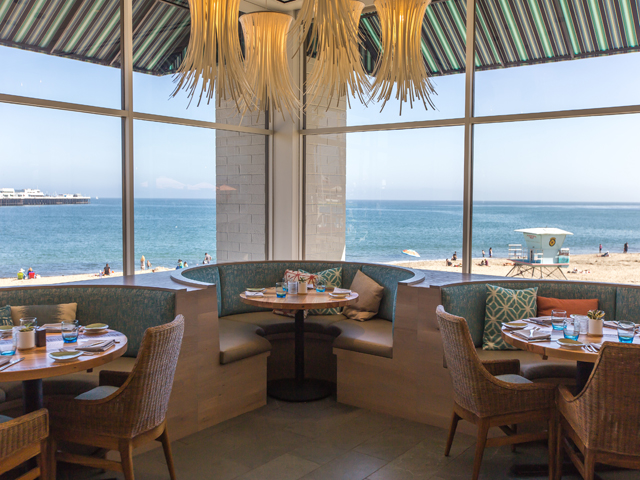 Jack O'Neill Restaurant & Lounge
Located on the ground floor of the landmark Dream Inn, the Jack O'Neill Restaurant & Lounge is the closest you'll get to Cowell Beach without getting sand between your toes. Floor-to-ceiling windows offer scenes of beachgoers, the lengthy Wharf, and Santa Cruz Beach Boardwalk. The modern, all-day restaurant further captures a sense of place with seafood from the Monterey Bay Marine Sanctuary and produce from local farms. Start with a drink in the bar which sports the same views plus surf-inspired decor and a great selection of local craft beer, wine, and spirits.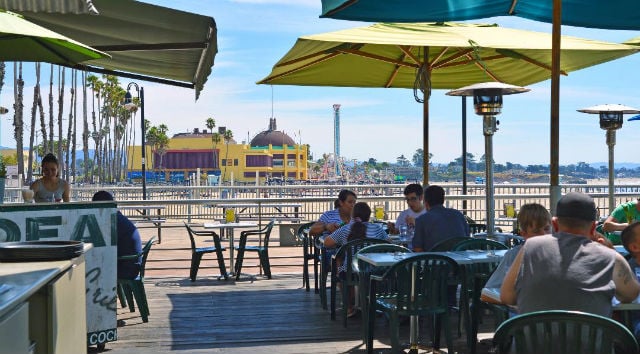 Ideal Bar & Grill
Ideally located with views of the beach, Boardwalk, and Santa Cruz Wharf, Ideal Bar & Grill offers breakfast, lunch and dinner with vast views. Opt for the patio and have a front row seat to the Monterey Bay as you enjoy their generously portioned California cuisine, delicious seafood, specialty cocktails, and more. And be sure to try their award-winning clam chowder!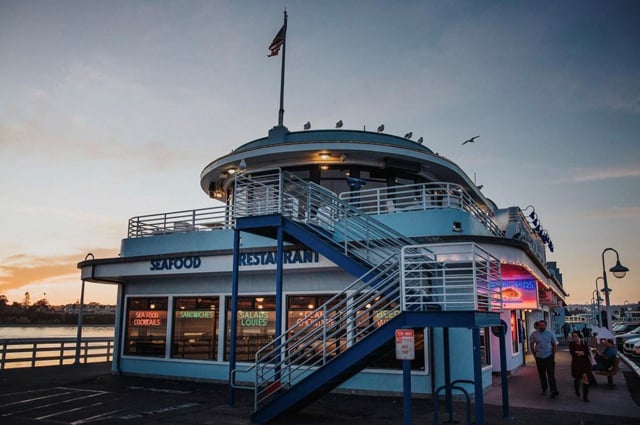 STAGNARO BROS.
A stroll along the Santa Cruz Wharf immerses you in the splendor of the Monterey Bay. Restaurants and shops line the historic wood-pile pier with views that will inspire envy in your Instagram followers. Sitting towards the end of the pier is the venerable Stagnaro Bros. I love grabbing a quick crab cocktail – with an accompanying bag of oyster crackers – from the open-air market stand, but it's the streamlined, ocean liner-inspired restaurant that casts a spell. Its dining rooms peer out over the bay with Steamer Lane's famous surf break and the Mark Abbott Memorial Lighthouse beyond. Check out the shipshape bar upstairs that's decked out in nautical rope and brass railing. It's a relaxed perch for whiling away a lazy Sunday morning with a Bloody Mary and a killer view. Other Santa Cruz Wharf restaurants with equally envious views are Makai, Riva Fish House, Olitas, Dolphin Restaurant, and more.