Santa Cruz County is home to more than a few classics. The Giant Dipper at the Beach Boardwalk, the magical redwood groves at Henry Cowell, and the indelible S.S. Palo Alto are examples of the many Santa Cruz area icons that have an endearing quality to locals and visitors alike. The same can be said of its restaurants. From waterfront dining rooms dishing up killer views of Monterey Bay to a beloved bakery serving the perfect slice of pie, you'll find numerous, singular restaurants that are quintessentially Santa Cruz. It's impossible to list them all, so here's a roundup of eateries that we consider essential to Santa Cruz County.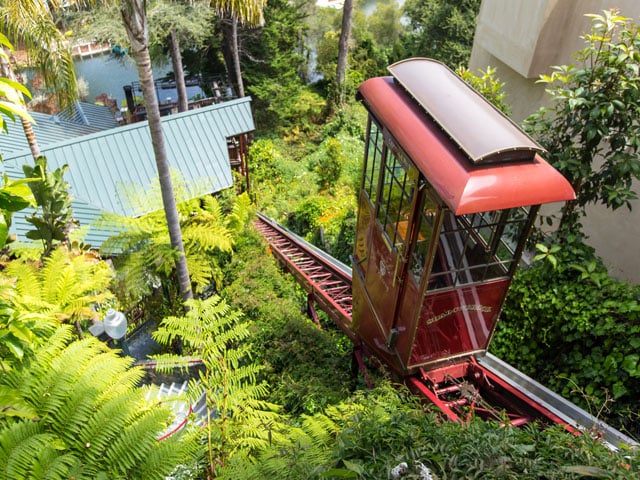 Overlooking Capitola Village, Shadowbrook has served as the region's special occasion restaurant since 1947 for good reason: a night here always feels special. Its creekfront location is reached via a mini, red cable car which descends a hillside garden of ferns and waterfalls—it's equally enjoyable to stroll a meandering garden path—with a stream that flows into a pond inside the restaurant. The historic home-turned-restaurant itself is awash with unique features such as aquariums, a massive stone hearth, and towering pines shooting up through the ceiling. Meals are no less impressive with traditional seafood and steakhouse staples including sauteed local sand dabs and a slow roasted Angus prime rib. Enjoy a classic cocktail from the Rock Room Bar, and hail a complimentary ride back home with one of Shadowbrook's vintage taxicabs.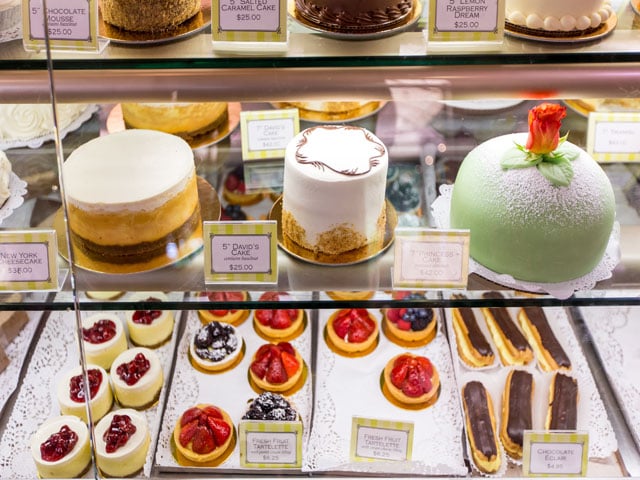 Newcomers should know two things about the throngs of eager diners gathered at this beloved deli-style eatery in Capitola. First, the wait goes much quicker than you'd think, and more importantly, there's always a crowd because Gayle's has a huge selection of amazing food. With a veritable smorgasbord of flawlessly prepared savory and sweet items displayed in seemingly endless glass countertops, the venerable eatery has developed a loyal following since opening in 1978. Favorites include devilled eggs, grilled salmon salad, and gourmet sandwiches available in full or half-size. Their breakfast sandwich, stuffed with a gooey fried egg, melted cheese, and either spinach or bacon should be inducted into the food hall of fame. Wander over to the bakery side, and you'll be tempted by pastries, cookies, and baking show-worthy cakes, available whole or by the slice. Pair your goodies with a Verve coffee cappuccino from the espresso bar, and enjoy by the fireplace in the light-filled dining room.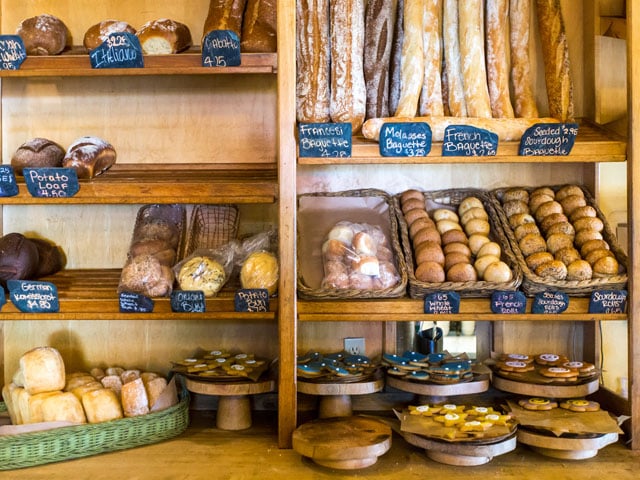 The Buttery
Ask a local what's one of their favorite bakeries, and chances are they'll mention this Midtown spot. Housed in a historic Victorian building, the cozy bakery and cafe teems each morning with crowds lining up for their pick of fresh baked goods. Offerings vary according to season, but you're likely to see shelves of sugar-dusted croissants, scones, and cookies including the Buttery's famous pecan sandies. The Buttery is also famed for their custom cakes—try their luscious carrot cake—and most locals have their number on speed dial for special occasions. There's also a small kitchen serving up breakfast and lunch items such as a croque madames and Cobb salads which you can enjoy inside or on an outdoor garden.
Like the adjacent Walton Lighthouse, The Crow's Nest is a Santa Cruz landmark. Opened in 1969 on the banks of the Santa Cruz Harbor, the dual-level, indoor-outdoor restaurant features one of the best settings in the region. In addition to nonstop views of the bay, beach, and boats, the all-day eatery is renowned for its seafood dishes and warm atmosphere. The main dining room serves big-ticket items such as broiled lobster tail and an alderwood-smoked prime rib, while the upstairs Breakwater Grill offers more casual fare—burgers, fish & chips, fish tacos—as well as an enviable with outdoor deck. Don't miss a trip to the legendary salad bar which seems to stretch a mile-long. Plus, the recent addition of an adjacent Beach Market offers grab-and-go beach essentials including soft serve and the restaurant's signature smoked salmon.
Housed in an iconic, former 1950s ice cream stand, this popular Midtown hang slings vibrant rice and noodle bowls made with organic veggies. Signature items include Spicy Dan's Peanut Delight with stir-fried veggies tossed in a coconut peanut sauce over noodles and the Gado Gado with veggies in a black bean sauce over jasmine rice with peanuts, cilantro, and pickled carrots and daikon. For nearly all dishes, you can add a protein, or have it prepared vegan or vegetarian. Just bring an appetite as portions are huge, and can easily be shared or saved for the next day's lunch.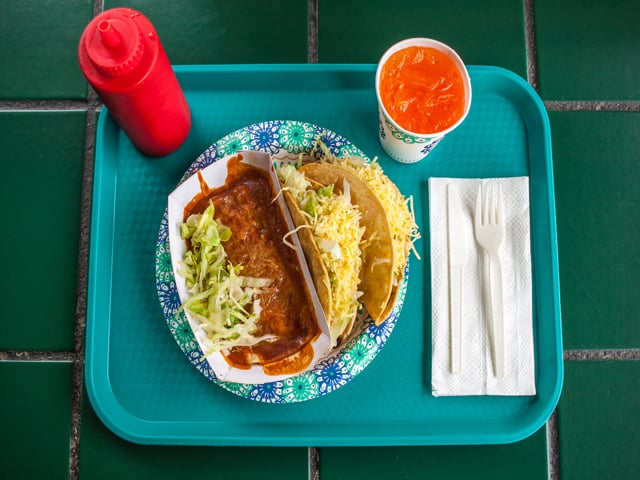 Just down the street from Main Beach, a steady flow of families, sun-tanners, and regulars pour into this welcoming, family-owned taco stand. They're here for crispy tacos, burritos and other delicious Mexican cuisine. These beloved tacos have been on the menu since Martin Mendez Sr., a former farm-worker, opened the shop in 1955. Today, his grandson Rick Mendez continues the tradition, dishing up enchiladas, quesadillas and a crowd-pleasing, homemade childe de arbol hot sauce that goes perfectly with all of the above.
Whale City Bakery
Add this cozy restaurant and bakery to your list of must-stops along Highway 1. Situated across from coastal bluffs in the seaside village of Davenport, Whale City bustles throughout the day with regulars and visiting motorists ducking in for a bite to eat. The exposed-rafter dining room is abuzz with conversations over coffee and breakfast and lunch faves including The Lumberjack Special with buttermilk pancakes, eggs, and bacon. Burgers and sandwiches feature homemade bread baked fresh each day in the adjacent bakery. Diners can peer into a glass case filled with daily baked goods including croissants, muffins, cookies, and pies. Visit during fall when the bakery sources pumpkins from nearby Frambrini Farms to whip up autumn-spiced cookies, streusel, and their famous pumpkin muffins.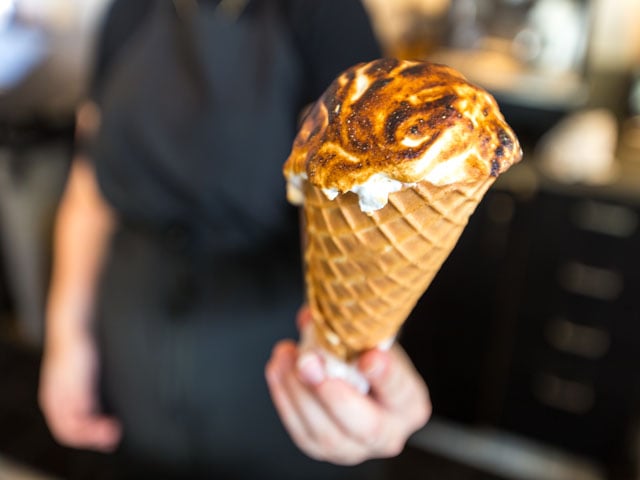 Sunny Santa Cruz days—300 days per year to be exact—wouldn't be the same without the Penny Ice Creamery. Opened in 2010, the humble Santa Cruz shop changed the game with organic ice cream made entirely from scratch in their small onsite dairy. Until then, nearly every ice cream shop in the nation started with a premade base. The idea came naturally to owners Zachary Davis and Kendra Baker, the latter a former pastry chef at the Michelin-starred Manresa restaurant. Baker and Davis also make their waffle cones from scratch, and infuse their homemade ice cream with ingredients from local farms and producers. Enjoy rotating seasonal flavors such as Pink Peppercorn with Dirty Girl Farms strawberries and Caramel Doodle with Verve Coffee at their four locales in downtown Santa Cruz, Pleasure Point, Aptos, and Scotts Valley. Just make sure to opt for the toasted marshmallow topping.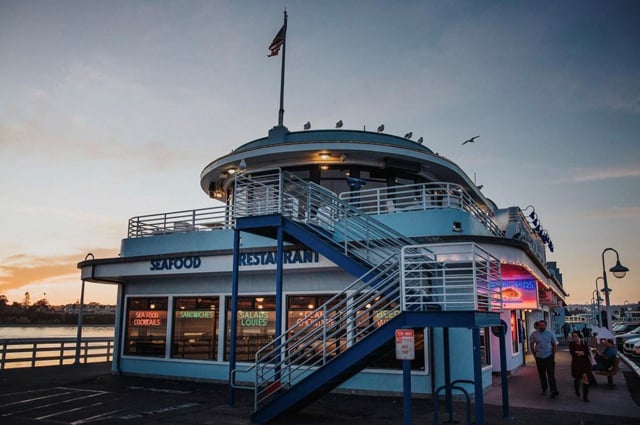 Stagnaro Bros. Restaurant
Located on the Santa Cruz Wharf, this family-owned seafood eatery has been a favorite for tourists and locals alike since 1937. Stagnaro offers some of the county's best seafood, freshly sourced from the Monterey Bay. Enjoy ocean views in their restaurant, or order from their market and take a stroll down the municipal wharf. From their classic clam chowder bread bowls to savory shrimp cocktail – you'll be wanting seconds before you're done!
Cafe Cruz
This hidden gem is an oasis of great food and ambience off bustling 41st Avenue in Soquel. Hidden behind towering green shrubbery, a quiet garden courtyard is set with tables warmed by an outdoor hearth. Inside, the intimate, low-ceiling dining room with open kitchen feels like dining in the home of a good friend. Since opening in 1995, the family-owned restaurant has become known for its warm, rustic fare including a signature garlic herb rotisserie chicken (hint: get it with mashed potatoes). For dessert, you may have to recruit a few dining partners to help you with a towering slice of the restaurant's famous coffee ice cream mud pie with a chocolate cookie crust, whipped cream, and toasted almonds.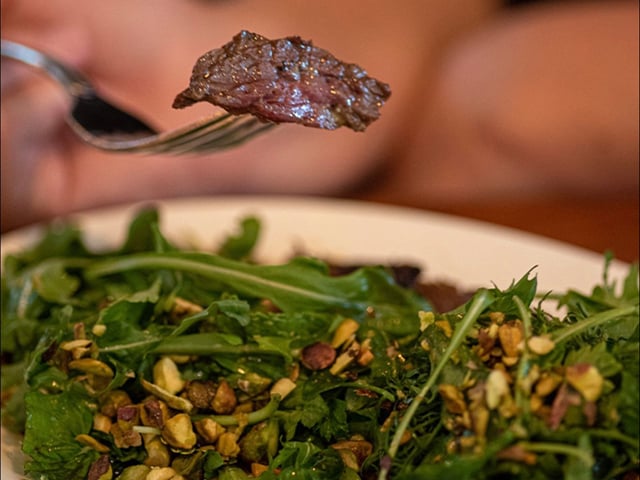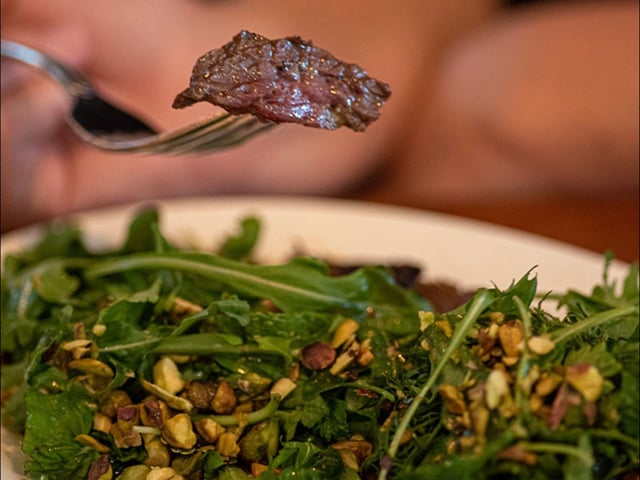 This Westside Cal-Italian restaurant was doing farm-to-table long before it became trendy. In 2019, the popular eatery was acquired by new owners who gave the interiors a modern refresh. Yet, Avanti's ethos remains true to its founding: modern Cal-Italia fare that showcases pasture-raised meats, sustainable seafood, and organic produce and dairy. The rebooted menu includes updated faves such as lamb meatballs and a dinosaur kale salad with ricotta and breadcrumbs alongside new items including a grass-fed tenderloin with horseradish, seaweed butter, and baby potatoes. Don't pass up the drink list which features seasonal craft cocktails, and a showcase of local wines.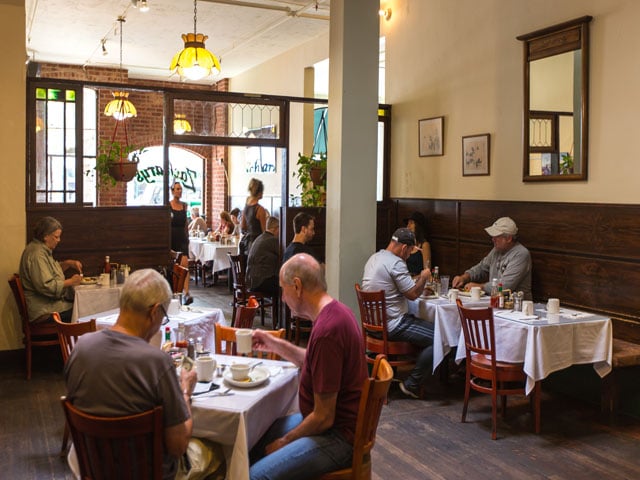 This welcoming daytime eatery has been dishing up delicious homemade dishes in downtown Santa Cruz since 1985. Inside the comfy brick and wood-lined dining room, regulars are greeted by name and served signature dishes such as Mike's Mess, a hearty egg-and-home-fries-fueled classic that was spontaneously invented in the 1980s when the owner asked a dishwasher named Mike what he would like to eat. His response? Just throw everything into a pan. If that doesn't sway you, try forking into a stack of from-scratch, sourdough pancakes oozing with maple syrup.
Honorable Mentions
Of course no "Classically Santa Cruz Eateries" list could be complete without shouting out these staples that visitors and locals alike love to love: Johnny's Harborside, Santa Cruz Diner, Steamer Lane Supply Co., Marianne's Ice Cream, and Pizza My Heart.
The eateries listed above are guaranteed to leave you satiated, but there's a lot more on the menu in Santa Cruz County. If you're craving other dining, cultural, and outdoor adventures, check out the many itineraries and destination guides that we've prepared on our site!
Updated 2022