All Photos by Molly Ressler
Perched atop one of the highest ridges in the Santa Cruz Mountains, Castle Rock State Park offers expansive views of the San Lorenzo Valley. Miles of forested peaks stretch out below, fading from chartreuse and emerald green to sage, the furthest peaks a hazy blue that meet the fog-shrouded Pacific. Although not as famous as its neighbor, Big Basin State Park, Castle Rock has its own grove of redwoods, a 75-foot waterfall, miles of hiking along open ridges and through shady forests, and a playground of sandstone rock formations attracting both world-class climbers and amateur scramblers.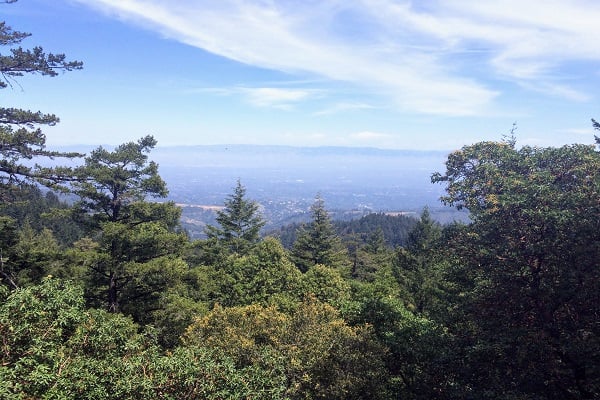 A BRIEF HISTORY
Long before Castle Rock had its official designation as a state park, native peoples hunted deer and bears in the forest, harvested edible and medicinal plants, and connected to the spiritual world through the strange geologic formations. The park's sandstone outcrops are riddled with pits and pockets and laced with strange honeycomb structures, ideal for climbing or taking creative Instagram pics of your friends tucked inside one of the deep caverns. It's not hard to see why native peoples would commune with these anthropomorphic rocks. Called tafoni, the rolling contours of these geologic oddities often resemble sleeping giants with bulbous stone noses and gaping mouths.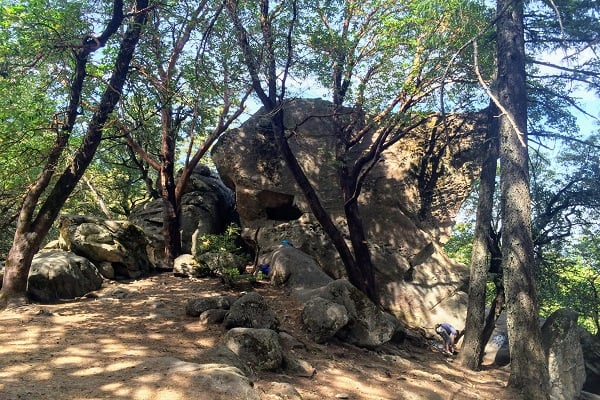 Eventually, European explorers pushed out the land's original caretakers and began forever changing the landscape. First, the Gold Rush led to heavy logging to provide lumber for new homes and towns. In the early 1900s, families settled around Castle Rock planting gardens and fruit trees, a few of which still stand today by the park's interpretive shelter.
In 1908 a judge purchased a 60-acre parcel to save it from logging and provide a place of recreation for the general public. In 1959 the Sierra Club and Sempervirens Fund purchased the land, and in July of 1968, 27 acres were officially designated as a state park. Today, the park encompasses close to 5,200 acres and offers 34 miles of trails, serving tens of thousands of visitors per year.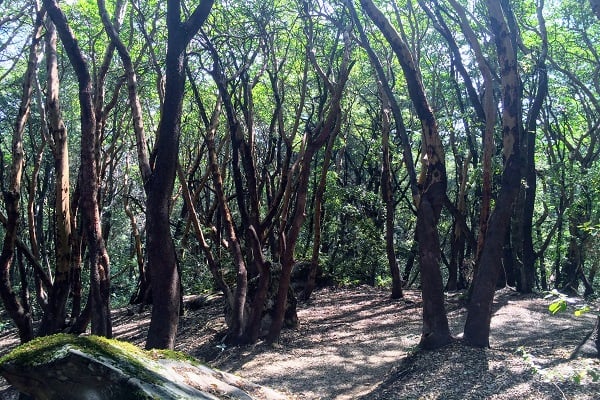 HIKING & BACKPACKING
Most of these visitors come to explore the park's 34 miles of hiking trails. The narrow paths snake through mixed evergreen forests, black oak, and scrubby chaparral, frequently rewarding hikers with expansive views. Just a half-mile from the old parking lot on Highway 35, Castle Rock Falls is worth the walk even in the dry season. In the winter after a good rain, the falls cascade audibly down 75-feet of smooth sandstone.
Another mile or so in, the unusual features at Castle Rock and Goat Rock attract hikers and climbers alike. Gaping holes puncture the rocks creating oblong Gaudí-esque windows looking up into the branches of an oak or out onto the valley below. Those looking to stay the night can pitch their tent at the first-come, first-serve trail camp and then continue into Big Basin State Park on the popular 33-mile Skyline to the Sea Trail.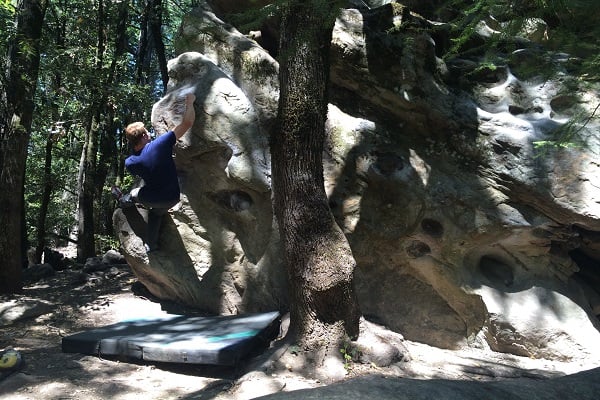 BOULDERING & SPORT CLIMBING
Santa Cruz's closest outdoor climbing destination, Castle Rock offers both bouldering and sport climbing. Climbers from the Bay Area and beyond congregate at the plentiful boulders with crash pads or rope up on the various bolted routes that snake up the highest of the formations.  World-famous rock climber and Santa Cruz native Chris Sharma grew up climbing on the sculpted sandstone, establishing many of the bouldering problems in the park.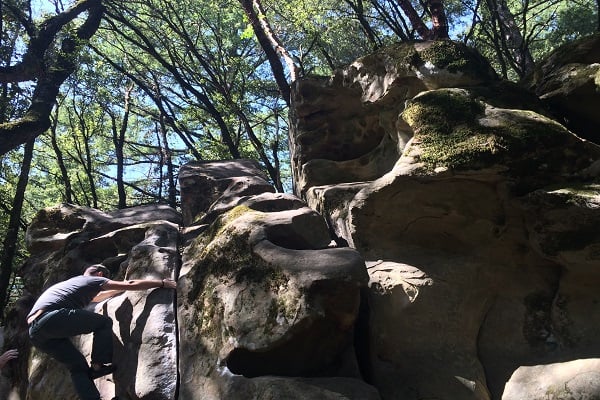 AFTER 50 YEARS, CASTLE ROCK GETS A FACELIFT
For years Castle Rock struggled to provide adequate parking and services to its visitors. A 50-car lot at best, the current dirt parking area is almost always full on weekends, as is the free overflow parking across the street. Cell service is non-existent at the entrance and spotty in the forest. When nature calls, one pit toilet is your only option unless you hike ten minutes to a second pit toilet in the woods.
The new entrance, located a quarter mile north on Skyline Blvd from the old parking lot, will be a huge upgrade and will give the park a much-needed facelift to accommodate its growing popularity. The entrance will include a 90-car parking lot with permeable paving, six restrooms with flush toilets, a drinking water station, cell service, and WiFi. It will also feature a 60-seat amphitheater, interpretive exhibits, and shaded picnic areas. In an effort to keep the park accessible to everyone, the free roadside parking will still be available, but the new official lot provides much-needed space and improved amenities for all types of visitors.