When you think of backpacking in California, the Santa Cruz Mountains isn't usually the first place that comes to mind. There's a healing serenity, however, found beneath the towering coastal redwoods that protectively enfold our sunny stretch of well-loved coastline. A quick day trip from the metropolitan hustle of the Bay Area, the Santa Cruz Mountains are an accessible, much-needed antidote to the frenzy of modern life.
From the slow coast along Highway 1 to the forested mountains, Santa Cruz boasts thousands of acres of undeveloped land within and surrounding county lines. The trails that weave through these wild places welcome all levels of hikers, from veteran backpackers to those looking for their first overnight wilderness adventure. From an easy access trail-camp with restrooms to a multi-day trek deep into the woods, there's a weekend escape for every level of nature enthusiast.
Backpacking Trails in the Santa Cruz Mountains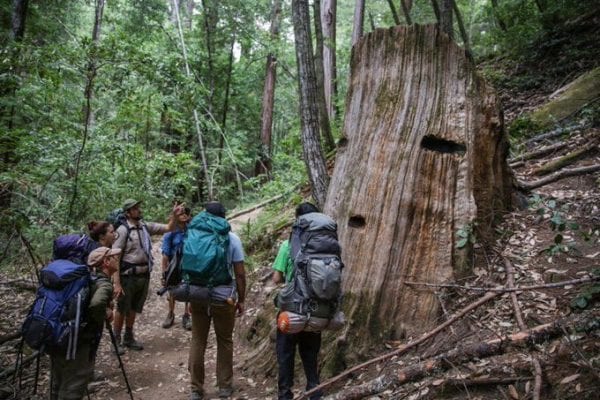 There are three main backpacking adventures to choose from in Santa Cruz County and each has something special to offer. It's important to note that reservations are required for all backcountry trail camps, with the exception of Castle Rock which is first-come, first-serve. Get more information on reservations, permits, and camp rules through the CA Department of Parks and Recreation.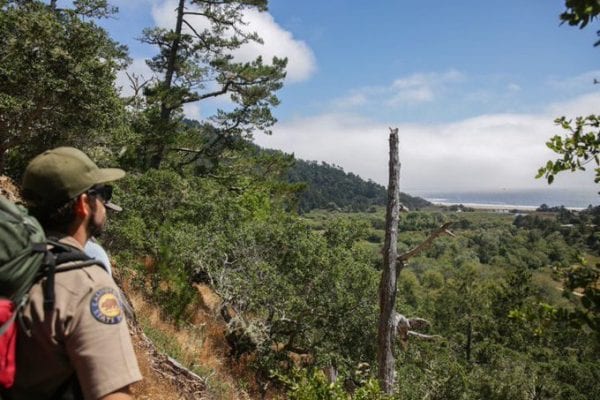 Skyline to the Sea: Castle Rock to Big Basin State Park
Starting along the scenic ridgeline at Castle Rock State Park, the Skyline to the Sea trail offers 30+ miles of peaceful trails through several habitats including oak woodlands, coastal redwoods, open meadows, riparian corridors, and coastal dunes. Hikers trek along exposed ridges and up steep terrain but are then rewarded with miles of shaded trail beneath the redwoods and through fern-lined canyons. The highlight of the trip is shedding your pack at the Sunset Trail Camp and watching moonlight sparkle across the nearby falls before crawling into your tent for a deep, dreamless sleep. At the end of the three-day trip, the dense forest thins, allowing you to catch glimpses of blue ocean in the distance. When you reach the sand, drop your pack, kick off your hiking boots, and sit awhile at Waddell Beach, keeping your eyes peeled for dolphins playing in the surf and a whale spout on the horizon.
California State Parks offer a guided backpacking trip from Castle Rock to Big Basin from July 16 – 19, 2020. Click here to register for this popular excursion!
Castle Rock Trail Camp: Castle Rock State Park
Just 2.5 miles from the parking lot, the Castle Rock Trail Camp is perfect for a quick one-night get-away, minimal planning required. The camp offers 20 campsites with picnic tables, fire-rings, bathrooms, and trash cans—practically glamping by backpacking standards. Sites are available on a first-come, first-serve basis, so this is a good option if you can't snag a reservation for Skyline to the Sea or Nisene Marks State Park.
California State Parks offer a guided backpacking trip through Castle Rock State Park from August 11-12, 2020. Click here to register and learn more!
CA State Parks Backpacking Adventures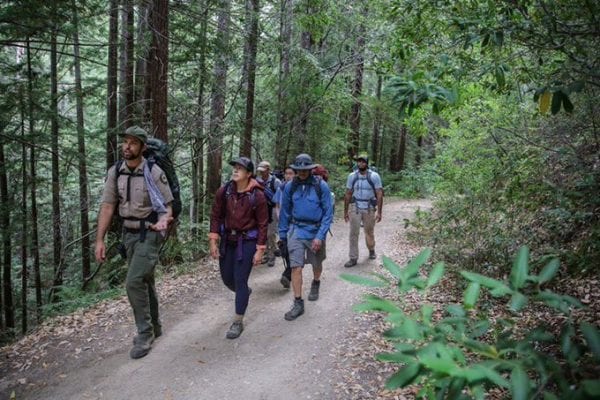 While you can certainly plan your own wilderness adventure, CA State Parks offers guided backpacking trips in the Santa Cruz Mountains during the summer months—the only program of its kind in the entire state.
Each trip is led by two state park naturalists who will chart your course and offer a wealth of plant, wildlife, and cultural history knowledge as you hike through Big Basin, Castle Rock, or Butano State Park. These backcountry experts will also provide you with filtered water for drinking and hot water for your evening meals—that means you don't have to carry a filtration system or a stove on your back. Not sure what one is supposed to eat sans refrigeration? CA State Parks has compiled a detailed meal plan for every day of your trip, in addition to a packing list.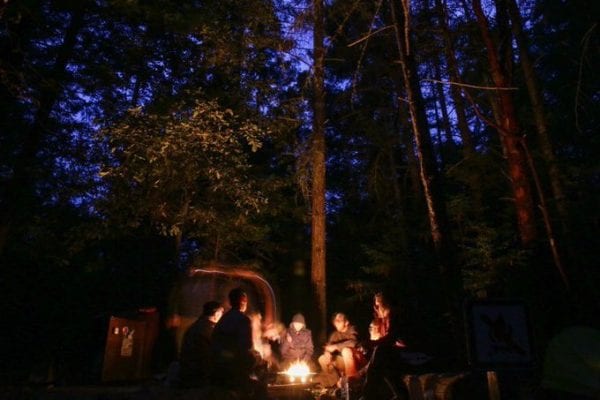 Besides showing new backpackers the basics of camping in the wilderness, the naturalists also share ancient local knowledge passed down through generations by the native Amah Mutsun tribal band. Learn how native tribes like the Awaswas helped shape the wild landscape, drink medicinal teas brewed with native plants harvested along the trail, and taste grass seed porridge prepared using traditional cooking methods.
Trips fill up fast, so be prepared for a waitlist. As more people express interest in this one-of-a-kind program, however, more trips will be offered. CA State Parks also offers trips for non-traditional park users who might otherwise never experience backpacking. Contact Jeremy Lin at Jeremy.Lin@parks.ca.gov or (831) 427-2288 for more information.
Sign up for a guided backpacking trip and get more details on hiking through the Santa Cruz Mountains on the CA State Parks website.