I am standing on a crowded wooden platform, over 100 feet up, in the branches of a "baby" Redwood tree, and I'm terrified. An extremely talkative tour guide is telling me there's nothing to worry about, "It's nice and easy." But that seems much easier said than done when I'm gazing down at the gully below, lush and scenic as it may be, and at the thin zip line stretching before me. I'm the kid that raised my hand on the pendulum ride because I couldn't handle the stomach dropping and the one who still hasn't jumped off a high dive. But yet, here I am, swaying in the treetops and watching my husband go soaring off in front of me. This is the Redwood Canopy Tour at the Mount Hermon Conference Center in Felton and I can proudly say that I not only go through all six lines (one as long as a football field!) and one shaky air bridge, I am now addicted to the thrill.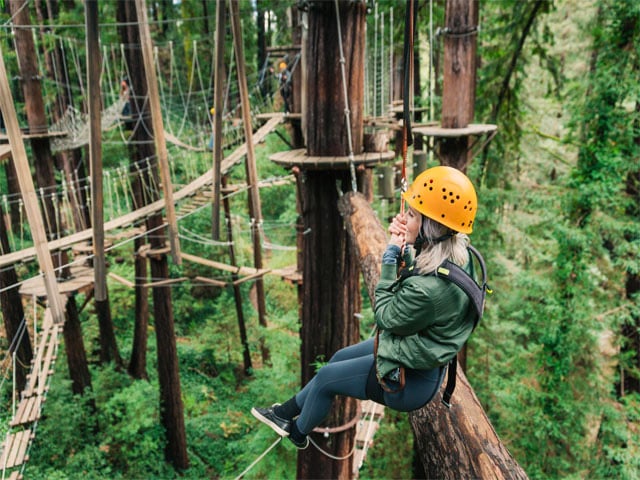 Luckily, with my new courage, I am realizing that there are so many more opportunities here in Santa Cruz County to test my bravery. I think for my next venture, I'll head to the coast and finally, do as the natives do by enrolling in some surf lessons. Club Ed International Surf School is a long-time local favorite, with individual and group lessons happening year-round at Cowell's Beach in front of the Dream Inn. Using custom-designed teaching equipment and techniques by founder and UCSC "Professor of Surfing", Ed Guzman, Club Ed is a go-to place for first-timers, but also for experienced surfers who could benefit from a few pointers from Ed. Standup paddling lessons and surf camps are also on offer, as well as campsites in Mexico, Costa Rica, Ecuador, Peru, Chile, Fiji, Samoa, and Indonesia-hence the International part of their name!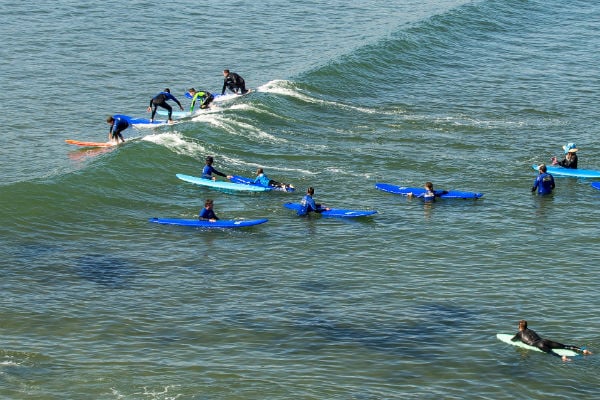 Richard Schmidt Surf School is another great option. The original surf school in Santa Cruz, professional surfer, Richard Schmidt, brings his 1980's "Top Big Wave Rider" of California credential to all of his students. His confidence rubs off and is why he created the Schmidt Guarantee; an official promise that you will stand up and ride a wave on your first lesson. He has also developed an instructional DVD that Surfer Magazine calls the best how-to surfing video ever released.
I could spend all summer surfing here in Santa Cruz, but I'm itching to get out and explore more adrenaline inducing activities. Adventure Out aims to do just that, to get people outdoors in any way imaginable. That means that they take full advantage of diverse ecosystems and terrains, offering surf camps, wilderness survival skills like snow camping and kid or teen nature camps, backpacking trips, and rock climbing classes. They also spotlight the world-class mountain biking trails we have here in the Santa Cruz Mountains, and take beginners to advanced intermediate levels, specializing in very focused, one-on-one training.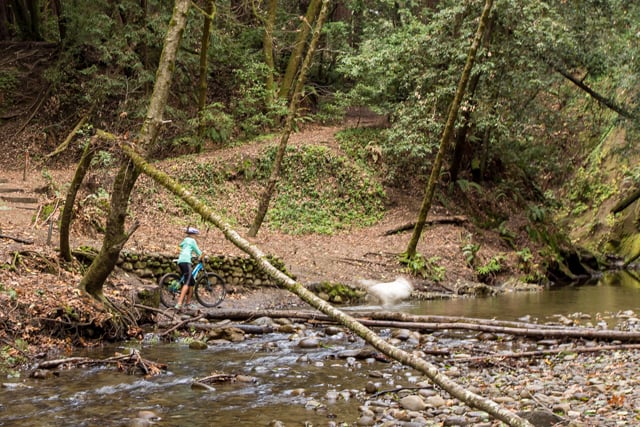 Shuttle Smith Adventures is another bike company, offering two daily shuttles up to the top of Nisene Marks State Park, where you can explore the Soquel Demonstration Forest trails on your own. They also conduct guided mountain biking tours, team building, and instruction, as well as general shuttle service if you happen to have the need for a party bus after the day of adventure. Fear of heights has nothing on fear of depths, which is why the idea of scuba diving often evokes panic for many people. But with the proper training and a trusting guide leading the way, scuba diving can bring life altering wonder to those who take the plunge. Aqua Safari Scuba Center has been in business since 1987 and is immersed in all things scuba, from their diverse line-up of classes and training certifications to their equipment sales and repair services to a variety of diving excursions both here in the stunning Monterey Bay and as far as the Bahamas. They even host a diving club, and for good reason. It seems that once the diving bug bites, you tend to stay hooked.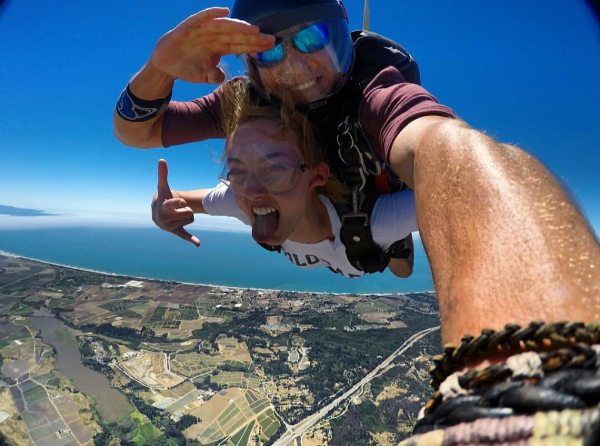 But really, no one can argue that the ultimate adrenaline rush comes from the ultimate risk, and jumping out of a plane seems to be pretty much at the top of that list in my mind. Skydiving is surely the scariest possible thing to do, but probably the most worth it, and Go Jump Santa Cruz is the only place to do it in Santa Cruz County. Located at the Watsonville airport, they like to say that they offer the best ocean views around. Most of their team of instructors have jumped thousands of times, which helps ease the enormity of free falling from over 10,000 feet. But just think, in less than 60 seconds, back on safe ground, you'll probably be ready to jump thousands more times too.