Inciting jealousy among friends, I was tasked with selecting favorite treats from the Santa Cruz Beach Boardwalk. To help me taste my way through a sea of cotton candy and deep-fried Oreos, I recruited a worthy assistant: my 5 year-old son, Felix. He gleefully accepted and asked every day that followed if today was the day. Once the happy morning arrived, we steadied our tummies, kissed our loved ones (mom) goodbye, and headed off to The Boardwalk.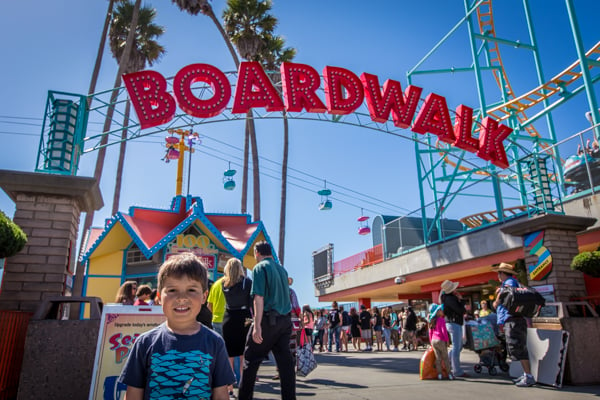 DEEP FRIED ARTICHOKES @ SURF CITY GRILL
We started with a local Santa Cruz treat: deep-fried artichoke hearts from Surf City Grill. The delicious, crispy 'chokes are made to order and served piping hot. The anticipation to dig in usually means grabbing one too soon and Ow, owing away the fleeting sting. That's where the cooling side of ranch dressing comes in. After being told to wait longer than he would have liked, Felix quickly grabbed a golden nugget, dunked it in the dressing and gobbled it up. It was the first treat of the day so we agreed we would nibble just a few to save room for the treats that lie ahead. Not a chance. Within minutes, we were fishing for the last little morsels and licking our fingers.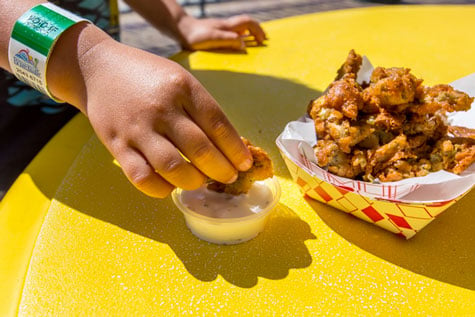 CORN DOGS @ HOT DOG ON A STICK
Felix and I decided it was time for that old-school fair favorite: a corn dog. Invented in the early 20th century, the handheld treat earned its name not just from its corn batter coating but because people thought it resembled an ear of corn. We made a beeline for the colorful Hot Dog on a Stick stand that keeps the tradition alive at the Boardwalk. Tangy, juicy hot dogs are wrapped in a fluffy cornmeal batter and require only two things: a free hand and a tub of mustard. Oh, and lots of napkins. Felix made quick haste of the corn dog and I had to be fairly vigilant to sneak in a bite or two.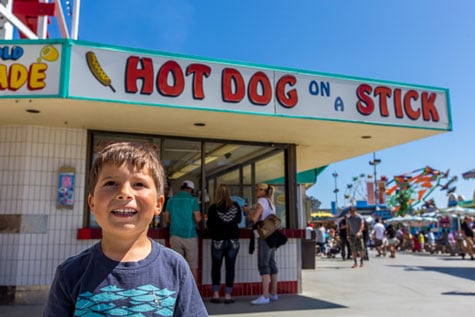 SPUDS ON A STICK @ TATER TWISTS
Next we hopped in a line for Tater Twists, one of the latests treats at the Boardwalk. How do you eat a potato on a stick? You'll marvel at the process as you wait in line: fresh, plump spuds are run through a slicer, stretched out like a Slinky and skewered on a stick, dunked in a fryer and served up crispy hot. The result is the freshest potato chips you've ever eaten…on a skewer! Felix wielded the 2-ft saber as we headed to an adjacent cart with a wild assortment of toppings to sprinkle on your spud: Parmesan cheese, lemon pepper, malt vinegar, hot sauce, and BBQ sauce just to name a few. Can't decide? Trust me, it's long enough to try them all.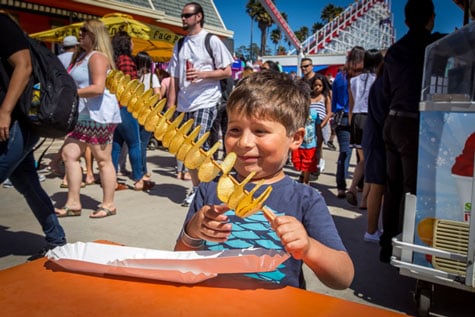 CHOCOLATE DIPPED SOFT SERVE ICE CREAM @ CAROUSEL CONES
Our fourth choice was a toss-up between Deep Fried Twinkies and a good ol' fashioned chocolate-dipped soft serve ice cream. In the end, tradition won out. It's hard to argue with a creamy soft serve ice cream sealed in a crispy layer of chocolate on a beautiful, sunny day. Mid-way through his cone, Felix's face was completely obscured by soft serve proving that the more napkins required, the better the treat. He gave it one thumb up solely because the other hand was occupied.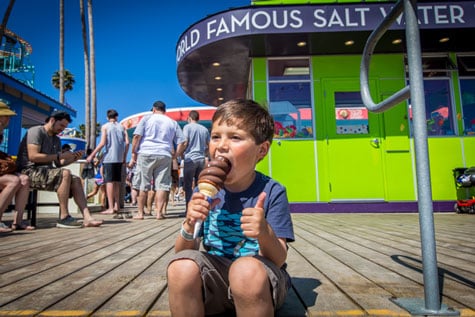 CHOCOLATE COVERED BACON @ MARINI'S CANDIES
We finished our fun food tour at Marini's to celebrate their 100 sweet years at the Boardwalk. Since 1915, Marini's has served up countless smiles via their candied apples, salt-water taffy homemade chocolates. The latest treat to be hand-dipped in chocolate is an unexpected breakfast staple: bacon. When I first mentioned chocolate-covered bacon to Felix, he made the same face you probably made just now: a mix of confusion and delight. Though, a couple bites into the chocolate-covered strip and all confusion quickly faded away. The saltiness of bacon melds perfectly with sweet, richness of the chocolate. Felix's mouth was too full to comment but his face said it all: yum.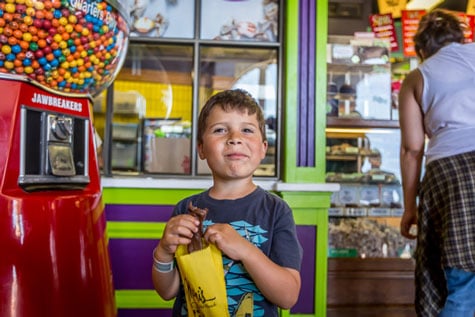 TASTY CREPES & BOBA TEAS
Fresh off the griddle are the Boardwalk's Cruzin' Crepes! Sweet treat or savory delight, these crepes were quite a hit in their 2017 debut! On the sweet side try combos like Nutella & Banana, Strawberries & Cream, S'mores (made with Ghirardelli chocolate chips!), Lemon Butter and more. Savory options include Chicken Pesto, Artichoke Avocado, Beef Brisket, Cheese Melt and others. And another recent addition Boba! Milk teas, fruit teas, smoothies, blended tea drinks, they've got it all! And they make a delicious and refreshing summer treat!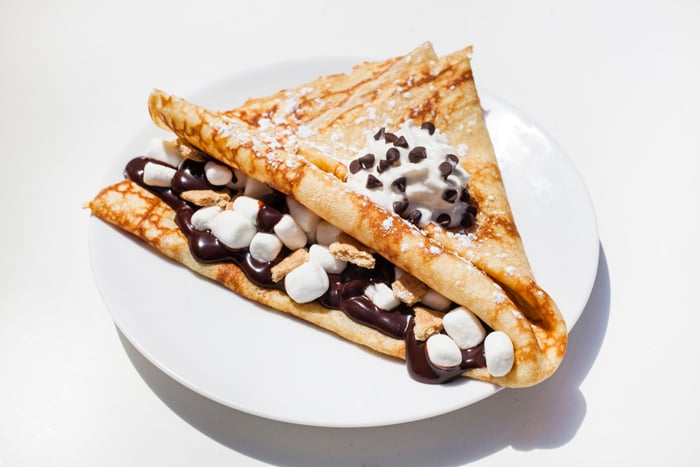 Photos by Garrick Ramirez