September 23, 2020
COVID-19 Update, ERC Weekly Report, and Safety Pledge Continues
The Economic Recovery Council of Santa Cruz County (ERC) – formed in spring 2020 to support a safe, phased, and sustainable reopening of the local economy – is providing weekly updates related to COVID-19 in Santa Cruz County. These weekly updates align with information provided by state and county health officials, Governor Newsom's Blueprint for a Safer Economy, Santa Cruz County Health Services Agency, and SAVE Lives Santa Cruz County. As Santa Cruz County is now positioned in the Red Tier, this information is critical to maintain safe protocols for locals, business owners, front-line workers, and visitors. VSCC's ongoing Let's Cruz Safely Campaign is part of the "opening safely" measures the business community and the ERC is supporting.
The safety pledge campaign is supported and endorsed by the Santa Cruz Business Council, Santa Cruz Mountains Winegrowers Association, Santa Cruz County Chamber of Commerce, San Lorenzo Valley Chamber of Commerce, and the Pajaro Valley Chamber of Commerce and Agriculture. With the number of current active COVID cases within the county at just over 300, VSCC continues to promote helpful information on visitsantacruz.org. which can be used as a resource for hotels and other local business faced with the challenge of providing visitors with the latest roster of businesses and attractions that are open and operational. Do you need additional Safety Pledge posters for your business? Contact us! Or print your own copies here. If you have staff and employees taking the safety pledge, send us a photo to be featured on VSCC social media channels!
Update: 2021 Official Santa Cruz County Traveler's Guide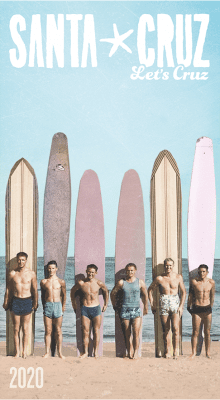 After 25 years, VSCC has suspended production of the 2021 Official Santa Cruz County Traveler's Guide. This difficult decision was reached based on the extreme financial hardship our local business community is experiencing, combined with the current safety protocol of embracing "touchless" services and amenities during the COVID-19 Pandemic.
Publishing the Traveler's Guide – VSCC's main fulfillment piece and one that is embraced by the local community as well as visitors worldwide – is truly a labor of love each year. Pushing the pause button on this annual projectseems the most responsible and prudent step for the time being.
VSCC will continue to distribute the 2020 Traveler'sGuide to key locations within and outside of thecounty and promote Santa Cruz County actively and creatively – strictly focusing on the regional, Northern California visitor markets that have traditionally supported our tourism economy. A significant investment in digital marketing efforts, social media, and expansion and promotion of travel information available on www.visitsantacruz.org continues. Current conditions with COVID-19 have spurred various expansion efforts to provide the public with COVID safety measures and added information such as outdoor dining availability – are all available on thisnewly established section of the site. Visit Santa Cruz County thanks the community for its participation in andsupportoflocally-based destination marketing. Together we will persevere over thecoming months. In the meantime, we all do our best to be of service and do what we can to support each other.
Spotlight Featured Business Opportunity!
VSCC announces the 2021 Spotlight Featured Business co-op marketing program, the most highly visible position on the VSCC website. This annual program rotates partner exposure on all leisure-related landing pages on www.visitsantacruz.org. The Spotlight Featured Business layout is larger, offering a bigger photo and more room for descriptive copy with a direct link to partner websites. Spotlight Featured Business partners are listed first in alpha order on the VSCC website, allowing for elevated exposure.

VSCC's Let's Cruz Safely campaign, COVID-19 landing page, and eat, drink, and shop local campaigns have proven popular and well received to both local residents and out-of-town visitors. Spotlight Featured Business partners gain additional visibility from these relevant community resources we provide.

The Spotlight Featured Business co-op marketing program is limited to 30 partners and will be filled on a first-come, first-served basis. For more information, please contact Chuck Ryder, Sales and Marketing Director.
Reminder: COVID Testing Available
The Optum Serve testing site at Ramsay Park in Watsonville is open Wednesday through Sunday 7AM to 7PM by appointment. To make an appointment, click here or call 888.634.1123.
Get Counted
Reminder: September 30th is the deadline to take the 2020 Census, which takes a few minutes and can be done online at www.2020Census.gov or by calling 844.330.2020. Responding to the Census is more important than ever because having a full and accurate count of residents is critical for emergency response and recovery. Data from the 2020 Census will provide baseline numbers not only for funding of federal disaster relief, but also support for preparation, rescue coordination and where resources are deployed over the long term.
Price-Gauging Law Extended
On September 15th, the Santa Cruz County Board of Supervisors voted to allow successive 30-day extensions of an existing law which limits price increases for 30 days following a disaster declaration to no more than 10 percent above customary prices for a variety of goods and services. Last week, the County of Santa Cruz extended prohibitions on price-gouging through October 18, 2020. An anti-price gouging law is included in Section 396 of the California Penal Code.
Donation Warehouses Closing
The Emeline Avenue warehouse in Santa Cruz and the Walker Street warehouse in Watsonville will no longer be accepting donations for fire evacuees. If evacuees are in need of water, clothing, toiletries, nonperishable food or other items during this transition time, please contact Santa Cruz County General Services at 831.454.2210, Monday-Friday 8AM – 5PM. For donation information, click here.
City of Santa Cruz Survey
Attention City of Santa Cruz residents and business owners:  city leaders are developing a plan to guide the City's economic recovery and establishing its key areas of focus for the next 12 to 18 months.  Part of this Interim Recovery Plan involves public input about priority areas of focus. Click here to take the Interim Recovery Plan survey. Survey responses will be consolidated into a report and provided to the City Council. The survey ends on Friday, September 25th.
Did you know……
that the New York Times labeled this year's summer season as a throwback to Mid-Century Modern travel? Due to the pandemic, the industry saw an uptick in domestic travel, road trips, spending time outside, and eschewing splashy international experiences for humbler ones close to home.