September 2, 2021
Local Events Restart in Santa Cruz County as VSCC Fall Festival Series Launches
Since local events suffered cancellations due to the pandemic in 2020 and the first half of 2021, Santa Cruz County has seen a resurgence of festivals, fairs, concerts, food and wine events, and performances being organized in the coming weeks and months. A combination of vaccination rates increasing, vaccine availability, favorable weather, and accommodations from local businesses including safety pledge information posted to keep staff and visitors safe have all contributed to many signature events planned for fall. VSCC has launched its Fall Festival Series Campaign to capture the off-season market and leverage visitor interest in these events during September, October, and November.
Signature events – most of which are hosted outdoors – will be promoted through several key marketing avenues, including television, digital, media relations, and social media efforts. Television spots on Comcast in the San Francisco Bay Area, Sacramento, and the Central Valley will coincide with aggressive online digital efforts throughout the fall. Meanwhile, the campaign will be actively promoted on VSCC's social media channels, including Facebook and VSCC's blog, through a monthly visitor e-newsletter, and an expanded presence on www.LetsCruzEvents.com
High-visibility events which typically draw overnight visitors have returned such as the Capitola Art & Wine Festival, the Chili Cook-Off at the Santa Cruz Beach Boardwalk, "Fire in the Sky" at the Watsonville Airport, Arts Council Santa Cruz County's Open Studios Art Tour, the Clam Chowder Cook-Off in February 2022 and more.
VSCC's 2021 Fall Festival Series is made possible by the following sponsors:  Annieglass Studios, Chaminade Resort & Spa, Four Points Sheraton Scotts Valley, Hollins House at Pasatiempo, Hotel Paradox, Hyatt Place Santa Cruz, Pajaro Dunes Resort, Roaring Camp Railroads, Santa Cruz Dream Inn, and the Seascape Beach Resort. 
COVID-19 Update: Vaccine Toolkit Available for Employers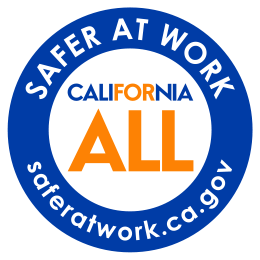 With a mask mandate firmly in place from the Santa Cruz County Health Services Agency, the Pfizer-Biontech COVID-19 Vaccine receiving approval from the FDA, and free COVID testing widely available, Governor Newsom has announced that resources are available for employers who want to have their employees receive the COVID-19 vaccine.
California's new Employer Vaccination Toolkit will create a new process for employers to request a workplace clinic or local provider partner, making COVID-19 vaccines even more accessible for their employees. On Monday, the Santa Cruz County Health Services Agency has expanded testing sites at three locations while Health Officer Dr. Gail Newell reported the start of a downward trend of Delta Variant cases in the county, which mirrors what is happening statewide. She reported that containment of outbreaks and control of disease in local schools is the focus, with a little less than half of all county outbreaks tracing back to academic environments.
With most new local cases are occurring in North County, expanded daily testing capacity at the Santa Cruz Civic Auditorium has increased to 594. On September 1, a second lane will be added at the Ramsay Park testing site in Watsonville, bringing the total daily testing capacity there to 396. Appointments are available for both locations online. In addition, a mobile testing bus capable of administering 84 tests per day can be positioned at various locations in the San Lorenzo Valley. Operations will begin September 10th at Mountain Community Resource Center in Felton, and the site will operate Friday – Tuesday, 10AM to 6PM  for the foreseeable future. This service is being provided in collaboration with Community Bridges. Testing turnaround times are highly dependent on testing volume and currently, volume is high.
To help prevent another statewide shutdown, Governor Gavin Newsom announced that California school employees must be vaccinated against the virus or undergo a weekly test to prove they are negative for COVID. The order affects all 1,037 public school districts and private schools.
The Governor also announced that all state and health care employees and employees who work in congregate settings that public health experts deem high-risk environments are required to be vaccinated. This state-issued mandate was the first of its kind in the country.
In late August, the Santa Cruz County Board of Supervisors voted to require COVID-19 vaccinations for the County's 2,400 employees, representing the second-largest workforce in the County.
According to CDC figures, COVID-19 cases have been steadily rising over the last 30 days due to the Delta variant surge.
Sea Walls: Artists for Oceans Coming to Santa Cruz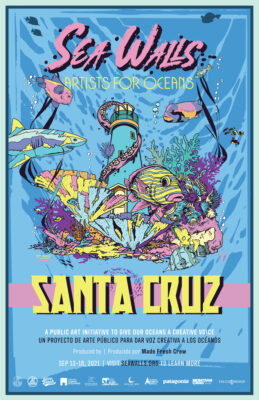 New ocean-themed environmental public art and related activities will debut in Santa Cruz this fall. Beginning September 13th and continuing for five days, artists will gather to create 15 ocean advocacy murals and host various public events to increase interest and engagement in marine stewardship within the community.  Sea Walls: Artists for Oceans is the first event of its kind in Santa Cruz and is made possible by the PangeaSeed Foundation, which works to create meaningful environmental change for oceans through science, education, and ARTivism (SEA).  
What is known about the Delta Variant is that it is twice as
The Tannery Arts Center will serve as the project's headquarters.  Activities for the week will include youth outreach, waterfront cleanups, mural walking tours, and a film screening. Locals and visitors can pick up mural walking maps, obtain more information on the event, and take part in public programming at the tannery. Locals Abi Mustapha and Caia Coopman will join 12 other artists from Oakland, Emeryville, Los Angeles, Portland, Reno, Hilo, Hawaii, and Greensboro, South Carolina for this project.
Environmentally-friendly non-toxic paint that absorbs carbon will be used for the murals, in alignment with the sustainable mission of the project. The project is produced by the Made Fresh Crew and is supported by the City of Santa Cruz Department of Economic Development, Lost Coast Plant Therapy, and the Save Our Seas Foundation, and others. For more information on Sea Walls: Artists for Oceans, contact project director Taylor Reinhold or Sadie Phillips.
Free Training Available from CHLA
The California Hotel and Lodging Association (CHLA) has partnered with BEST (Businesses Ending Slavery and Trafficking) to provide free human trafficking training to CHLA members and their staff. BEST is the first nonprofit organization in the country dedicated entirely to working with businesses to disrupt human trafficking. Those who complete the training will receive a certificate and will be in compliance with California Senate Bill 970, which requires hotel and lodging employees who are likely to interact with victims of human trafficking undergo at least 20 minutes of human trafficking awareness training and education.  More information and downloadable materials are here.
The Future of Business Travel
On Monday, September 13th from 11A – Noon PST, the Silicon Valley Business Journal will host a webinar on The Return of Business Travel, with panelists Roger Dow, President of the US Travel Association, Ben Minicucci, CEO of Alaska Air Group, Stephanie Linnartz, President of Marriott International, and Elliott Ferguson, President, and CEO of Destination DC.  Join VSCC Sales and Marketing Director Flavia Oliveira and hear what the leaders of the country's airlines, hotels, and cities are doing to bring business clients back, and what America's largest travel association — as well as the nation's lawmakers — have in store to support this important sector already battered by the Covid-19 pandemic.  Register here for this timely event!
Industry Partner Kudos!
City of Santa Cruz Chief of Police Andy Mills has been reappointed to the Board of State and Community Corrections, where he has served since 2018. Chief Mills has been Police Chief for the City of Santa Cruz since 2017. This position requires Senate confirmation and there is no compensation. Congrats Chief Mills, and thank you for your service to Santa Cruz!  Visit California's Caroline Beteta has been appointed to the U.S. Department of Commerce's Travel and Tourism Advisory Board.  The board is comprised of 32 members representing hoteliers, DMOs, OTAs, and others who advise the Secretary of Commerce on government policies and programs that affect the U.S. travel and tourism industry, offer counsel on current and emerging issues and provide a forum for discussing and proposing solutions to industry-related problems.
Service Industry Labor Shortage Continues
According to a recent article from CalMatters, as businesses across the state are rebounding, many are struggling to fill job openings, especially in the service industry. Employees are being offered health benefits, vision and dental coverage, 401(k) matching programs and retirement plans, unlimited time off, daily free lunch, and mental health coverage.  
Did you know……
that FEMA will continue to fully reimburse state and local governments for Project Roomkey costs through December 31, 2021? This program has sheltered more than 42,000 people experiencing homelessness since the COVID-19 pandemic began.