October 7, 2020
Nominations Now Being Accepted for TMD Task Force
VSCC and the Tourism Marketing District (TMD) Renewal Task Force (RTF) are soliciting nominations to the RTF. Renewal Task Force members will voluntarily serve through the next nine to twelve months beginning in December 2020 following confirmation by the TMD RTF.
The TMD RTF is composed of representatives of various regions of the county, including small and large-sized properties, independently owned properties, and franchised properties. Responsibilities include participation in the identifying a structure for the TMD, outreach to the Santa Cruz County lodging industry, and developing & recommending a complete district plan to the lodging industry. Nominations from throughout the county will be accepted until 4:00 p.m. on Friday, October 30, 2020. Click here to download a RTF nomination form.
Santa Cruz County Represented at All Things Meetings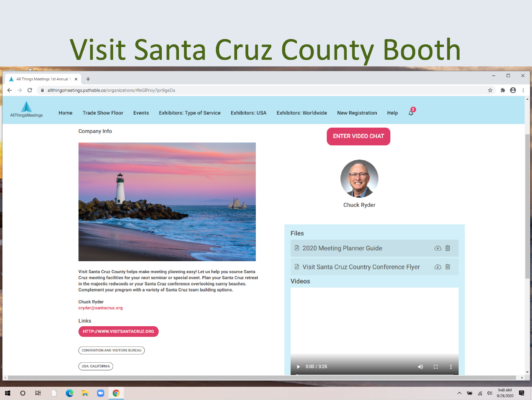 For the first time, the All Things Meetings' Reception and Trade Show was held virtually September 29 – 30 through an online platform. VSCC Sales and Marketing Director Chuck Ryder, hosted a number of one-on-one meetings with event-planners, familiarizing them with Santa Cruz County as a conference and meeting destination. The VSCC "booth" was comprised of a video chat room featuring photos and links to sales material to download. Meetings were live-streamed in real time, and communication took place via video, chat, or private message.
Through the use of technology, exhibitors participated in robust networking opportunities including a Networking Lounge. The Santa Cruz Dream Inn, the Chaminade Resort and Spa, and the Hilton Santa Cruz/Scotts Valley also attended this virtual trade show. Historically, ATM connects planners with properties, DMOs, team-building services, and everything else a planner might need to host an event in Santa Cruz County. This virtual event was marketed to ten times the number of planners normally invited to the in-person show.
Legislative Update: Visit America Act
In June, the Visit America Act was introduced in the U.S. legislature, designed to implement measures to support the U.S. travel and tourism industry and to address the declining percentage of international visitors to the United States. This bipartisan legislation was developed in part by the U.S. Travel Association and endorsed by the American Hotel and Lodging Association. It sets a visitation goal of 116 million annual international travelers to the United States by 2028 and $445 billion in travel exports, among other measures. The bill also provides statutory authority for the United States Travel and Tourism Advisory Board, to aid in the development and implementation of a COVID-19 pandemic recovery strategy. Last week, the Visit America Act unanimously passed the Senate Committee on Commerce, Science, and Transportation.
Specifically, the Visit America Act requires the Department of Commerce to develop a 10-year travel and tourism strategy and establishes the role of Assistant Secretary of Commerce for Travel and Tourism, whose responsibilities shall include (1) setting an annual goal for the number of international visitors to the United States, (2) providing support for improved visitor visa processing, and (3) promoting travel exports abroad.
Recent news about the Visit America Act passing the latest committee hearing on the topic follows the launch of the U.S Travel Association's "Let's Go There" campaign, created in coalition with 75 travel-related businesses and trade organizations. Activated in early September, "Let's Go There" encourages Americans to start planning their next trip, and alludes alluding to research which shows that there are mental health benefits to planning a future trip. Research found that 97 percent of poll respondents say that having a trip planned makes them happier, while 71 percent reported feeling higher energy if they had an upcoming trip planned in the next six months. The "Let's Go There" campaign will air across national broadcast networks, as well as on radio, streaming platforms, and online digital ads into 2021.
ERC County Blueprint Status Report
The weekly County Blueprint Status Report related to COVID-19 in Santa Cruz County is available for the week of October 6th in English and Spanish. These updates are provided by the Economic Recovery Council of Santa Cruz County (ERC). Information from the ERC aligns with state and county health officials, Governor Newsom's Blueprint for a Safer Economy, Santa Cruz County Health Services Agency, and SAVE Lives Santa Cruz County.
Safety Pledge Continues!
VSCC's Let's Cruz Safely campaign is a gentle reminder to locals and visitors that practicing safe persona protocols is paramount to keeping our community healthy and restarting our Santa Cruz County economy. Send us some photos of your staff and employees taking the Safety Pledge to be featured on our social media channels!
Arrivals and Departures
Welcome Ricardo Contreras, General Manager of the new Hampton Inn & Suites in Watsonville! And Jorian Wilkins has accepted the position of Executive Director of the Downtown Association of Santa Cruz! Jorian joins the DTA from Opportunity Collaboration, an organization of global leaders working on sustainable solutions to poverty and injustice. Welcome Jorian!
Partner Kudos!
Congrats to the Chaminade Resort & Spa, which was named among only 25 resorts across 11 states – and one of only eight in California – to be honored as a "Best of the West" winner by industry publication Meetings Today. Winners were chosen based on the following criteria: quality of meeting space; guest rooms; guest services and amenities; food and beverage service; efficiency and helpfulness of staff; availability of technical equipment; recreational facilities and activities; and overall value and experience.
Did you know……
that local photographer Shmuel Thaler is hosting "Photojournalism in the Fire Zone" a collection of images from his coverage of the CZU August Lightning Complex Fire earlier this season? The event will take place on Wednesday, October 21st at 7PM via Zoom and will be hosted by Open Show Santa Cruz. Suggested minimum donation is $10 per person, and all proceeds will benefit the Community Foundation Santa Cruz County Fire Response Fund. To purchase tickets, click here.