October 28, 2021
Santa Cruz County Represented at All Things Meetings
To help jumpstart corporate meetings and retreats, Director of Sales and Marketing Flavia Oliveira attended All Things Meetings, held in-person in Mountain View on October 19th. The event is designed to introduce corporate, association, or full-service third-party meeting and event planners that, with suppliers who have meeting venues and activities to offer attendees.
Full-service and mid-service Santa Cruz County hotels with meeting and banquet space were represented by VSCC as well as activity partners like Annieglass Studios, Intentional Leaders, and Mount Hermon Adventures. Over 275 meeting planners attended this four-hour tradeshow.
According to the U.S. Travel Association, business travel decreased by 76 percent in 2020 – compared with leisure travel which was only down by 27 percent – which represents a $97 billion loss in spending. It is estimated that business travel won't return to a normal level until 2024. The sense of optimism felt during summer that business travel would return in the fall once the peak leisure travel season ended on Labor Day was replaced by hesitation as the Delta Variant emerged and consumers and corporations took a more critical look at post-holiday leisure and business travel.
However, polling indicates that 85 percent of American workers view in-person events as "irreplaceable," and 81 percent who attended work-related personal meetings and events before the pandemic miss doing so and are likely to attend such events in the future.
VSCC Staff Tours the Westside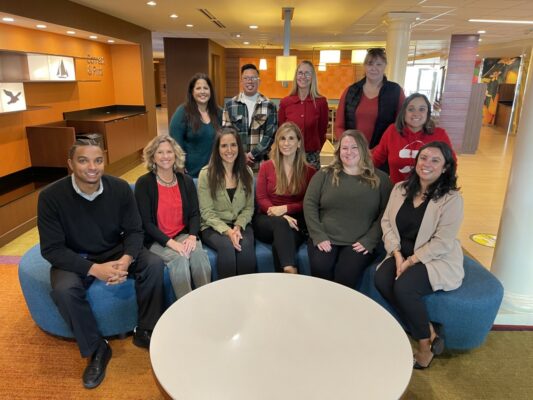 On Wednesday, October 27th, VSCC staff participated in a local familiarization tour of Santa Cruz's westside area, including an attraction and two new properties which recently opened.
The day began with a tour of the newly-constructed Hampton Inn – Santa Cruz Westside, which features a gym, guest laundry, breakfast room, and business center. The property was built from the ground-up with this new mid-level service, a two-story hotel offering 60 rooms with easy access to the Swift Street Courtyard and Natural Bridges State Beach. Next on the itinerary was a stop at the Fairfield Inn & Suites by Marriott – Santa Cruz, which opened in 2016 and features 82 rooms and suites on four floors, with nearly 1,000 square feet of meeting space.
VSCC then toured the butterfly preserve and visitor center at Natural Bridges State Park following the hotel tours. A group lunch at Santa Cruz Mountain Brewery rounded out the fam tour before a group photo at the new "Chain of Events" Sea Walls mural on Mission Street.
Being familiar with Santa Cruz County attractions, accommodations and restaurants enables VSCC staff to more meaningfully promote the area as a destination to travel media, fans, and followers of VSCC's social media channels, and through the various marketing and promotional programs offered online and through more traditional efforts.
Register Now for Visit California's 2022 Outlook Forum

Visit California's 2022 Outlook Forum will be held February 14 – 15, 2018 at The Hilton San Francisco Union Square. Early bird registration ends November 30th and will save attendees $350. Outlook Forum is Visit California's premier annual travel conference with a focus on specific international markets.
Global industry experts gather to discuss the latest marketing research, strategies, and tactics and share findings and best practices with attendees. Topics like market intelligence and brand expertise with breakout sessions featuring specialized and market-specific content will all be featured. Highly anticipated reports from Visit California's international offices will be presented. Click here to register.
Arrivals and Departures
Congratulations to Santa Cruz County Health Services The California Hotel & Lodging Association will bid farewell to their outgoing Chair, Bijal Patel, CHA, CEO and Principal Partner, Coast Redwood Hospitality at the Stars of the Industry Awards on November 18th at the Hyatt Regency Newport Beach. Bijal also serves on the VSCC Board of Directors from 2015 – 2021. Click here for more information and to register for the event! Welcomes all-around to the new general managers of the following properties: Mikael Labuguen, Courtyard by Marriott Santa Cruz; Sarah Clark, Four Points by Sheraton Santa Cruz/Scotts Valley, and Jordan Belton, Fairfield Inn and Suites by Marriott Santa Cruz!
Water Conservation Efforts Continue
Despite recent rains and following the second driest year on record and with near record low storage in California's largest reservoirs, Governor Gavin Newsom issued a proclamation earlier in the month extending the drought emergency statewide and further urging Californians to step up water conservation efforts. The proclamation enables the State Water Resources Control Board to ban wasteful water practices, including the use of potable water for washing sidewalks and driveways. The proclamation comes as the Board reports that in August, California reduced urban water use by 5 percent compared to 2020.
Meetings Photography Wanted
Has your property or meeting venue adapted in order to bring meetings and conferences back to Santa Cruz County? VSCC welcomes photos that show how your business has adapted to bring this critical revenue stream back to our region. Share your indoor or outdoor photos with VSCC to be featured on our meetings blog, in our meetings e-newsletter, or on social media!
Be Water Wise!
Join the U.S. EPA's joint webinar with WaterSense and ENERGY STAR on Tuesday, November 2nd at 10AM PST to learn how to help businesses implement no- and low-cost solutions to start saving water. A recording will be available on the ENERGY STAR website after the webinar. If you have questions, please contact the WaterSense Helpline at 866.WTR.SENS (866.987.7367) or email watersense@epa.gov.
Did you know……
that Thanksgiving short-term rental reservations in the U.S. are up a tremendous 302% compared to last year, and 93% from 2019, according to figures compiled by property management software company Guesty? The company also said that 93% of reservations across the U.S. have been created by domestic travelers, compared to 80% in 2020 and 72% in 2019.