October 28, 2020
How COVID is affecting Meetings and Conferences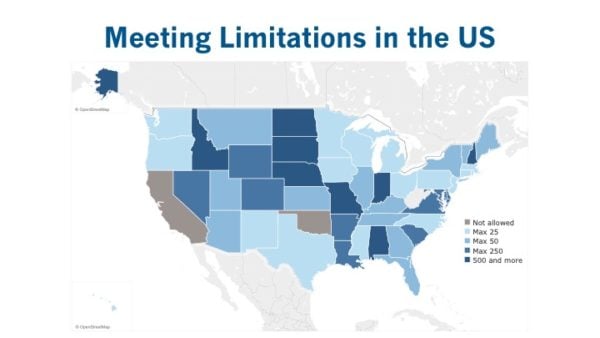 While last week's announcement by the California Department of Health concerning restrictions on the amusement park industry leaves many questions unanswered, another topic has come to the forefront as the tourism and hospitality industry enters the fall and winter meetings and conference season: what is in store for this off-season revenue enhancer? In addition to the Clean + Safe Guidelines for individual travelers established by the California Hotel & Lodging Association (CHLA), the organization has also established Clean + Safe Guidelines for the meetings industry. These protocols have been made available to the industry free of charge. You can download a copy here.
However, those California hotels and resorts hoping to regain some business meetings at reduced capacity which have developed protocols used successfully in other states have been unable to receive approval. In contrast, meetings are permitted in virtually every other state. In fact, California remains the only state in the union not allowing events or providing standards with regard to COVID. The restrictions set in place reducing the size of meetings would be an opportunity for a small-meetings market like Santa Cruz County. Unfortunately, the lack of any state guidelines or standards is already causing significant losses in meetings business locally and across the state. Event and meeting planners are taking their business to other states that can provide a clear path for them to prepare for 2021 and beyond. If this issue is not addressed the California tourism and hospitality industry will experience millions of dollars of additional lost business.
As a reminder, as TMD members lodging properties are also members of the California Hotel & Lodging Association. This membership enables them to receive PPE and Clean and Safe Certification for your property. As of August 2020, only 41 properties in Santa Cruz County so far were taking advantage of Clean & Safe certification.
A recent survey from Destination Analysts shows that with regard to meetings-related travel, reluctance to travel for conventions, conferences and other meetings has remained stubbornly high throughout the pandemic. However, nearly half of travelers would be happy to be asked to attend such an event in the next six months and the trust travelers have in other attendees and the hosting organization has strengthened significantly over the course of the pandemic.
Promotional Opportunities with VSCC
VSCC reminds local businesses as they prepare for the upcoming holidays and the new year that there are promotional opportunities available for every size budget. Leveraging the over 1 million visitors to www.VisitSantaCruz.org annually, VSCC has created dynamic marketing programs which are led by online exposure.
With the suspended production of the 2021 Official Santa Cruz County Traveler's Guide, VSCC has made a significant investment in digital marketing efforts, social media, and expansion and promotion of travel information available on www.VisitSantaCruz.org. Current conditions with COVID-19 have spurred various expansion efforts to provide the public with COVID safety measures and added information such as outdoor dining availability – all available on this newly established section of the site – which will carry VSCC and its partners into 2021.
One of the most highly visible positions on the VSCC website, the Spotlight Featured Business co-op marketing program, rotates partner exposure on all leisure-related landing pages on www.VisitSantaCruz.org. This annual program features an expanded layout, larger photo, and more room for descriptive copy with a direct link to partner websites. Spotlight Featured Business partners are listed first in alpha order on the VSCC website, allowing for elevated exposure. This annual program is limited to 30 partners and will be filled on a first-come, first-served basis.
VSCC's digital listing program enables visitors to access partner information online on a variety of topics, including lodging, attractions, restaurants, shopping, and more. Like all web-based VSCC marketing programs, a digital listing offers a direct link to partners' websites, photo placement, and a detailed description.
For more information on these and other programs, please contact Chuck Ryder, Sales and Marketing Director.
Dream Big, Shop Small on Saturday, November 28th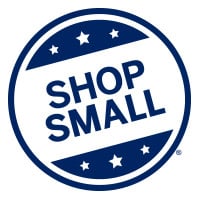 Saturday, November 28th marks 2020's Small Business Saturday, an event designed to support small local businesses as an alternative to Black Friday and Cyber Monday. This sixth annual countywide effort – originally created by American Express on a national level – involves hundreds of local business owners. Santa Cruz area participating businesses will be listed on the AmericanExpress.com directory, in social media posts on the County of Santa Cruz's Shop Small Facebook page, and through other outlets. Want to get involved? Click here to register your community, your business, or yourself!
Nearly 5,000 businesses throughout the county participated in Small Business Saturday in 2018. Check the Shop Small Facebook page for updates. According to recent figures, out of the over 14,000 businesses within the county, 82 percent qualify as micro businesses with less than 9 employees. A small business, by definition, has less than 50 employees, of which 96 percent of Santa Cruz County businesses qualify. Shopping small during the holiday season boosts the local economy and helps many of these businesses for the rest of the year. More people shopping small and locally keeps more money invested locally. There is no cost to participate in this promotion, which will involve local businesses across the United States! Click here for your free Small Business Saturday promotional materials and to learn more about the initiative.
ERC County Blueprint Status Report
The weekly County Blueprint Status Report related to COVID-19 in Santa Cruz County is available for the week of October 27th in English and Spanish. These updates are provided by the Economic Recovery Council of Santa Cruz County (ERC). Information from the ERC aligns with state and county health officials, Governor Newsom's Blueprint for a Safer Economy, Santa Cruz County Health Services Agency, and SAVE Lives Santa Cruz County.
Safety Pledge Continues!
VSCC's Let's Cruz Safely campaign is a gentle reminder to locals and visitors that practicing safe persona protocols is paramount to keeping our community healthy and restarting our Santa Cruz County economy. Send us photos of your staff and employees taking the Safety Pledge to be featured on our social media channels!
TMD Renewal Task Force Reminder
VSCC and the Tourism Marketing District (TMD) Renewal Task Force (RTF) are soliciting nominations to the RTF. Renewal Task Force members will voluntarily serve through the next nine to twelve months beginning in December 2020 following confirmation by the TMD RTF. Nominations from throughout the county will be accepted until 4:00 p.m. on Friday, October 30, 2020. Click here to download a RTF nomination form.
Santa Cruz County Now in Orange Tier
Yesterday, the California Department of Public Health determined that Santa Cruz County qualified to be moved to the Orange Tier based on improved COVID test rates and positivity cases. Now, restaurants, places of worship, movie theaters, and museums may operate at 50 percent capacity; retail establishments may now open at full capacity. Bars, breweries, and distilleries may resume outdoor operations, and wineries may resume indoor operations at 25 percent capacity or 100 people (whichever is fewer). Previously restricted sectors such as amusement parks, family entertainment centers, nonessential offices, and live-audience sports may open with modifications.
Did you know……
that this past season, the American Hotel & Lodging Association released a survey which asked frequent travelers nationwide to identify their top priorities when staying at a hotel? The results cited facemasks on employees and guests, suspending housekeeping services, and use of technology to avoid contact were top priorities for travelers' comfort. Read more here!