October 21, 2020
COVID-19 Update
With Santa Cruz County's Red /Tier 2 Statusrelating to the State of California's Blueprint for a Safer Economy – information shared on a weekly basis from the local Economic Recovery Council there have been some strides made in accommodating local businesses as our community heads into the winter months. However, yesterday California's Director of Health and Human Services Mark Gahly presented restrictive new guidelines affecting statewide amusement parks. To date, there are 204 active cases of COVID-19 in Santa Cruz County.
Smaller theme parks like the Santa Cruz Beach Boardwalk may resume operations once their county reaches the Orange/Tier 3 status, meaning when the case rate is between one and 3.9 new cases per 100,000 residents and a positivity rate between 2% and 4.9%: this is identified as a "moderate" spread of the virus. Theme parks in this sector may operate at a 25% capacity, or accept 500 guests, whichever is smaller and may only open outdoor attractions. Ticket sales must be done in advance and are limited to visitors within the same county. Read more here.
In an effort to help support local businesses – specifically restaurants – the City of Santa Cruz's Economic Development Department, working with the city's Fire Department, has established new winterizing guidelines for the Temporary Outdoor Expansion Program originally released in June. The new guidelines provide requirements for tents and canopies, outdoor heaters, and lighting. Read more here.
Last week, Santa Cruz County health officials joined other Bay Area health agencies to encourage residents to get their flu vaccines early before the virus starts circulating. A primary concern is the onset of a twindemic of COVID-19 and seasonal flu. In California, flu activity usually begins to increase in late November or December and it is important to get the flu vaccine every year because flu strains change over time. It takes a couple of weeks after vaccination for the body to build immunity, so getting vaccinated should not be delayed. COVID-19 and the seasonal flu have similar symptoms including fever, cough, body aches, chills, and fatigue.
This news follows the recent updated guidance by the California Department of Public Health related to private gatherings, including backyard barbecues, public get-togethers and birthday parties and other celebrations. For gatherings not covered by separate guidance (such as churches or protests), no more than three households may gather together in public or private outdoor settings. Gatherings are defined as social situations that bring together people from different households at the same time in a single space or place. If a gathering is held, the host should collect the names of all attendees for contact tracing purposes. Read more safety protocols associated with private gatherings from the Santa Cruz County Health Services Agency here.
Santa Cruz County Lodging Industry Construction News + South County Small Business Opportunity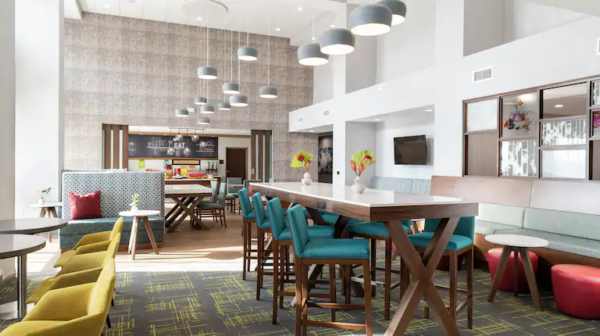 In 2021, construction is expected to be completed on three new properties in Santa Cruz County, offering visitors more choices when staying overnight and expanding the footprint of the local lodging industry.
On Santa Cruz's westside, the Hampton Inn – Santa Cruz West on Mission Street (at the space formerly occupied by the Sunset Inn) will feature a gym, guest laundry, breakfast room, and business center. The former property was demolished and this new mid-level service, two-story hotel will offer 60 rooms with easy access to the Swift Street Courtyard and Natural Bridges State Beach. The Hampton Inn – Santa Cruz West is expected to open this winter.
Construction of a new Courtyard by Marriott in Santa Cruz's Beach Area on Riverside Avenue will offer 151 rooms and 3,400 square feet of meeting space. Amenities will include a 1,000 square foot restaurant and bar, full-service spa and salon, an outdoor pool with ocean views, fitness center, underground parking, and an outdoor deck area with fire pits. The hotel is located within the Main Beach area and is walking distance of the Santa Cruz Beach Boardwalk, wharf, West Cliff Drive, and the Monterey Bay National Marine Sanctuary Exploration Center.
In south county, a brand-new four-story Hampton Inn & Suites near Highway 1 on Lee Road will include 112 rooms and 792 square feet of meeting space and is expected to open in December 2020. The hotel, which will accommodate parking for 132 cars including six charging stations is being built in addition to six other projects: space for three restaurants totaling 12,850 square feet and three retail spaces totaling 5,000 square feet, which includes an ARCO gas station and car wash. Space for a future four-story, 80-room hotel encompassing nearly 53,000 square feet is also available. Space for a Starbucks is onsite at the Pajaro Dunes Center, and two additional retail shops are still available. Click here to read more about leasing opportunities, square footage, and more.
Santa Cruz County Hotels and Restaurants Most Impacted by Recent Unemployment Figures
Recent figures from the Santa Cruz County Workforce Development Board indicate that employment rates continue to decline in key sectors of the local tourism and hospitality industry as the winter months approach. Year-over-year, accommodations and food services suffered a 22.5% decline from September 2019 to September 2020. And the STR report indicated lower occupancy levels for the first quarter of the fiscal year over 2019 figures with the exception of the month of September. Overall average occupancy for the first quarter of the 2020 fiscal year was just over 66.5%.
Although the Santa Cruz County jobless rate at 8.1 percent is still below the state average of 10.1 percent, the employment sectors which are showing the least amount of increase are trades, finance, and local government.
According to CalMatters, a nonpartisan, nonprofit journalism outlet which focuses on California issues, in the Bay Area the one-time federal check of $1,200 plus additional $500 per child barely made up one month's rent for many. Workers who lost work due to the pandemic can now apply to receive an extra $300 (half of what the previous program provided) from the federal Lost Wages Assistance Program – although applicants must already be receiving $100 or more from regular unemployment.
As local businesses throughout the county face the colder winter months typically referred to as the "shoulder season" in the tourism industry, steps have been taken to help support local businesses: Downtown Santa Cruz restaurants are "winterizing" in preparation for an extended outdoor dining season, and a pre-holiday "shop local" campaign has begun. Local shops pivoted in the early days of the pandemic and offered to-go meals, curbside pickup, and there was funding in the form of small business loans. Combined with economic impacts from the CZU August Lightning Complex Fire and a possible twindemic this season, supporting local businesses as 2020 winds down is more critical than ever.
ERC County Blueprint Status Report
The weekly County Blueprint Status Report related to COVID-19 in Santa Cruz County is available for the week of October 20th in English and Spanish. These updates are provided by the Economic Recovery Council of Santa Cruz County (ERC). Information from the ERC aligns with state and county health officials, Governor Newsom's Blueprint for a Safer Economy, Santa Cruz County Health Services Agency, and SAVE Lives Santa Cruz County.
Safety Pledge Continues!
VSCC's Let's Cruz Safely campaign is a gentle reminder to locals and visitors that practicing safe persona protocols is paramount to keeping our community healthy and restarting our Santa Cruz County economy. Send us photos of your staff and employees taking the Safety Pledge to be featured on our social media channels!
TMD Renewal Task Force & Reminder
VSCC and the Tourism Marketing District (TMD) Renewal Task Force (RTF) are soliciting nominations to the RTF. Renewal Task Force members will voluntarily serve through the next nine to twelve months beginning in December 2020 following confirmation by the TMD RTF. Nominations from throughout the county will be accepted until 4:00 p.m. on Friday, October 30, 2020. Click here to download a RTF nomination form.
A Message from the SCPD Regarding #Elections2020
City of Santa Cruz Police Chief Andy Mills and the team keeping city streets and residents safe encourage responsible, respectful behavior as election day approaches with this special message.
Did you know……
that the City of Watsonville is seeking feedback about Downtown Watsonville from residents and business owners? The city's Visioning Survey will use this information to help create a shared vision for the Downtown Watsonville Specific Plan. Click here to take the survey, available through November 15th.