October 14, 2021
Spotlight Featured Business Opportunity Available on VisitSantaCruz.org
VSCC is inviting partners to reserve a spot in the most highly visible position on VisitSantaCruz.org – which is visited annually by over 1 million travelers planning a vacation. The 2022 Spotlight Featured Business co-op marketing program provides a direct link to your website, on heavily trafficked landing pages where your business is displayed.
The Spotlight Featured Business Digital Partnership program allows partners to be evenly rotated on all leisure-related landing pages on the VSCC website throughout 2022. With a large feature photo, more dedicated space for description copy, and a direct link to partners' websites, this front-facing layout in a shaded frame sets apart businesses from other content on the page. In addition, Spotlight Featured Business partners are listed first in alpha order in web listing categories on the VSCC website.
VSCC's Let's Cruz Safely messaging, COVID-19 landing page, and local Eat, Drink and Shop campaigns have proven popular and well received by both local and out-of-town visitors. Spotlight Featured Business partners gain additional visibility from these relevant and timely community resources VSCC provides.
The leisure landing pages on VisitSantaCruz.org continue to generate over 2 million page views a year. Reserve a Spotlight Featured Business placement for a more visible, photo-featured position on the VSCC website at this link.
The Spotlight Featured Business program is limited to 30 partners to ensure maximum visibility. These positions will be filled on a first-come, first-served basis, and only a limited number of spaces remain. For more information, contact Flavia Oliveira, Director of Sales and Marketing!
VSCC Staff Attend DMA West Education Summit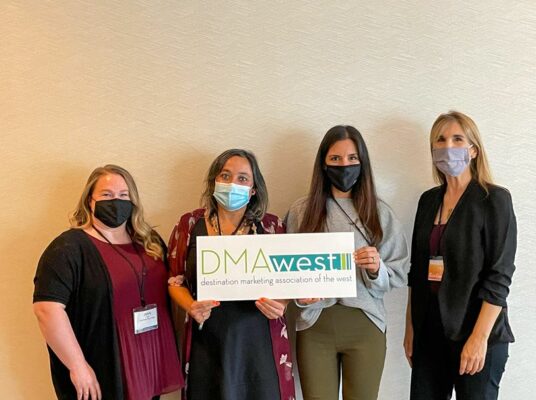 The Destination Marketing Association of the West hosted its annual Education Summit in Vancouver, Washington September 29th – October 1st for peer-to-peer sessions, vendor showcases, and keynote speeches. VSCC's Sales and Marketing Director Flavia Oliveira, Social Media Director Rachel Endsley, Communications Director Christina Glynn, and Marketing Communications Coordinator Jennifer Day joined representatives from other destination marketing organizations as well as the industry's leading experts to learn about tourism trends, best practices, and new ideas.
The conference focused on rising trends in the destination marketing industry. Workshop topics included new expectations from meeting planners, accessible travel, changing marketing plans and strategies, organizational decisions and community engagement, strategies to improve the visitor and resident experience, cultural tourism, and others. Over forty destinations were represented during the three-day summit. The conference concluded with a presentation from Destination Analysts' 2020 – 2021 Visitor Guide Readership and Conversion Study. VSCC staff returned with valuable tools to use toward social media, community outreach, and future campaigns.
International Travel to the U.S. Resuming Soon
In what will no doubt be a boost in the coming months to both gateway cities and those in close proximity to international airports like Santa Cruz County, visitors from the UK, EU, and Mexico, and Canada can travel to the U.S. if they provide proof of vaccination. Those traveling from the UK and EU must also provide proof of a negative COVID-19 test taken within three days of departure. Reinstating transatlantic and cross-border travel to the United States is expected to begin early next month. The US Travel Association has stated that this move will "accelerate the recovery of the millions of travel-related jobs that have been lost due to international travel restrictions." Pre-pandemic, international travelers represented 14 percent of visitors to Santa Cruz County. The UK, Germany, and Canada are the top three international markets for the region.
Additionally, beginning in early January 2022, DHS will require that all inbound foreign national travelers crossing U.S. land or ferry ports of entry – whether for essential or non-essential reasons – be fully vaccinated for COVID-19 and provide related proof of vaccination. This approach will provide ample time for essential travelers such as truckers, students, and healthcare workers to get vaccinated and will apply mostly to Canadian travelers and those traveling to the U.S. from Mexico.
Once the vaccination requirement is put in place, the White House will ease all the country-specific restrictions on international travel that have prevented non-citizens who have been in the United Kingdom, European Union, China, India, Iran, Republic of Ireland, Brazil, or South Africa in the prior 14 days from entering the U.S. Aside from the widely used Pfizer and Moderna vaccines, the WHO has approved the two-dose AstraZeneca vaccine, Sinovac which is used in China, and Covishield, which is used in India. The U.S. Chamber of Commerce said lifting the current restrictions on international travelers will contribute to a durable recovery for the U.S. economy. Before the announcement, the U.S. was on pace to lose $175 billion in export income from international visitors this year, according to the U.S. Travel Association.
Partner Kudos!
Congratulations to Santa Cruz County Health Services Director Mimi Khin Hall and Santa Cruz County Health Officer Gail Newel who received the 2021 PEN/Benenson Courage Award, which honors exceptional acts of courage in the exercise of freedom of expression. Both Mimi Khin and Gail Newell spoke forthrightly about the challenges of public resistance to public health measures during the COVID-19 Pandemic in Santa Cruz County in 2020.
Holiday Lights at the Santa Cruz County Fairgrounds
Does your business or organization want to have a presence at this year's Holiday Lights drive-thru event at the Santa Cruz County Fairgrounds? The event will take place Friday – Sunday beginning November 19th, and Thursdays – Sundays in December. Click here to learn more.
Be Water Wise!
Soquel Creek Water District customers and businesses can learn more about challenges with the water supply, infrastructure, conservation programs, and more during Virtual Water Academy on Wednesday, November 10th from 6PM – 8PM. Register here!
Arrivals and Departures
A sad farewell to Chief Andy Mills who will be leaving the Santa Cruz Police Department at the end of October. Chief Mills has accepted the position as Chief of Police with the City of Palm Springs. Julie Ramey is now the new Director of Sales and Marketing for the Courtyard by Marriott Santa Cruz! And welcome Dawn Aronson, new Director of Sales at the Hyatt Place Santa Cruz.
Did you know……
that as wildlife watching season begins, birding as a recreational pastime has increased due to the pandemic? According to the Cornell Lab of Ornithology, the number of monthly users of its eBird app has as much as doubled since the start of the pandemic, and the number of submissions of bird observations is up by more than 40 percent; more than 255,000 birders submitted 13.6 million checklists on the app last year. VSCC will launch its annual Wildlife Watching Campaign in December, utilizing the bi-annual Wildlife Watching Guide as a key resource.