November 5, 2020
What Does the Orange Tier Mean for Santa Cruz County?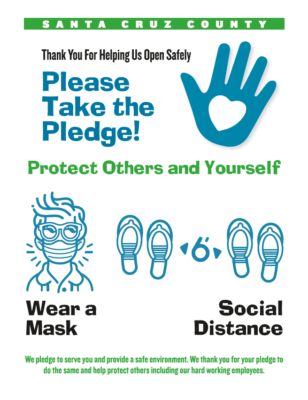 On the heels of Santa Cruz County now solidly in the Orange Tier in the state's Blueprint for a Safer Economy, news earlier in the week of Rosie McCanns' Pacific Avenue location closing after 23 years in business came as a shock to locals. Three downtown Santa Cruz pubs – 99 Bottles, the Poet and the Patriot, and now Rosie McCann's – have shut their doors since the pandemic began in March. Now that the Orange Tier allows more indoor opportunities for businesses that have previously been restricted, what does this mean for local shops in Santa Cruz County as the fall and winter months approach?
The Orange Tier is described as a county with Moderate levels of COVID-19: one to 3.9 daily new cases per 100,000 people, or anywhere between a two to 4.9 percent positivity rate. Last week, Santa Cruz, Marin, Contra Costa, and San Mateo Counties all were moved to the Orange Tier; Restaurants, museums, movie theaters, and places of worship may now operate at 50 percent capacity. Retail shops can open at 100 percent capacity. Previously required to operate outdoors, wineries can resume indoor operations at 25 percent capacity. Bars, breweries and distilleries may resume normal outdoor operations. County health officials stated that in Santa Cruz County, the trend is that the virus is still being primarily spread through person-to-person interactions with a familiar, close contact. "Close contact" is defined by the state as someone an individual has had physical contact with within 6 feet for at least 15 minutes over 24 hours.
While these less-restrictive guidelines offer more opportunities for business, statewide, hotels and resorts have been unable to receive approval to host meetings and conferences, whereas meetings are permitted in virtually every other state. California remains the only state in the union not allowing events or providing standards with regard to COVID. The lack of any state guidelines or standards is already causing significant losses in meetings business locally and across California.
New guidelines were released last week, allowing small theme parks to reopen outdoors only, with visitors restricted to county residents. Late yesterday, the Santa Cruz Beach Boardwalk announced that a limited selection of rides will reopen this Saturday, November 7, and Sunday, November 8 to Santa Cruz County residents. State operating guidelines limit capacity in the ride area and require advance reservations for two-hour sessions. Limited shopping and food options are also available for guests, and Coasters at the Boardwalk Bowl is open for patio dining and curbside takeout. The Boardwalk Bowl opened at the end of October with limited capacity and safety protocols in place.
Because the state wants to take a "slow and steady" approach to reopening, a county must stay at a level for at least three weeks before moving to a less restrictive level.
As of today, there are 261 active cases of COVID-19 in Santa Cruz County, and 26 deaths have been reported.
CZU August Lightning Complex Fire Winter Follow Up: Know Your Zone!
Local safety officials are providing residents in areas affected by the CZU August Lightning Complex Fire earlier this season with information as the winter months approach. Similar to the ensuing mudslides following the Thomas Fire in the Santa Barbara region three years ago which burned 281,893 acres, portions of land in the San Lorenzo Valley and Scotts Valley burned by the CZU August Lightning Fire may be affected similarly. Following a widespread wildfire, fast-moving masses of debris comprised of mud, rocks, boulders, and entire trees can mix with rain to cause a destructive flow. Debris flows can even be triggered by short bursts of rain, and little can be done to mitigate the risk to communities in the immediate aftermath of a large fire. If you live or do business within these areas, here is what you need to know:
Ahead of the winter rains, the County of Santa Cruz, Cal Fire, and officials from the California Office for Emergency Services as well as other community partners and fire agencies have begun extensive planning to address the risk to residents from debris flows. With evacuations likely during the upcoming rainy season, residents are being urged to "Know Your Zone" by looking up their address on the Debris Flow Hazard Risk Map. Those areas denoted on the Risk Evaluation Map by dark blue polygons have been identified by county geologists as areas which face elevated debris flow risks and residents in those areas could face evacuations — potentially multiple evacuations — depending on weather conditions. While the entire CZU Lightning Complex is an area considered to be at risk, the dark blue polygon areas are of concern due to geology, topography, burn severity, and evidence of historic debris flows, among other factors.
The County of Santa Cruz has established a debris flow information page Residents should sign up for emergency alerts here or text "SCR911" to 99411 to sign up. Residents should also download the free CodeRed Mobile Alert app for their iPhone or Android.
Should evacuations be necessary, the County urges residents to take this risk seriously. All residents within evacuated areas should leave, regardless of the circumstances or location of their residence. Should a debris flow occur, access to impacted areas may be cut off, and rescues by public safety personnel may not be possible? County public safety and emergency management staff will make evacuation determinations with the safety of residents as the highest priority.
VSCC Encourages Local Organizations and Event Planners to Submit Virtual Events for Free to www.santacruzevents.com
As the new year approaches, VSCC is encouraging local organizations and businesses to utilize www.santacruzevents.com to submit their events on a year-round basis. This free tool allows for over 1 million visitors to the website to find out about fresh-air things to do while visiting the area. Locals too can learn about car-friendly, virtual, and distance-learning countywide events that are tailored to families, art lovers, foodies, recreation fans, history buffs, wildlife aficionados, and others which are housed on the site annually. These virtual events are promoted weekly through Visit Santa Cruz County's Facebook, Twitter, and Instagram channels.
Submitting an event is free, easy, and accessible using this link. To qualify for inclusion on VSCC's site, the event must take place within Santa Cruz County, be submitted 14 days or more in advance, and be of interest to visitors to Santa Cruz County. Events can be submitted up to one year in advance. All events require a photo to accompany the information to be featured on the site. VSCC provides step-by-step instructions to assist in submitting event information.
Do you have questions about submitting events? Email us!
ERC County Blueprint Status Report
The weekly County Blueprint Status Report related to COVID-19 in Santa Cruz County is available for the week of November 3rd in English and Spanish. These updates are provided by the Economic Recovery Council of Santa Cruz County (ERC). Information from the ERC aligns with state and county health officials, Governor Newsom's Blueprint for a Safer Economy, Santa Cruz County Health Services Agency, and SAVE Lives Santa Cruz County.
Have You Taken the Safety Pledge?
VSCC's Let's Cruz Safely campaign is a gentle reminder to locals and visitors that practicing safe persona protocols is paramount to keeping our community healthy and restarting our Santa Cruz County economy. Send us photos of your staff and employees taking the Safety Pledge to be featured on our social media channels!
Arrivals and Departures
Welcome Ricardo Contreras, General Manager of the new Hampton Inn Watsonville, which is scheduled to open in late November. And Frances Hester has been named as the new Director of Sales at the Four Points Sheraton Santa Cruz/Scotts Valley: Welcome Frances!
Foodbank Volunteers Needed
Did you know that in just one week in October, Second Harvest Food Bank distributed over 342,000 pounds of food throughout the county to over 22,000 people? Friday drive-through food distribution takes place alternately at the Santa Cruz County Fairgrounds in Watsonville and in the parking lot at the Santa Cruz Beach Boardwalk. If you have a few hours to help out, volunteers are especially needed at the Watsonville distribution location on Friday, November 13th, Wednesday, November 25th (Thanksgiving Week), Friday, December 11th, and Wednesday, December 23rd (Christmas Week) from 8AM to 1PM. Tasks include checking in clients, controlling traffic, and helping to load food into cars. COVID safety measures are in place. Click here to register online!
Did you know……
that political and other yard signs do not belong in blue recycling bins? Most yard signs are made of mixed materials that are incompatible with the recycling collection system. City of Santa Cruz residents may bring yard signs to the City of Santa Cruz Corporation Yard, 1125 River St., from Tuesday, November 3rd through Friday, November 6th between 8AM and 4PM. Yard signs may also be dropped at the City's Resource Recovery Facility, 605 Dimeo Lane, Monday through Saturday, from 7:30AM to 3:30PM.