May 13, 2021
COVID Update: Yellow Tier on the Horizon while Local, State, and National Campaigns to Inspire Travel Continue
With Santa Cruz County hovering just below the yellow tier, momentum to travel once again is gaining steam. Over the last week, just over two new cases per day per 100,000 people were recorded in Santa Cruz County; fewer than two new cases per day are needed to advance out of the orange tier. Additionally, the overall COVID positivity and health equity positivity rates also both continue to remain low, signifying that the region could enter the yellow tier by next Tuesday. In the meantime, marketing and promotional efforts across the board are continuing as travel industry associations from Santa Cruz County to Washington D.C. move ahead with plans to lure travelers this season.
Locally, the number of entries in VSCC's Let's Cruz Safely Vacation Getaway Contest indicates a strong interest from visitors in regional travel this season. The VSCC Board of Directors has approved increased spending for this year's campaign in an effort to support the local tourism industry and its recovery from the severe impacts of COVID-19. This year's Spring Campaign includes over $500K in media buys targeting Santa Cruz County's "drive market" within 200 miles. The integrated campaign includes an updated broadcast commercial, online marketing campaigns in targeted Bay Area digital outlets, and a specialized social media component for 2021. The contest continues through June 30, 2021.
At the state level, Visit California's Dreaming on in California campaign has launched in anticipation of the state's official reopening on June 15th. Dreaming on encourages visitors to share their stories of postponed dreams, skipped plans, and canceled celebrations from 2020 for the chance to make them come true this year. Visit California CEO Caroline Beteta estimates that it will take the state four years to recover from the economic outfall of the COVID-19 Pandemic. Among the domestic forecasts for visitor spending, California this year is positioned to reach 76 percent of 2019 levels. In 2022, domestic visitor spending is expected to hit 94 percent of 2019 levels, she said, while international travel isn't forecast to rebound significantly until 2023.
Nationally, the U.S. Travel Association continues to gain support in both the U.S. House and U.S. Senate for the bipartisan Hospitality and Commerce Job Recovery Act, which would help the travel and hospitality industry rebuild by providing a set of temporary refundable tax credits to drive both leisure travel and encourage the restart of professional meetings and events. Currently, there are nearly 75 cosponsors on the bill. The legislation has the potential to shorten the recovery timeline from five years to three while creating an incremental 1.5 million jobs and generating nearly $600 billion in spending. This legislation is boosted by US Travel's Let's Go There campaign, – the largest travel promotion campaign since just after 9/11. Spearheaded by the U.S. Travel Association, the Let's Go There Coalition includes airlines, major attractions, the largest hotel brands, and many destination marketing organizations. Santa Cruz County was one of the first organizations to buy into US Travel's consumer marketing platform, Brand USA, and maintains a presence on VisitTheUSA.com.
VSCC Releases Visitor Sentiment Survey
On May 5th – during National Travel and Tourism Week – VSCC released findings from an independently conducted visitor sentiment survey. This survey data examined how visitors are feeling about traveling as the Santa Cruz County tourism industry emerges from the COVID-19 Pandemic. The study – supported by the Tourism Marketing District – also revealed important data such as visitor demographics and preferences and opinions of travelers to the region. Additionally, local residents were surveyed about their travel plans as well as their perceptions of out-of-county visitors. This Visitor Sentiment Survey is the first of its kind by VSCC.
Over the past year, VSCC has adjusted its marketing and promotional plans to focus instead on safety protocols for visitors and locals, focused on virtual events and activities, and supported the local tourism industry as hotels, restaurants, and small businesses were all substantially affected by the pandemic. The study also provided important feedback on the effectiveness of the countywide Let's Cruz Safely campaign which was launched last summer.
VSCC continues to focus efforts on reminding visitors and locals to practice safety protocols in Santa Cruz County.
The following are some of the key takeaways from the survey:
Overall Key Takeaways:
61% of respondents are positive about traveling right now.
16% have definite plans for 2021 already, and four in 10 are finalizing plans.
Travelers are ready for overnight trips.
Most county residents are willing to welcome visitors.
Tourists have fewer safety concerns than locals.
A majority of VSCC newsletter subscribers trust VSCC's Safety Pledge.
Key Takeaways – Safety Protocols:
Santa Cruz County businesses can expect most travelers to come by car.
Generally, older generations and more educated groups are more safety-conscious.
Most travelers expect to bring sanitizer and wear a mask.

However, they appreciate businesses that have sanitizer and extra masks on hand.

Crowded indoor activities will likely be less popular, due to half of travelers wanting to avoid crowds.

If possible, venues will want to plan for outdoor options to accommodate everyone.

Few travelers see it as mandatory to vaccinate children prior to traveling.

Child-friendly venues may want to offer older patrons more safety assurances.

Key Takeaways – Local Sentiment:
Residents are most likely to welcome visitors back to Santa Cruz County.
Locals express a higher sensitivity regarding personal COVID-19 safety measures while traveling than outsiders did.

Businesses are encouraged to reinforce expectations for visitor safety and hygiene by visibly posting recommended guidelines.
Municipalities should redouble their efforts to maintain public health and safety, e.g., increasing street sweeping, trash pick-up schedules, etc.
The entire survey – including key takeaways with regard to lodging, dining, and retail sectors – can be accessed at this link.
State, County Prepare for Wildfire Season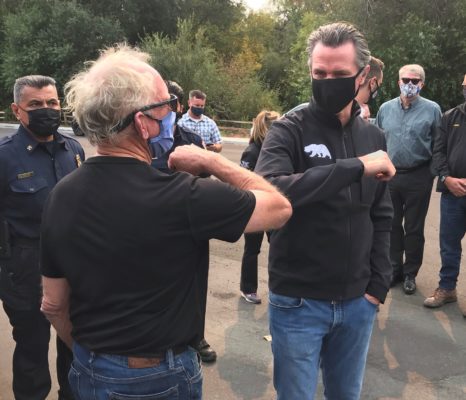 Following the devastating wildfires of last year and the current drought conditions, state lawmakers unveiled a sweeping half-billion-dollar wildfire prevention plan to get ahead of the coming season. Governor Newsom signed SB 85, providing $536 million for forest management and wildfire mitigation in California – about double what has been spent in recent years. The bill will help fund fire resilience efforts including fuel breaks, forest health projects, and home hardening across the state. Cities will be eligible for several large pots of funding also for urban forestry, and wildfire prevention. Locally, the Santa Cruz County Office of Response, Recovery, and Resilience (OR3) has launched a new website to serve as a community resource for all aspects of disaster preparedness and recovery.
Established by the Santa Cruz County Board of Supervisors in response to the CZU Lightning Complex fires, the Office of Response, Recovery and Resilience serves as the County's primary emergency response agency, while helping prepare for future disasters and other events, and assisting residents through the recovery process. The website provides resources and current information, as well as ways to maintain connections with new developments and other disaster survivors.
In addition, residents can find out what the County is doing to prepare for climate change, access emergency preparedness materials and learn more about preparing themselves and their families for emergencies, including preparing for evacuations.
Residents can also obtain information about CZU fire-related debris removal, connect with the Recovery Permit Center, access and download materials helpful during the rebuilding process, and more.
ERC County Blueprint Status Report
The weekly County Blueprint Status Report related to COVID-19 in Santa Cruz County is available for the week of May 11, 2021, in English and Spanish. These updates are provided by the Economic Recovery Council of Santa Cruz County (ERC). Information from the ERC aligns with state and county health officials, Governor Newsom's Blueprint for a Safer Economy, the Santa Cruz County Health Services Agency, and SAVE Lives Santa Cruz County.
VSCC Announces Open Lodging Seat
Interested in serving on VSCC's board of directors? An open seat is available and applications will be accepted until June 4, 2021, to fill this position. Applicants must be a lodging owner, operator, or general manager at a property within Santa Cruz County.
For more information and to download an application, click here.
Arrivals & Departures, and Partner News
Goodbye to Tim McGregor, General Manager of the Seascape Beach Resort and VSCC board member. And welcome to Valéria Miranda, Pajaro Valley Arts' new executive director! Congratulations to VSCC partner Liz Pollack, author of Lost Restaurants of Santa Cruz County, as her business The Cook's Bookcase has been named a certified Green Business! The Scotts Valley Art, Wine, and Beer Festival – taking place August 21st and 22nd – is now accepting applications for artists through July 20th. The event will take place this year at Siltanen Park.
Clean + Safe Kudos!
Congratulations to the Hampton Inn Santa Cruz and the Quality Inn & Suites Capitola, which received Clean + Safe certification from the California Hotel & Lodging Association (CHLA). As a reminder: all lodging properties are members of CHLA and have the capacity to become certified as a benefit of their membership. Find out how your property can become Clean + Safe certified here!
Did you know……
that the Community Foundation Santa Cruz County is launching the Rise Together initiative this summer to support local vendors, organizers, programs, businesses, and nonprofits led by People of Color? A local online directory will make it easier to find these resources. To get listed in the Rise Together Business Directory complete this online form by May 31st. Rise Together includes 17 Black, Indigenous, Latinx, and People of Color leaders across the county working together to advance racial equity locally with support from Community Foundation Santa Cruz County.