March 18, 2021
COVID Update: Orange Tier in Sight, Vaccine Safety, Rental Assistance, ABC License Fee Waiver
On Tuesday, Santa Cruz County officially dropped into the Orange Tier which means the second-less restrictive tier status could be reached in two weeks if numbers hold steady. While Santa Cruz County's Red Tier status has been celebrated, COVID case numbers continue to be monitored as vaccination distributions expand, earlier this week a joint statement was issued by regional health officers ensuring the safety of vaccines. In COVID relief news, renters and landlords throughout Santa Cruz County are eligible for more than $16 million in federal funds available to local renters unable to pay their rent and utilities due to the COVID-19 pandemic. And local businesses affected by the pandemic whose ABC licenses expire between March 1, 2021, and February 28, 2023, are eligible for a fee waiver.
On Monday, March 13th, health officers representing the City of Berkeley and the counties of Alameda, Contra Costa, Marin, Napa, San Francisco, San Mateo, Santa Clara, Santa Cruz, Solano, and Sonoma reassured the populations in these counties that the three vaccines available so far – Moderna COVID Vaccine, Pfizer-BioNTech COVID Vaccine, and Johnson & Johnson's Janssen COVID Vaccine have all been shown to be highly effective at preventing symptomatic illness and hospitalization. The clinical trials for all three vaccines demonstrated that they were 100 percent effective in preventing deaths from COVID-19. There is also growing evidence that all three vaccines help prevent asymptomatic illness, meaning that people who have been vaccinated are not likely to spread COVID-19 to others who are not vaccinated. The bottom line: health officials agree that the safest vaccine is the one you can get the soonest.
Low-income renters and landlords impacted by the pandemic can apply for funds – to be distributed based on need – to help with rent, utilities, and home energy costs, rent and utility arrears, and related housing costs for eligible participants. Renters with a household income at or below 80 percent of area median income are eligible, with priority for households at or below 50 percent of area median income. An online application will be posted today. To apply or verify eligibility, visit HousingIsKey.com. Assistance is also available by calling 1-833-430-2122 between 7AM and 7PM daily. Applications and assistance are available in multiple languages. Read more here. Finally, Governor Newsom signed legislation yesterday that includes fee waivers for eligible ABC licensees heavily impacted by the public health and safety restrictions imposed in response to the COVID-19 Pandemic. Specified licensees whose licenses expire between March 1, 2021, and February 28, 2023, may qualify for a waiver of the associated license renewal fee. More details are available here
2021 Business and Group Travel Forecast
With the California Hotel & Lodging Association lobbying state legislators to adopt statewide guidelines in California regarding hosting events and meetings for conference hoteliers and venues, many properties have already embraced the CHLA Clean + Safe Guidance: Meetings and Events to prepare for the meetings industry to reopen: the next logical step for California's economic recovery.
In anticipation of the meetings industry returning, the results of a VSCC survey of meeting planners are in! Outreach was conducted last month to determine how industry planners were approaching event planning with regard to the business market. Over 2,000 planners were sent a short survey, focusing on the timing and types of meetings they expect to see in 2021.
VSCC has experienced an increase in RFPs in the last month, indicating that corporate meeting planners are looking at later in 2021 and 2022 to hold their event. Research from Destination Analysts – a tourism research firm – indicates that destinations play a critical role in meetings marketing.
Destination Analysts' The CVB and the Future of the Meetings Industry study shed light on meeting planners' flexibility: when asked if they expect the types of destinations they select for meetings will change over the next year, 36.2 percent said yes, with the most common changes cited being a shift towards safety, more space, outdoor venues and accessibility by car. The majority of planners are also shifting towards destinations that are accessible by car for their attendees, promising news for Santa Cruz County's meetings drive market.
Get on the Map with this VSCC Partnership Opportunity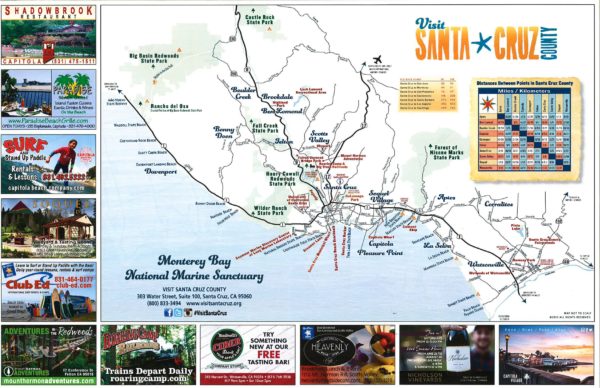 Visit Santa Cruz County announces a high-profile opportunity for local businesses to increase their visibility to visitors. The sixth edition of VSCC's Santa Cruz County full-color, two-sided map, in an easy-to-read 8 ½ x 17-inch size, features display ads and exclusive distribution of 50,000 copies. Over the next two weeks, VSCC staff will be visiting properties throughout Santa Cruz County to provide hotels, motels, bed and breakfast inns, and vacation rental properties with maps in preparation for the tourism industry reopening later this season.
The VSCC map features Santa Cruz County on one side and the downtown and coastal beach areas on the other side and is distributed at all hotels and motels throughout Santa Cruz County, local rental car agencies, and other visitor-serving locations, ensuring that businesses will be exposed to an active targeted audience.
Widespread distribution of the map will begin Memorial Day Week. Display map ad spaces are limited and are available on a first-come, first-served basis. For more information, contact Sales and Marketing Director Chuck Ryder.
ERC County Blueprint Status Report
The weekly County Blueprint Status Report related to COVID-19 in Santa Cruz County is available for the week of March 16, 2021, in English and Spanish. These updates are provided by the Economic Recovery Council of Santa Cruz County (ERC). Information from the ERC aligns with state and county health officials, Governor Newsom's Blueprint for a Safer Economy, the Santa Cruz County Health Services Agency, and SAVE Lives Santa Cruz County.
Arrivals and Departures
City Manager Martín Bernal has announced plans to retire at the end of July, after 24 years of service with the City of Santa Cruz and more than 30 years in public service. Martín was the first Latino city manager appointed in Santa Cruz, and one of the few Latino city managers appointed statewide. Congratulations, Martín! Ashlyn Adams and Deanna Zachary have been named new co-directors of the Diversity Center of Santa Cruz County, the local nonprofit that serves Santa Cruz LGBTQ+ community members.
Kudos to Scotts Valley's Glenwood Preserve!
On Saturday evening, March 13th, the Scotts Valley Chamber of Commerce honored the Glenwood Preserve as Beautification Project of the Year during the Scotts Valley Community Awards Virtual Gala via Facebook. This preserve consists of grasslands, riparian forests and wetlands, with miles of walking, biking, and pet-friendly trails and gentle gradients ideal for hiking, running and outdoor activities.
Clean + Safe Kudos!
Congratulations to Santa Cruz's Mission Inn and the Best Western Plus Capitola By-the-Sea Inn & Suites which received Clean + Safe certification from the California Hotel & Lodging Association (CHLA). As a reminder: all lodging properties are members of CHLA and have the capacity to become certified as a benefit of their membership. Find out how your property can become Clean + Safe certified here!
Did you know……
that Henry Cowell Redwoods State Park and Pogonip Open Space are featured in a new guide from Save the Redwoods League? 29 Awesome Dog-Friendly Redwood Parksincludes a map, descriptions of each park, what activities are available, and what is accessible to people with disabilities. The Forest of Nisene Marks State Park, Soquel's Demonstration Forest, and the Loch Lomond Recreation Area also received honorable mentions in the guide as places you'll want to hike with your hound. The free guide can be downloaded at www.savetheredwoods.org.