June 24, 2021
Local Industry Update: Summer Bookings and Occupancy
Occupancy figures are in from Smith Travel Research and the numbers indicate significant increases over 2020 figures but occupancy is still falling behind 2019 numbers. In March, April, and May, average occupancy is down by 12.5 percent in 2021 compared with 2019 figures. It is estimated that the industry will not see a significant rebound until 2023.
One of the changes the local tourism economy may see as a result of COVID is that conference and meeting season – which typically occurs during the "shoulder season" between Labor Day and Memorial Day – may look more like a hybrid of leisure and business travel. Pre-pandemic, this off-season market provided a critical revenue stream for hotels once leisure business declined. This year may bring an extension of the leisure season, as working remotely becomes more widespread and the concept of "work from anywhere" redefines the bleisure market as we previously knew it.
Hotels seem to be seeing an uptick and while the local lodging industry anticipates a strong summer, rebounding for the tourism economy as a whole will take time. Caroline Beteta, President of Visit California pointed out at a press conference on June 14th with Governor Gavin Newsom that the pandemic was 10 times the size of 9/11 in terms of economic impact, and more than 55 percent of visitor spending evaporated overnight. In 2019, the local tourism industry in Santa Cruz County was valued at $1.1 billion.
VSCC Gearing up for International Marketing, Meetings and Conferences
Pre-pandemic, international travelers to Santa Cruz County represented 14 percent of visitors. By investing in travel trade and public relations efforts, first in the UK and then in Germany – Santa Cruz County's number one and two international markets respectively – the region had matured among these top-tier foreign markets over the last ten years. When COVID hit and VSCC put all paid efforts on hold, focusing on the regional drive market in a back-to-basics approach, these international efforts were suspended, along with meetings and conference marketing. Now, VSCC is ready to reactivate these programs.
While gateway destinations relied more heavily on both international visitors and the convention market, Santa Cruz's close proximity to Mineta-San Jose International Airport and Silicon Valley provided a direct pipeline to expand on these revenue streams. The systemic return of local tourism will not be complete with only the leisure market returning.
VSCC is reaching meeting planners by creating e-news content specific to this market. Quarterly e-newsletters beginning in July following monthly e-blasts tout information about hybrid meetings, clean and safe practices, details about onsite activities for meeting attendees, and creative ways to participate in teambuilding.
VSCC is planning its return to the international market strategically, considering a more direct-to-consumer approach rather than enlisting the use of tour operators. Facilitating relationships with regional airports is also key, as they are the most direct way of reaching both international and domestic airline passengers who are the target demographic for the bleisure market. Domestic efforts will concentrate on targeting visitors in western states from key markets like Phoenix, Austin, Las Vegas and in the pacific northwest cities of Portland and Seattle.
Preparing for California's Fire Season Locally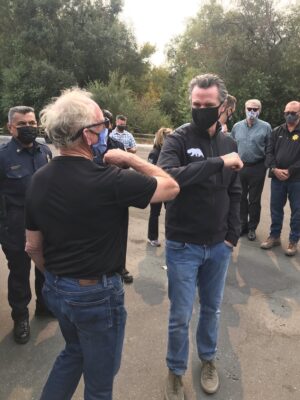 With the increased possibility of fires again this season – elevated by reduced fire crews, a shrinking window for controlled burns, and the California drought, officials are remaining diligent as summer progresses. It is estimated that the fire season encompasses nearly half the calendar year in California and based on the devastation endured in 2020 advanced preparation is key to mitigating the aftermath of fires in Santa Cruz County. VSCC staff is participating in Visit California's Wildfire Task Force Committee and staying up to date on Cal Fire officials' updates on this season's forecast.
Locally, Santa Cruz County is in "Extreme Drought," and Loch Lomond received 58% less than what would be expected during a normal rainy season. Santa Cruz faces about a 40% deficit compared to the average expected rainfall over the course of winter and spring, according to the Santa Cruz Sentinel.
CalFire is reporting that normally, there would be five hand crews cutting breaks around fires and containing small blazes; now there are two crews, working with a 57-person deficit due in large part to COVID-19.
Should fires occur once again this season in Santa Cruz County, VSCC is prepared to reactivate a fire information page full of resources for locals and businesses on visitsantacruz.org. Safety messaging will be distributed through social media channels and media relations efforts.
Clean + Safe Kudos!
Congratulations to the Babbling Brook Inn, the Hitching Post Studios Inn, Howard Johnson's Santa Cruz Beach Boardwalk, and the Flora Vista Inn – all of which received Clean + Safe certification from the California Hotel & Lodging Association (CHLA). As a reminder: all lodging properties are members of CHLA and have the capacity to become certified as a benefit of their membership. Find out how your property can become Clean + Safe certified here!
Arrivals and Departures
Welcome, Julie Ramey, new Director of Sales at the Best Western Seacliff Inn! And the Hyatt Place Santa Cruz has a new Director of Sales Viera Wardell who joined the property in May. Congratulations and farewell to Marion Olin, Port Director at the Santa Cruz Harbor who will retire on August 15, 2021.
Re-Opening Restaurants Successfully and Sustainably
The Santa Cruz County Chamber of Commerce along with the Tri-County Monterey Bay Area Green Business Program and San Benito County Chamber of Commerce is offering a virtual seminar on Wednesday, June 30th to share best practices to reopen restaurants or cafe successfully and sustainably! The seminar will feature Matt Sutton, who oversees the California Restaurant Association's (CRA) Government Affairs + Public Policy, Darren Pound, VSCC board chairman and General Manager of the Santa Cruz Dream Inn, and others and will be moderated by Deborah Luhrman, Editor and Publisher of Edible Monterey Bay. For more information and to register, click here!
Think Outside the Frame!
Brand new for summer and beyond, ArtHikes in Watsonville, Scotts Valley, Capitola, Santa Cruz, and county park locations are launching. Five life-sized frames painted by local artists will appear at each local park, the locations of which were chosen by each mayor – and a guide to county parks will be unveiled in July. Click here for a message from Derek Tim, Mayor of Scotts Valley about the project.
Did you know……
that California Department of Alcoholic and Beverage Control has released an online portal for businesses to apply for a renewal fee waiver if they qualify? Specified on-sale licensees may be eligible for fee waivers of licenses with expiration dates between March 1, 2021, and February 28, 2023. Approved renewal fee waiver requests are effective only for the one-year license renewal period. Licensees must submit a renewal fee waiver request each year to receive a fee waiver during the annual license period of March 1, 2021, through February 28, 2023. Click here for more information.