July 8, 2021
Tourism Marketing District Renewed Until 2029
Supported by the lodging industry, continuation of the Tourism Marketing District (TMD) for Santa Cruz County was approved for the next seven years – until June 2029 – by the County Board of Supervisors and approval votes from city councils in Scotts Valley, Capitola, Santa Cruz, and Watsonville. Extending the TMD solidifies funding following the aftermath of COVID-19 and provides critical resources for the local tourism industry as we enter the economic recovery phase of the pandemic.
The TMD will continue to be funded by an assessment fee paid by guests at lodging properties and will serve to maintain funding for tourism promotion. It is structured similarly to the over 112 tourism marketing districts within California – as well as other local special districts such as the Santa Cruz Downtown Association and the Capitola Village Business Improvement Association, but with the sole purpose of promoting tourism.
The revenues from the assessment provide a needed boost for Visit Santa Cruz County's tourism marketing budget. The added revenue supplements VSCC's own sales efforts and helps advance long-term planning and marketing programs in an effort to draw overnight visitation during the shoulder seasons when business declines. The TMD is expected to garner approximately $2.9 million during FY 2022-2023 toward Visit Santa Cruz County marketing and promotional programs.
The process for the TMD renewal began in December of 2020. Over the last seven months, outreach and engagement was ongoing to over 100 TMD members, 29 elected officials, and the 25 members of the Visit Santa Cruz County Board. Appreciation and thanks to the leadership and support provided by the lodging industry in crafting this beneficial renewal structure. Thank you to the TMD Renewal Task Force Co-Chairs, Tejal Sood with Bayside Hotel Group, and Ken Berman with the Aspromonte Hotel Group for their leadership and support during this process. And many thanks to the dedicated Task Force members who participated in numerous Zoom meetings and diligently worked to reach out to other TMD members on a peer-to-peer basis.
Funding through the TMD enables Visit Santa Cruz County to create increased awareness of the destination through more in-depth marketing and promotional initiatives. The assessment money, when combined with cooperative marketing dollars, has enabled Santa Cruz County to compete on a more level playing field with other destinations in terms of promotional efforts and expand conference and meetings marketing efforts and international reach.
VSCC Launches "Let's Cruz Again" Inaugural Summer Campaign
On July 1st, VSCC launched Let's Cruz Again, the first time a summer marketing campaign has been activated by the region's official tourism marketing organization. Historically, advertising dollars are spent during the slower "shoulder seasons"; however, given the devastating impact COVID-19 has had on tourism, the industry is taking no chances in terms of garnering our fair share of the pent-up travel demand in the coming months. The television and online marketing strategies will ensure not only strong regional exposure to travelers within targeted drive markets to Santa Cruz County but will also reinforce repeat visitation and branding messaging about Santa Cruz County as a travel destination now that restrictions have been lifted and summer has officially started. The integrated campaign includes an updated broadcast commercial, online marketing campaigns in targeted Bay Area digital outlets, and social media messaging.
Through August 31, 2021, VSCC's "Let's Cruz Again" campaign will lead off with a broadcast commercial – part of a major TV ad campaign – focused on targeted drive markets in Sacramento and the San Francisco Bay area. The spot will air in those markets on Comcast, KTVU, KGO, and KCRA.
Complementing the broadcast schedule, a digital marketing campaign will also be activated through the end of August. Online ad and e-newsletter campaigns with Bay Area Parent, SF Gate, The Inertia, MetroNewspapers, and Visit California will also be implemented throughout the lifespan of the summer promotion.
VSCC's 60,000 consumer e-newsletter subscribers will receive news about visiting the region through a "What You Need to Know to Visit Santa Cruz County" blog story in their inboxes. The majority of these subscribers live within a 120-mile drive of Santa Cruz County and fit within the demographic of the target visitor market.
These marketing efforts are supported by the Tourism Marketing District.
VSCC Welcomes Flavia Oliviera as New Sales and Marketing Director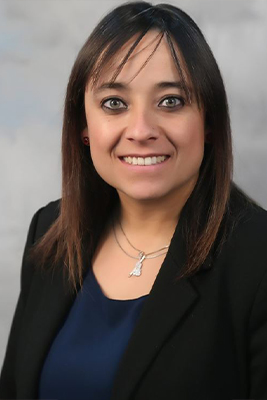 VSCC announces that Flavia Oliviera has joined the team as the new Director of Sales and Marketing, effective immediately. Flavia brings over a decade of hotel experience with her to the position, in addition to having experience working with a destination marketing organization.
Previously, Flavia served as sales director with Hotel Paradox. She began her career as an intern in the hotel industry in Brazil. After she earned her college degree, she studies abroad in Switzerland, where she joined Marriott International. By 2011 she had landed a job in sales and moved to the U.S., working for Visit Oakland in a sales manager position. She then resumed her career in the hotel sector when she joined Hotel Paradox heading up its sales team. During the 2020 COVID Pandemic, Flavia also assumed the role of Regional Director, overseeing two Marriott brands and an independent property in three different Bay Area markets.
"Flavia brings nearly a decade of hotel experience to Visit Santa Cruz County across all platforms – in particular with sales – and DMO experience with Visit Oakland," said Maggie Ivy, CEO and Executive Vice President of VSCC. "She already has established relationships with local properties and has built an impressive amount of credibility with our local lodging industry. This will benefit our hotel partners as we move toward recovery in 2021."
Flavia earned the 40 Under 40 Award from Connect Meetings in 2019. In 2015, she was nominated for the President's Circle Award with Marriott International.
In her new position with VSCC, Flavia will be responsible for sales in the areas of digital promotions, conferences and meetings, weddings, and cooperative opportunities for local tourism-related businesses, among other duties.
Resource for CHLA Members
As a CHLA member, property owners, and general managers are able to purchase lodging products at a discount. CHLA has partnered with Source1 Purchasing to provide members with discounted pricing on products you may already purchase and, in many cases, from suppliers with which you already contract. Click here for more information.
Clean + Safe Kudos!
Congratulations to the Inn at Depot Hill, Ramada Limited Santa Cruz, Motel Santa Cruz, and the Ocean Gate Inn – all of which received Clean + Safe certification from the California Hotel & Lodging Association (CHLA). As a reminder: all lodging properties are members of CHLA and have the capacity to become certified as a benefit of their membership. Find out how your property can become Clean + Safe certified here!
South County News
The Watsonville City Council voted unanimously to allow construction bids of about $2.3 million toward a $3.1 million trail project to connect Ramsay Park with Watsonville Slough trails and surrounding areas. The project includes a nearly half-mile bike lane on Harkins Slough Road, a nearly half-mile walking path in Ramsay Park, two crosswalks and four pedestrian crossing signs, a platform to overlook the wetlands, and 150 new trees and 1,300 native plants!
VSCC News
Christina Glynn, VSCC Communications Director, was named as one of the honorees for the Women of Influence Award by the Silicon Valley Business Journal. The prestigious award honors 100 remarkable women leaders and innovators, their contributions to their respective industries, and their overall impact on business in Silicon Valley. Christina has worked closely with the business media outlet over the last year publicizing Visit Santa Cruz County's LBGTQ+ Initiative in January 2020 and the most recent Visitor Sentiment Survey which was presented to local and regional media outlets and stakeholders in March.
Did you know……
that the Watsonville Wetlands Watch is celebrating 30 years in 2021? Known at its inception as "Watsonville's first organized environmental group," this organization advocates for wetland issues, restores degraded habitats, and teaches appreciation for the unique beauty and life of the Pajaro Valley wetlands. Check out the walking paths at the Watsonville sloughs, which cover about 800 acres!