July 29, 2020
IN THIS ISSUE…
PAST TRAVEL FORECASTS…
April
May
June
July 29, 2020
Local Businesses Shutter as the Impacts of COVID Expected to Continue Into 2021
Following the Santa Cruz County's Health Services Agency's order on Monday announcing that the California Department of Public Health has added Santa Cruz County to the order modifying or closing operations in several sectors, Visit Santa Cruz County has compiled a list of businesses which have recently closed and which are heavily reliant on visitor traffic during the summer season. In a normal year, visitors will spend over $1 billion in Santa Cruz County, over half of that in non-lodging purchases. Although amended openings have meant shops, restaurants, and some attractions are able to operate in a limited capacity, the resulting unemployment for locals – in particular for families – traditionally employed in the hospitality and ag industries has had dire effects. The Community Foundation Santa Cruz County has established a Local Response Fund to aid those in need.
"The last four months have been devastating for families across Santa Cruz County. Our neighbors who are employed in hospitality and agriculture have largely been laid off or are seeing a huge reduction in their work hours. Our Latinx community is especially hurting in these industries—many of them were ineligible for federal aid from the CARES act and on top of that, communities of color nationally and locally are being disproportionately affected by COVID-19." Said Susan True, Executive Director of the Community Foundation of Santa Cruz County. "Thanks to donors and our trusted nonprofit partners, the Community Foundation has been able to provide over $2 million in direct through our COVID-19 Response Fund to help keep local families housed, fed, safe, and healthy during this terrible time."
The Community Foundation has identified rental assistance and food to be the greatest needs brought on by unemployment; 100% of gifts go directly to the local community. Click here to learn more about COVID grants. To donate to the COVID-19 Relief Fund, click here.
VSCC Welcomes Three New Board Members
Visit Santa Cruz County (VSCC) announces the election of new members to the Board of Directors. Each member began their duties on July 1, 2020, and will sit on the 25-member Board for two-year terms. New Board members are Kent Berman, Jay Bhula, and Peg Danielson.
Kent Berman, Aspromonte Hospitality
With nearly four decades of experience in the hospitality industry, Kent Berman serves as Area General Manager for Aspromonte Hospitality, which includes the Best Western Plus, Capitola-by-the-Sea Inn & Suites, Best Western Rose Garden Inn, and the Fairfield Inn & Suites by Marriott in Capitola – as well as the Best Western Cedar Inn & Suites in Angels Camp. Kent began his career at Hyatt Hotels and Resorts after earning his Bachelor's degree from California Polytechnic University, Pomona in Hotel Restaurant Management. He then became Director of Rooms at the Portola Hotel and Spa in Monterey, and then served as Assistant General Manager of the Crowne Plaza Hotel San Francisco Airport. After working in online hospitality marketing for Monterey.com, he moved on to the Embassy Suites – Monterey Bay where he was hired as Assistant General Manager / Director of Food & Beverage. He most recently served on the Board of Directors and was Membership Chair of the Monterey Peninsula Chamber of Commerce.
Jay Bhula, Best Western Plus Scotts Valley and Hampton Inn Santa Cruz West
Jay Bhula serves as Managing Partner of Best Western Santa Cruz, Best Western Plus Scotts Valley, and the Hampton Inn by Hilton on Mission Street which is currently under construction. Born and raised in Santa Cruz, Jay grew up with hands-on experience supporting his family's hospitality business and learning about operations. He attended Santa Clara University, earning a B.A. in Finance and worked at Newmark Realty Capital (Gantry, Inc.), where he learned about the commercial real estate industry. Jay earned a Masters degree in Hospitality Management with a minor in Real Estate at Cornell University's SC Johnson College of Business. Jay has since returned to Santa Cruz to help in the family business and give back to the community in which he grew up.
Peg Danielson, Operations Manager, Friends of Santa Cruz State Parks
Peg Danielson serves as Operations Director for Friends of Santa Cruz State Parks, managing day-to-day logistics for the organization and working closely with Santa Cruz County's 14 California State Parks. Peg is a native of Santa Cruz and a descendant of a local pioneer family, whose ranch later became Año Nuevo State Reserve. Her love of history found expression as a docent at Wilder Ranch State Park. Previously, she worked as a paralegal for nearly two decades before transitioning into the non-profit sector. Peg earned a B.A. in Historical Research from UC Davis. She has served on several local nonprofit board of directors, including the Lime Kiln Historic District Advisory Board, Santa Cruz Shakespeare, and the California League of Park Associations.
VSCC board members determine policies that govern the agency, review and approve VSCC's annual work plan and serve on committees that directly support tourism promotion for the County. The board also oversees the Tourism Marketing District budget and program of work. Tourism is Santa Cruz County's largest industry, which impacted the area with $1.1 billion for the local economy in 2019
COVID Resources: Returning Safely to Work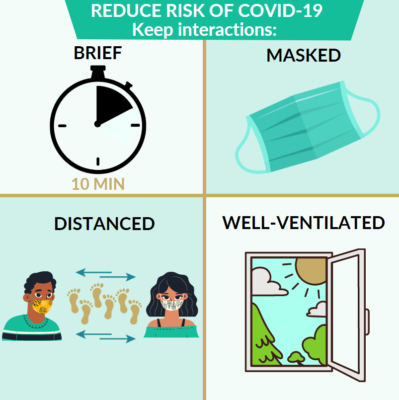 Two new resources are available locally to business owners and community-based organizations for the purposes of keeping employees and guests safe as our region reopens amidst COVID-19.
The Economic Recovery Council has a helpful resource to share with your stakeholders, team members, customers, and guests regarding safety measures and COVID.
Through the Community Foundation Santa Cruz County, this helpful reminder provides practical examples of how to stay safe when meeting and doing business with others. A graphic showing four ways to maintain safety during visits: keep it brief, maintain physical distancing, wear a mask, and be outdoors or in a well-ventilated area is an easy way to illustrate these common-sense rules. Click here for a sample letter you can edit and personalize for your audience. The ERC reminds us that the era of COVID-19 will eventually end–and the choices we make to protect ourselves and others will see us through.
And Kaiser-Permanente has developed a playbook to offer useful tools for leadership teams to make workplaces as safe as possible in the current climate.
State Travel Research Resources for the Tourism Industry
Visit California is providing regularly updated information on the industry, as it relates to the coronavirus, including a weekly statewide lodging report from Smith Travel Research and a summary compilation of weekly and monthly statistics from a variety of Visit California and third-party data sets.
VSCC Safety Pledge Continues!
VSCC's ongoing campaign to support compliance with safety measures continues. Through VSCC staff canvassing in partnership with chambers of commerce and the Santa Cruz County Realtor's Association, over 500 businesses throughout the region have received free signage and collateral materials. Print your own posters and flyers here, or download graphics for your website. Do you need additional posters for your business? Contact us! And check out the latest Safety Pledge Stars from our local community on VSCC's homepage, taking the pledge themselves!
Travel Industry Resource
To access the latest traveler sentiment survey from Destination Analysts, click here. Some of the latest research indicates that 18.2% of American travelers anticipate their next road will be in August and that more Americans are now agreeing with pandemic etiquette and say they will practice it when traveling, including wearing a face mask.
Policy Update
Last week the US Travel Association offered a legislative update as it relates to the CARES Act and identified six measures they are asking Congress to take in the Phase 4 coronavirus relief package as analysts predict this latest action will be finalized the second week of August. According to Oxford Economics, enacting these measures would help the industry recover what was lost, add nearly 800,000 American jobs, and $163 billion on the net to the economy. The "Phase 4" response to the coronavirus crisis would follow April's $484 billion "Phase 3.5" measure, which came after the $2 trillion CARES Act that passed in late March. Before that, Washington delivered a mid-March package costing an estimated $192 billion, and an $8 billion measure that was finalized in early March.
DID YOU KNOW…
that between July 12th and 20th Santa Cruz County saw over 200 new cases of COVID-19 – over half of which were in 18 – 34 year-olds? To address this issue and stress the importance of wearing a mask, the Community Foundation Santa Cruz County, Santa Cruz Business Council, Santa Cruz Works, and the Small Business Development Center are hosting Don't Kill Grandma, a virtual town hall event today – Wednesday, July 29th from 6:00 PM to 7:30 PM featuring County Health Officer, Dr. Gail Newel, and infectious disease expert and UCSC Professor Marm Kilpatrick. The virtual event will feature a current update on COVID in Santa Cruz, an overview of how people can still have fun with their friends safely, and a question and answer session from the experts. Click here to register