July 17, 2020
IN THIS ISSUE…
PAST TRAVEL FORECASTS…
April
May
June
July 17, 2020
Visit Santa Cruz County Safety Pledge Campaign Continues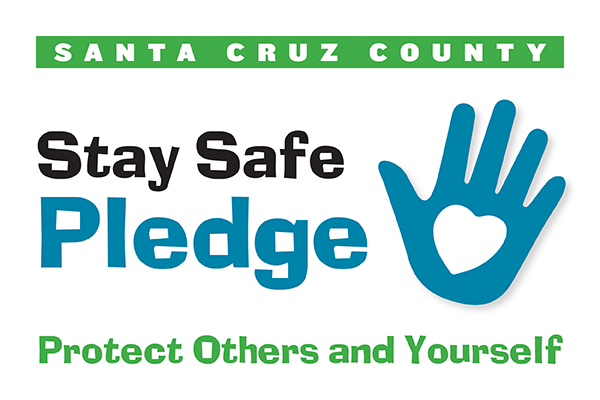 In an effort to promote safety and support local businesses as they reopen, Visit Santa Cruz County (VSCC) has launched The Safety Pledge Campaign, a positive approach that urges residents and visitors to be courteous, respectful, and caring of those around them – and that by social distancing and wearing a mask – among other best practices – they are protecting others and themselves. The Safety Pledge goes beyond stating the rules and appeals for a spirit of goodwill toward others. The pledge includes collateral materials designed to be featured in shop windows, websites, and social media platforms which is available to any organization willing to help promote the concept.
As part of The Safety Pledge, VSCC has established a new section of the website as a resource, indicating businesses that are open and featuring updates on their COVID safety measures. The campaign also includes a broad distribution of free window signage for storefront businesses throughout the county. Printable Safety Pledge signage can be found here. Local businesses can also pick up copies of various sizes of signage at the following locations: Pajaro Valley Chamber of Commerce, El Pajaro Community Development Corporation, Capitola City Hall, Santa Cruz Parks and Recreation, Pacific Trading Co – Downtown Santa Cruz, Boulder Creek Pizza, Scotts Valley Chamber of Commerce and Scotts Valley City Hall.
Safety pledge efforts are being supported with personal visits by VSCC staff to all lodging properties, as well as some area restaurants and other businesses through July with a particular focus on visitor-serving areas within the county.
Heritage Tourism Promoted with Southern Trails Auto Tour Program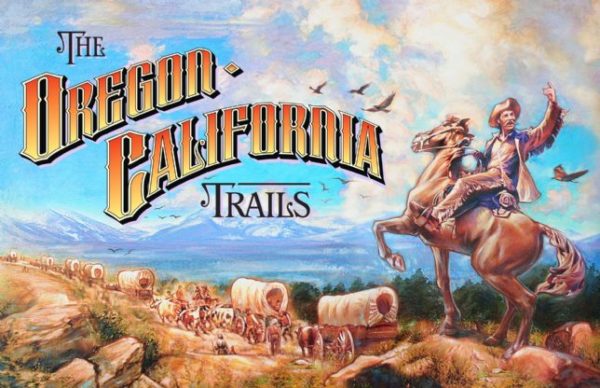 Mission Santa Cruz, the 12th Franciscan mission in California and other local historical locations are now featured in a new brochure developed by the Oregon-California Trails Association, (OCTA) a nonprofit organization designed to preserving and protecting emigrant trails and the emigrant experience in the United States. The new brochure features the legendary Southern Emigrant Trails which includes California's Mission Trail.
Developed by the Southern Trails Chapter the OCTA, the brochure – which includes a map – will be featured prominently online and have been provided to state travel information centers, community visitor welcome centers, museums, attractions, hotels, visitor bureaus, state parks, and state tourism offices to distribute when open. It will also be featured on the OCTA website.
Visit Santa Cruz County Announces Fifth Edition of Free Wildlife Watching Guide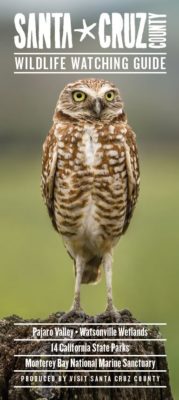 There are approximately 400 migratory and permanent bird species found throughout Santa Cruz County, and thousands of monarch butterflies, whales, and elephant seals that call the area home on a seasonal basis. Now, avid wildlife viewers have an easy-to-use resource, thanks to Visit Santa Cruz County's revised and updated Wildlife Watching Guide.
Now in its fifth printing, the free 52-page guide is designed for use by locals and visitors to help navigate the various communities adjacent to premier birding destinations throughout the county. The guide includes information on a variety of habitats, from sandy beaches to lagoons, wetlands, and river mouths, as well as descriptions and fresh photography of some of the area's most commonly seen birds, wildlife, and the best times of the year to view them.
Information on where and how to view wintering monarch butterflies, migrating whales, and elephant seals are also featured. The guide provides maps of birding and wildlife hotspots, points of interest, itineraries, and encourages lovers of wildlife to share their photos on Instagram using the hashtag #SantaCruzNow.
The guide is downloadable and also available via mail by request, or by calling 831.425.1234.
Distancing Dots and PPE Reminder
If your business is in need of face masks, a local Santa Cruz County tourism business owner has imported bulk quantities of high-quality blue surgical masks and is offering them for local sale only, for immediate pickup and delivery (available for larger orders of 1,000+). Click here for pricing and details. As a reminder for lodging properties, through VSCC sponsored membership with the California Hotel & Lodging Association, (CHLA) free PPE is available for lodging staff and employees. Contact Jennifer Flohr, Senior Vice President at CHLA. Need social distancing signage for your floors? Customized distancing dots and COVID signage for indoor and outdoor use can be made locally. Price is based on size, shape, and quantity. Click here to view a sample. For more information, contact Mpress Digital, or call 831.420.1999.
Visit Santa Cruz County Staff News
Longtime Visit Santa Cruz County Cooperative Marketing Director, Gary Green has retired after 17 years with the agency. We wish Gary all the best!
Arrivals and Departures
Announcing new leadership across the board at local hotels! Visit Santa Cruz County welcomes: Jacob Youngblood, the new General Manager at the Santa Cruz/Scotts Valley Hilton; Rebecca Issa, new General Manager of the Mission Inn; Dan Sanda, new General Manager at the Best Western All-Suites Inn, and Matthew Schupmann, new General Manager of the Hotel Paradox! And Julie Barrett Heffington, Founding Director of the Seymour Marine Discovery Center retired in June after many years of service.
Partner News
Kuumbwa Jazz has unveiled a stylish new logo, which you can view on their newly designed website! The Penny Ice Creamery has opened their third location in the newly constructed Aptos Village and Santa Cruz Mountain Brewing is sporting a newly renovated taproom. Hungry for more? The Cook's Bookcase owner Liz Pollack recently published The Lost Restaurants of Santa Cruz, which pays tribute to some favorite eateries of years past – and a few who are still operating like Stagnaro's and Shadowbrook. Click here for the latest in news on open partner businesses that are open and their COVID Safety measures.
DID YOU KNOW…
The Santa Cruz Mountains Winegrowers Association has launched a brand campaign to promote the region as one of California's premier wine appellations. The Wines of the Santa Cruz Mountains brand is a new consumer-friendly website, featuring information about the area's 70-plus wineries, upcoming wine events, visitors tips, and the Passport program that gives members special tasting privileges throughout the region. The website also delves into the long history of winegrowing in the Santa Cruz Mountains, dating back to the 1870s, when Paul Masson and Charles Lefranc planted the region's first vineyards from cuttings transplanted from Burgundy.