December 4, 2020
More Restrictions Announced by Governor Newsom as COVID Cases Spike in California
Today Governor Gavin Newsom responded to the statewide surge in COVID cases by announcing another stay-at-home order. Compliance with this order is an effort to curb the increasing number of cases in California. While the number of cases, testing facilities, and hospital capacity locally is better than statewide figures, local cases of COVID are on the rise, and county health officials are concerned about the impact these growing numbers could have on our resources. Per the governor's order, here is what you need to know:
In regions where the ICU capacity falls below 15 percent, a stay at home order has been announced. It is projected that the Bay area will reach this level by mid to late December. Temporary closures include bars, wineries, personal services, and hair salons. Businesses to remain open include schools, restaurants for take-out and delivery only, retail shops operating at 20 percent capacity, and critical infrastructure. Non-essential travel has been banned. The Governor stressed the importance of mental health activities like exercise and meditation and stressed the vaccine will be made available soon.
For small businesses, the state is offering a three-month extension for taxpayers with less than $1 million in sales tax and expanded interest-free payment agreements to larger companies with up to $5 million in sales tax. Additionally, $500 million in COVID relief funds are available for small businesses, with grants up to $25,000 for small businesses, non-profit organizations, and cultural institutions. More information is available at www.covid19.ca.gov
Locally, the Santa Cruz County Health Services Agency announced that expanded free testing facilities in Aptos and Watsonville have the capacity to test up to 630 people a day. Neither site requires patients to exhibit symptoms in order to get tested. Click here for testing information and locations.
Support Local Businesses with ShopSantaCruzCounty.org!
ShopSantaCruzCounty.org is now live! Just before the Thanksgiving Holiday, VSCC along with multiple agencies countywide launched a local campaign to support local businesses by promoting "shop local" ahead of the typical holiday rush. Restarting the Ride Out the Wave campaign which was started by Doug Erickson of Santa Cruz Works in the early days of the pandemic this past spring, Santa Cruz County along with communities around the U.S. are urging locals to stay safe while supporting businesses in their hometowns as the holidays approach. Last week prior to Black Friday, the California Retailers Association released a safe holiday shopping video with guidelines and best practices to help employees and consumers be safe during the holiday season – which encourages online shopping. ShopSantaCruzCounty.org provides an enriched online shopping experience for holiday gift-buyers while supporting local Santa Cruz County businesses from Davenport to South County, and all areas in-between.
Hotels, local shops, and restaurants have been particularly hard-hit during the pandemic and have felt the effect of dramatically reduced sales and revenue. VSCC along with the Santa Cruz County Chamber of Commerce, Downtown Santa Cruz Association, Santa Cruz Wharf, Capitola Business Improvement District, Boulder Creek Business Association, the Pajaro Valley Chamber of Commerce and Agriculture, Scotts Valley Chamber of Commerce, Santa Cruz Works, and other agencies have joined together to launch this Shop Local Santa Cruz County campaign.
This free promotion elevates the visibility of seasonal shopping in Santa Cruz County for shoppers and for other local organizations that want to help support small businesses. ShopSantaCruzCounty.org houses all businesses under one website, with a link to purchase gift cards and e-certificates online. The promotion is ongoing through the holiday season and beyond.
Those businesses who have already joined on with the promotion are helping amplify the message to shop local, conveniently, and safely this season are using the #ShopSCC and #LetsShopSafely hashtags on their social media channels.
Do you want to get involved in ShopSantaCruzCounty.org? Let us know!
VSCC Kicks Off Wildlife Watching Season with 6th Annual Winter Promotion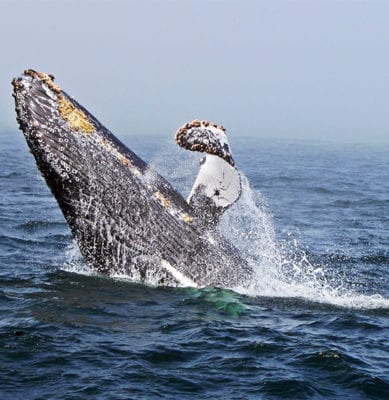 The winter months in Santa Cruz County bring numerous opportunities for visitors to catch sight of breaching gray whales during their annual migration along the California coast. VSCC is encouraging overnight visitation during this exciting time – and the critical winter months for the local lodging industry – with the launch of a promotional campaign. Paired with Travelzoo hotel specials and promotions, the sixth annual Winter Wildlife promotion offers visitors a variety of off-season lodging discounts. Combined with VSCC's updated Wildlife Watching guide and a robust digital campaign, VSCC is leveraging the cooler months and the desire to travel regionally to target its core market.
Central to the campaign are digital campaign efforts with Q Digital, SF Gate, Bay Area Parent, and Metro Newspapers which includes the Good Times.
Currently, the Beach Street Inn & Suites, Best Western Seacliff Inn, Chaminade Resort & Spa, The Hotel Paradox, Inn at Pasatiempo, Pajaro Dunes Resort, and the Seascape Resort Monterey Bay are all participating in the Travelzoo promotion. Would you like to see your property featured in this free opportunity? Email VSCC!