December 16, 2020
COVID-19 Update: Local Stay-at-Home Order Issued as Vaccines Roll Out in Santa Cruz County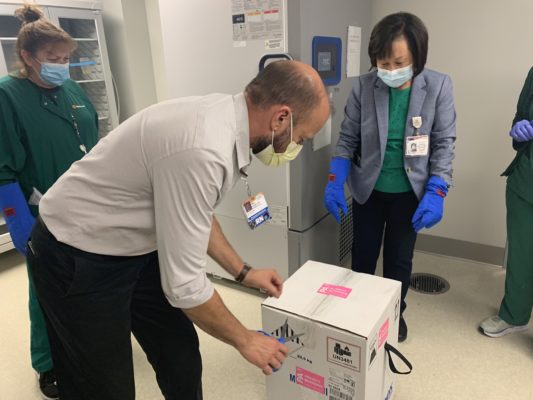 The Santa Cruz County Health Services Agency has announced that since Santa Cruz County's ICU capacity has fallen below the 15 percent threshold to 12.9 percent, effective tomorrow, Thursday, December 17th at 11:59 PM a regional stay-at-home order has been issued. The Regional Stay-at-Home Order includes a prohibition on leisure travel and but allows travel outside the home for essential purposes, including exercise. Grocery stores may remain open at 35 percent of normal capacity, and all other retail operations should limit the number of customers to 20 percent of normal capacity. All bars, wineries, breweries, and distilleries must close other than for internal operations such as production and off-sale retail. Restaurants may offer delivery and take-out only and must close outdoor dining. With California now on a virtual statewide shelter-in-place order, approximately 327,000 doses of COVID-19 vaccine from Pfizer have arrived in California so far.
Following a submission of a COVID-19 Vaccine Plan by the Santa Cruz County Health Services Agency to the California Department of Public Health, two boxes of 975 doses each – 1,950 total – arrived in Santa Cruz County on Tuesday morning. The county will follow the Vaccine Plan which outlines logistical details to manage and distribute COVID-19 vaccines in Santa Cruz County, in coordination with the local health care delivery system. It is expected that the FDA will approve the Moderna vaccine later this week, and another distribution process will begin. Here's what will happen next:
According to local health officials, the vaccines will be distributed to Dominican Hospital and Watsonville Community Hospitals, the county's two acute-care hospitals with ICUs and emergency departments. Thursday morning, vaccinations will begin with ICU and emergency department staff at both hospitals, followed by the rest of the medical personnel and support staff. This first shipment of the Pfizer vaccine is expected to immunize 10 to 15 percent of health care workers in Santa Cruz County. Health officials estimate that by the end of January, nearly all health care workers in the area will be vaccinated.
Between Christmas Day and the first week in January, county nursing home residents and staff will receive the vaccine through a federal program.
One logistical detail of the vaccine is that the two types – the first from Pfizer and the second from Moderna – each require cold-chain delivery: one vaccine requires cold storage, and the other ultra-cold storage, as the vaccines are perishable. Cold-chain delivery in this case involves maintaining a certain specified low-temperature range for the vaccine from production to distribution to avoid destruction. The cold chain begins when the vaccine is manufactured, moves through state distribution centers, and ends with the local immunization provider at the time of administration.
As more vaccines are approved, Governor Newsom anticipates that over 2 million doses could be distributed in California by the end of 2020. The vaccine distribution plan is a phased and tiered approach and follows recommendations from federal and state agencies and advisory committees.
Today, the 12 health officers for the counties of Alameda, Contra Costa, Marin, Monterey, Napa, San Benito, San Francisco, San Mateo, Santa Clara, Santa Cruz, Sonoma, and the City of Berkeley stated that they are in support of the state's vaccine guidelines.
VSCC Attends CalSAE to Promote Meetings in Santa Cruz County
This week Chuck Ryder, VSCC Sales and Marketing Director attended a virtual trade show hosted by the California Society of Association Executives (CalSAE). The organization is the third largest local Society of Association Executives in the nation with nearly 1,400 members. This CalSAE event is a key component of VSCC's marketing program as a way to target the meetings and conference market.
The CalSAE Seasonal Spectacular event took place December 15 – 16 through virtual one-on-one appointments which paired destination marketing organizations with meeting planners throughout the day. These virtual meetings were combined with educational programs and networking opportunities using virtual interactive lounges. Nearly 300 registered attendees participated in this year's event, which targeted the California meetings market specifically.
Wharf Master Plan Approved; First Major Renovation in Four Decades to Follow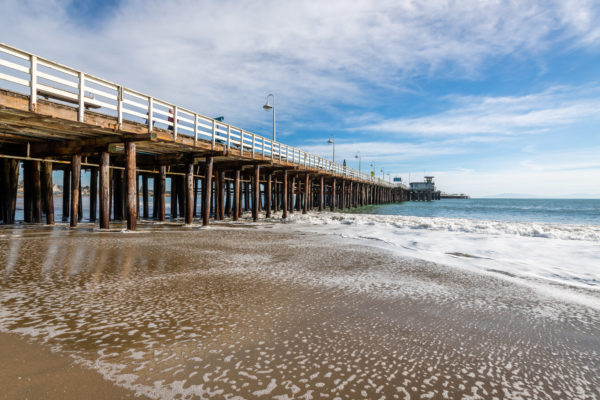 In a 5 – 2 vote just prior to the Thanksgiving Holiday, the Santa Cruz City Council voted in favor of a Master Plan to renovate the Santa Cruz Municipal Wharf. The 105-year old structure received its last renovation 40 years ago and in the decades since has elevated its presence as a destination for shopping, dining, recreation, and wildlife watching. The City of Santa Cruz Economic Development Department explains that "by taking advantage of the unique characteristics of its setting, the Wharf can realize its full economic potential and iconic public space for the city and the region well into the future." The plan entails three major strategies:
Strategy 1: Recreation
Expanding the perimeter of the Wharf for public access, recreation, fishing, and boating. These improvements will strengthen the Wharf's relationship to the Monterey Bay National Marine Sanctuary and the scenic and environmental qualities it offers. This portion of the Master Plan will enhance the Wharf as a recreational resource and provide opportunities to engage in a variety of coastal experiences. A lateral expansion of the Wharf will broaden its appeal, help increase off-season visitation, and provide an opportunity to change the image and identity of the Wharf. Public access expansion will offer new branding opportunities and will become one of the most effective ways to improve the economic vitality of the Wharf's commercial uses and the viability of the Wharf as a real estate asset for the City.
Strategy 2: Public Spaces
Enhancing the existing public realm on the Wharf including the areas currently devoted to driving and parking, as well as the three key, but underutilized, public spaces: at the point where the Wharf widens to the west to accommodate commercial uses, at the change in direction of the line of commercial buildings, and at the bayward end. This strategy will reorient the parking areas for greater efficiency and effectiveness, to reduce pedestrian/vehicular conflicts, and will create a more attractive and inviting arrival experience. This strategy will expand the opportunity for publicly-oriented activities and create physical spaces that give structure and orientation to the visitor experience, expressing the unique locational characteristics of the Wharf, adding a more diverse and varied dimension to its venues and offerings.
Strategy 3: Commercial Use
Improve the diversity, density, and appeal of commercial use by improving commercial buildings, storefronts, and adjacent sidewalks and enhance the quality of the pedestrian experience. As changes are made, improvements can be undertaken that enhance curb appeal, the pedestrian experience, and the diversity, size, type, and mix of commercial uses.
Additionally, a Landmark Building would serve as a future spot for a wharf history museum or an extension of the surfing museum on West Cliff Drive, according to the Wharf Master Plan.
UPDATE – ERC County Blueprint Status Report
The weekly County Blueprint Status Report related to COVID-19 in Santa Cruz County is available in English and Spanish. These updates are provided by the Economic Recovery Council of Santa Cruz County (ERC). Information from the ERC aligns with state and county health officials, Governor Newsom's Blueprint for a Safer Economy, Santa Cruz County Health Services Agency, and SAVE Lives Santa Cruz County.
Take the Safety Pledge!
Have you taken the Safety Pledge? The Let's Cruz Safely campaign reminds locals and visitors that practicing safe persona protocols is paramount to keeping our community healthy and restarting our Santa Cruz County economy. Send us a snap of your staff and employees taking the Safety Pledge and VSCC will feature your business on our social media channels!
Employer Resource from County Workforce Development Board
Under a partnership between the Workforce Development Board of Santa Cruz County and the California Employers Association, local businesses can access a no-cost Human Resources Hotline: 1.888.379.4846. Under this partnership, employers within Santa Cruz County can find assistance with discrimination claims, workers comp issues, employee handbooks, unemployment insurance claims, employee discipline and termination, and other human resources topics. Click here to download an informational flyer in English and in Spanish.
Clean + Safe Kudos!
Congratulations to the Seaway Inn and the Inn at Pasatiempo which are among 28 properties to be Clean + Safe certification from the California Hotel & Lodging Association (CHLA). As a reminder: all lodging properties are members of CHLA and have the capacity to become certified as a benefit of their membership. Find out how your property can become Clean + Safe certified here!
Did you know……
that the CA Notify app is now available for iPhone and Android devices? Announced last week by Governor Newsom, the app is designed to help public health officials monitor coronavirus transmission and provides residents a way to assist in reducing the spread of the disease. Once installed, the app may tell individuals whether they have been exposed through close contacts to someone who has tested positive for the virus. With that information, they can make responsible decisions around quarantine and testing, which is essential for stopping the surge. Those who opt in and get a positive test result will receive a code via text message from the California Department of Public Health. Your privacy is protected as your identity is not known and your location is not tracked, stored, or transmitted. Read more here!