August 4, 2020
IN THIS ISSUE…
PAST TRAVEL FORECASTS…
April
May
June
August 4, 2020
VSCC Offers Hotels Visitor Information Resources
As state mandates continue to ebb and flow as they relate to business openings and operations related to COVID and public health and safety, VSCC has made a helpful design change to visitsantacruz.org which can be used as a resource for hotels and other local business and other locations faced with the challenge of providing visitors with the latest information.
A new section of visitsantacruz.org is devoted to businesses that are open and operational during COVID, including hours of operation, whether or not curbside pickup or take away is available, cleaning practices, and safety protocols staff and guests will abide by, in addition to other information. The reference and link, Local Business Opening Safely, is prominently displayed at the top of every landing page on visitsantacruz.org. The new landing page emphasizes restaurants and eateries, but also includes hotels, retail shops, wineries, and things to do. Additionally, an updated blog story posted to VSCC's site features restaurants offering deck side dining, open patios, street parklets, and quaint gardens, perfect for dining al fresco! These two new resources follow VSCC's ongoing campaign to support compliance with safety measures. Do you need additional Safety Pledge posters for your business? Contact us! Or print your own copies here. And check out the latest Safety Pledge Stars from our local community on VSCC's homepage, taking the pledge themselves!
Two New Resources for HR Support from the County of Santa Cruz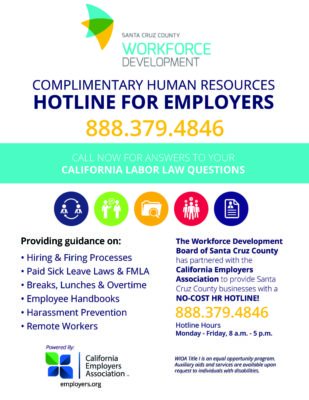 Are you a business owner and need help writing an employee handbook? Need clarification about an unemployment insurance claim? The Santa Cruz County Workforce Development Board has partnered with the California Employers Association to provide local businesses with no-cost human resources help. And a special employer toolkit is available from the County of Santa Cruz to local employers to help minimize impacts among employees and assist with the investigation of COVID-19 cases and help manage coronavirus transmission.
Under a new partnership with the California Employers Association and the Santa Cruz County Workforce Development Board, employers within Santa Cruz County will be provided with assistance through an HR Hotline: 888.379.4846. All areas of employer-employee relations can be addressed, including Unemployment Insurance Claims, Labor Commissioner Claims (i.e. Wage Claims), Discrimination Claims, Employee Handbooks, Employee Discipline and Termination, Labor Relations, Wage and Salary, Workers Compensation, Workforce Training, and more.
The County of Santa Cruz is providing local employers with tools to help manage coronavirus include detailed guidance on prevention, preparation for exposures, and management of workplace cases, as well as information on the rights and responsibilities of employers. The employer toolkit is available here with a link available on the main coronavirus site. The toolkit includes links to detailed guidance from the California Department of Public Health, a sample employee notification letter and a contact tracing form for employers to help monitor workplace-based exposures of impacted employees.
New Sanitation and Cleaning Resources
Two new resources have emerged to enhance cleaning practices for hotels and larger gathering spaces. Both sanitation programs emerged from the need for innovative cleanliness practices across all industries with tourism-related facilities top of mind.
Visit California reported on the Premium Purity ™ Signature Sustainable Hygiene Solution in one of its recent industry communications. This two-step, non-toxic, sustainable hygiene solution involves applying a non-toxic CleanCoat™ to all indoor surfaces exposed to light, rendering them self-disinfecting through photocatalysis, which decomposes microorganisms including bacteria, molds, and viruses, as well as VOCs, resulting in anti-microbial surfaces and cleaner air for 12 months after initial application. This process converts passive surfaces into active participants in the disinfection of both surfaces and air, in a sustained and sustainable manner. The second step, which ACT. Global refers to as ECA Water, follows CDC guidelines, is Green Seal approved, and is an EPA-registered disinfectant under the name Annihilyte-1 (#92449-1). ECA Water is a combination of water and salt that has been electrically charged and activated and is applied daily as an all-in-one cleaning solution and disinfectant, replacing other potentially harmful conventional cleaning chemicals. After application, it leaves no lasting chemical residue, reverting to salt and water. The second resource for facilities of all types, from hotels to stadiums to restaurants to schools and more is an accreditation through the global Biorisk Advisory Council® (GBAC), a Division of ISSA, the leading trade association for the cleaning industry. GBAC STAR is the industry's only outbreak prevention, response, and recovery accreditation, and establishes protocols and procedures, offers expert-led training, and assesses a facility's preparedness for bio-risk situations. Every venue that receives the accreditation is vetted by GBAC as meeting all requirements for a safe, preventative, and responsive meetings facility. Nearby, the San Jose McEnery Convention Center the first convention center in Northern California to be industry-accredited in the outbreak and infectious diseases preparation and response. The San Jose Theaters followed, paving the way for other performing arts venues to follow suit.
Upcoming (Virtual) Events
Looking for virtual events happening in town? Check out VSCC's latest blog story including a virtual author reading from Bookshop Santa Cruz, and socially-distant fun at the Open Studios Art Tour, a blacksmith demonstration at Roaring Camp Railroads, and more!
Santa Cruz County Health Services Launches Blue Check Program
Local businesses that follow public health guidelines for staff and customers will receive signage endorsing their operations thanks to a new collaboration between the Public Health Division and the Office for Economic Development. The Blue Check Program is a voluntary program giving participating businesses a unique "COVID-19 SAFER, Blue Check" display to post near entrances. Businesses joining the Blue Check Program attest that they follow basic Social Distancing Protocols, including the use of face coverings, enforcement of physical distancing, limits on the number of customers in a store, disinfection of shared equipment, and more. Businesses can obtain the sign via the Office for Economic Development website, www.sccvitality.org.
Send Us Your Safety Pledge Photos
Have you taken the Safety Pledge? We love to see photos from local businesses who are committed to promoting safety protocols for customers and staff. Send us your safety pledge photos to be featured on visitsantacruz.org and our social media channels!
Partner News
Liz Pollack, owner of The Cook's Bookcase and author of "Lost Restaurants of Santa Cruz County" is now available to host Zoom presentations to community groups and historical organizations, highlighting stories and images from her book. Contact Liz via email for more information. In more foodie news, La Posta Restaurant's sourdough bread can now be found at New Leaf Community Market on the westside. Breads are available every Thursday through Sunday in limited quantities – $11.99 for a full loaf and $5.99 for half loaves. This sourdough bread is made from a 22-year-old levain starter. Check it out! Do you have partner news to share with VSCC? Let us know about it!
DID YOU KNOW…
that Event Santa Cruz is asking the community to tag their favorite Instagram account to be featured in an upcoming article? VSCC's Instagram account provides visual inspiration to locals and visitors, so tag @visitsantacruz on ESC's feed and share the Insta-love!