August 20, 2020
IN THIS ISSUE…
PAST TRAVEL FORECASTS…
April
May
June
August 20, 2020
CZU Lightning Complex Fire Update and Travel Advisory
Multiple fires are burning in the northern area of Santa Cruz County and southern San Mateo County affecting approximately 40,000 acres. Low humidity and high temperatures are contributing to this active burn which has affected 22,000 residents how have been evacuated, with more expected in the coming days. It is possible relocations of evacuees will last up to two weeks. The Santa Cruz County Emergency Operations Center requests that out-of-towners and visitors occupying local overnight accommodations depart the County immediately in order to free up shelter capacity. Due to this request from the County, and the heavy impact on infrastructure and resources from the fire, VSCC has issued a travel advisory, stating that travel to Santa Cruz County is not recommended at this time.
Santa Cruz County Government officials have asked the lodging industry to support helping relocation efforts for displaced residents. VSCC has established a landing page linked from the homepage of the website with fire updates and relocation information. Here is how VSCC is helping – and what you can do to help:
If you currently have rooms available for all or part of the expected evacuation period, please click here and submit your availability. Visit Santa Cruz County will relay your information as a resource to the County and will include it on our home page. VSCC reached out to properties in the San Jose area to help supplement available rooms locally for those residents who are able to travel. A comprehensive roster of local and out-of-county properties with availability – many of them offering special rates – can be accessed here. This list will be updated continually as information is available, and can be utilized by sold-out hotels whose staff is fielding calls from displaced locals.
For updates on the CZU Lightning Complex Fire as it relates to the tourism and hospitality industry, please follow @visitsantacruz on Twitter and Facebook.
To those who are supporting the Santa Cruz County community during these challenging times, thank you!
Labor Day Weekend Beach Closures Announced
On Tuesday, the County Board of Supervisors unanimously approved beach closures in unincorporated areas over Labor Day Weekend. Beginning Saturday, September 5th at 5AM through Monday, September 7th at 5PM, beaches in the unincorporated areas of Santa Cruz County will be closed. However, from 4PM to 8PM beaches will be open for recreation on Saturday and Sunday.
Those caught on the beach while closed can be charged with a misdemeanor and penalties can range up to a $1,000 fine and six months in jail.
The City of Santa Cruz will decide whether or not to close beaches at the city council meeting on Tuesday, August 25th. The Capitola City Council will consider a similar closure at its meeting on Thursday, August 27th. State park beaches are expected to follow local jurisdictions.
The county closures were due to local beaches being appealing places to congregate, and active COVID cases increasing to more than 1,000 last week. There are a total of 1,569 positive COVID cases in Santa Cruz County currently.
Permit Applications Being Accepted for Outdoor Expansion Areas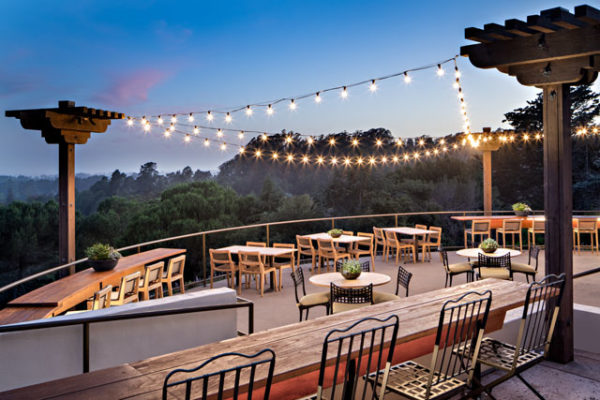 In an effort to support restaurants and retailers expanded personal services, and other businesses, the City of Santa Cruz has launched a Temporary Outdoor Expansion Program. Applications are now being taken for the program, which allows businesses to operate on sidewalks, parking lots, setback areas, alleyways, and other public spaces.
Businesses interested in utilizing a temporary expansion area must first apply for a no-cost Temporary COVID-19 Outdoor Use Permit from the Economic Development Department before operating an expanded outdoor space. All applicants must agree to indemnify the City and provide a certificate of insurance for the expanded activity. Click here for more information and an application checklist. Questions about the Temporary Outdoor Expansion Program can be directed here.
Safety Pledge Reminder
VSCC Safety Pledge materials are available for download 24/7! Sport signage in your windows, at your front desk, in back-of-house, near the cash register, and other high-profile areas to let your guests, customers, and staff know that you are committed to practicing safe personal protocols in your place of business. Do you have a photo of a team member taking the safety pledge? Send it our way!
Arrivals and Departures
Santa Cruz County Bank President and CEO and former VSCC board member David Heald has announced his retirement. Congratulations David!
State Parks Offering Extension to Passes
If you are a California State Parks pass holder, your pass has been extended! To make up for the time they were not able to be used, California State Parks annual passes will be extended three months. Passes which normally expired between March 1 and June 30, 2020 will be extended through September 30, 2020. Passes which normally expired between July 1, 2020 to April 20, 2021 will be extended through July 31, 2021. Other state park passes are affected as well. Click here for details!
VSCC Restaurant Partner News
Venus Spirits' long-awaited restaurant and expanded distillery and tasting room is now open on the westside! This 11,500 square foot space is now serving elevated picnic fare outdoor for now, complete with picnic tables, umbrellas, and twinkle lights. Continuing the trend, Soif Wine Bar + Restaurant is now offering outdoor dining 1PM-7PM Thursday to Sunday in a sweet new parklet. El Palomar's new outdoor dining space in Frazier Lewis Lane, behind Dell Williams is now open, Monday thru Sunday, Noon to 8PM! And Jack's Patio at the Santa Cruz Dream Inn features open-air, physically distanced picnic tables, umbrellas, heat lamps for chilly evenings, bistro lighting and live music. Jack's is open Friday through Sunday from 5P to 9P. Check out the menu here!
DID YOU KNOW…
that if you or someone you know needs assistance with evacuating pets and livestock due to the fires, you contact the Santa Cruz County Animal Services Agency at 831.471.1182? If you have been displaced and need pet supplies, visit the animal shelter at 1001 Rodriguez Street in Santa Cruz for supplies.