April 6, 2023
IN THIS ISSUE…
VSCC Debuts Symmetry, Official Santa Cruz County Traveler's Guide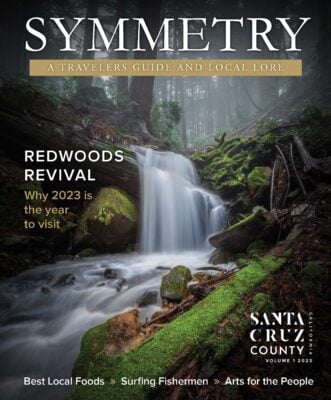 For the first time in three years, Santa Cruz County's official traveler's guide is now available. Symmetry, a 100-page upscale magazine, illustrates the cornerstones of the region that set it apart from other coastal California destinations. This reactivation of the guide is the result of a unique partnership between Visit Santa Cruz County (VSCC) and Edible Monterey Bay (EMB) to produce the publication. 
The front-of-book section features a community-focused lifestyle perspective of Santa Cruz County. Thoughtfully curated content in the form of comprehensive, journalistically-driven narratives and reflective photography conveying the soulful nature of Santa Cruz County are woven throughout the guide.  
Four key pillars have been identified as themes that illustrate the rich diversity of our physical and emotional environment – attributes that are so deeply entrenched and distinctly Santa Cruz County. 
These key pillars are intertwined into the design and editorial copy of the magazine:   
Coastline/Beach/Surf/Water/Healing 
Redwoods/Nature/Trails/Landscape 
Creativity/Artists/Performers/Expression 
Agriculture/Environment/Nurturing 
A cover story embracing the redwoods explores in depth the resurrection of Big Basin Redwoods State Park and the opening of the San Vicente Redwoods in Santa Cruz County. The re-emergence of these parks reflects the healing that is taking place within the community following the devastating CZU August Fire.
The back of the book serves to inform visitors about where to stay, eat, and what to do while in-market. Complemented by display advertising from hotels, restaurants, attractions, and other local businesses, this section of the magazine features dining and lodging listings highlighting the amenities offered by various restaurants, hotels, bed and breakfast inns, motels, vacation rentals, and campgrounds. Activity listings, signature events, and a redesigned county map in a playful aesthetic are also trademarks of the magazine.
With a print run of 120,000 copies, distribution has been expanded in 2023 to include California Welcome Centers throughout the state, five regional airports in both northern and southern California, and international airports in Portland, San Diego, Phoenix, and Seattle and wide distribution in Sacramento and Monterey Counties.
A free printed copy of Symmetry can be ordered online at santacruz.org, by calling 800.833.3494, or by stopping by the year-round visitor center at 303 Water Street in Santa Cruz. 
Farewell to a Local Legend
The last remaining member of the Santa Cruz Surfing Club, which was established in 1936, passed away on February 13th at 99 years old. Harry Mayo built his first surfboard in shop class at Mission Hill Junior High School, kicking off a lifetime love of the sport. He volunteered for the Santa Cruz Surf Club Preservation Society, giving tours at the Surf Museum and serving as the Club's photo archivist and donated his extensive photo collection to the UCSC Special Collections, which is available online as The Harry Mayo Surfing Photo Collection.
Harry, one of the pioneers of the waves during a time when surfing was in its nascent stage, deserves credit for helping to cultivate the sport at the local level. Santa Cruz Surf Club, 1941 shows some of the 27 members of the original Santa Cruz Surfing Club, which graced the cover of the 2020 Official Santa Cruz County Traveler's Guide.
In 1986, the remaining members of the Santa Cruz Surfing Club joined other local surf clubs and converted the Mark Abbott Memorial Lighthouse into the Santa Cruz Surfing Museum – the first one of its kind on the West Coast. This diminutive, admission-free museum houses over 100 years of surfing history in Santa Cruz and overlooks Steamer Lane, one of the best places in the United States to surf. Soon after, the Surfing Statue on West Cliff Drive was built, dedicated to "All surfers, past, present, and future."
In 2008, the Santa Cruz Surfing Club reorganized and formed the Santa Cruz Surfing Club Preservation Society, which serves to honor, protect, and preserve the history of surfing in Santa Cruz County and those who contributed to the destination's iconic sport.
VSCC Hosts Meeting Planner Fam Tour
Flavia Oliveira, Director of Sales and Marketing, hosted a meeting planner fam tour March 20th – 22nd, offering a half dozen industry professionals an exclusive look at what Santa Cruz County has to offer corporate groups of all sizes.
The fam tour focused on Santa Cruz County properties offering at least 2,000 square feet of continuous meeting and event space. The Hilton Santa Cruz/ Scotts Valley hosted the group for two nights, and during the day, on-site visits were conducted at six conference hotels: Hotel Paradox, Chaminade Resort & Spa, Dream Inn Santa Cruz, Courtyard by Marriott Santa Cruz, Seacliff Inn and Seascape Beach Resort.
To emphasize the diversity of experiences available to meeting attendees, five team-building activities were part of the two-day itinerary: a mixology class with Venus Spirits, a salsa-making competition at the Chaminade Resort, wine tasting with Birichino Winery, and a sip and paint experience with the Painted Cork. Transportation was provided by Brew Cruz.
Meeting planners from Helms Briscoe, Global Meeting Sourcing, Schmidt Ocean Institute, Medtronic, the Association of Northern California Oncologists (ANCO) and others participated in the fam.
VSCC recognizes the importance of working with meeting planners, providing them with a solid point of contact and options for lodging and group activities as the meetings and conference sector continues to recover.
Attention Artists!
California State Parks is seeking 10 artists to join parks staff on a two-day, one night camping experience in Big Basin Redwoods State Park June 3 – 4, 2023. Participating artists will create a piece of art that will be displayed at the park through the summer season in an effort to reimagine the visitor experience at this beloved destination. Each of the 10 artists will receive a stipend of $2500. Click here to learn more!
Partner News
Congratulations to Julie Ramey, the new Director of Sales and Marketing at Hotel Paradox, Autograph Collection! And Bridgette Quartararo has accepted the Director of Sales and Marketing position at the Courtyard by Marriott Santa Cruz. Welcome! Congratulations to Justin Cummings, 3rd District Supervisor for the County of Santa Cruz, who was appointed to the California Coastal Commission.
CalTravel Calls for Nominations
The California Travel Association is seeking nominations for their annual CalTravel Awards in eight categories, including sustainability, DEI, emerging leaders, and more. Individuals and organizations will be recognized for their leadership efforts, which have significantly impacted California's travel and tourism industry. Nominations will close on May 31st, and winners will be announced at the 40th annual CalTravel Summit Awards Dinner in Monterey on the evening of September 21st. Click here for more information.
Support for Small Businesses
The California Office of the Small Business Advocate (CalOSBA) is offering three types of incentives and grants to small and medium-sized businesses throughout the state: the EmployABILITY Business Grant offers grants of $20,000 to $200,000 to help grow their businesses and provide job opportunities for individuals with disabilities; the Demand Side Employment Initiative (DSEI) is an employer incentive program that aims to support businesses while encouraging them to hire people with disabilities, and two Amber Grants in the amount of $10,000 each are awarded each month.
Did You Know…
You can show the world that you love our coastal forests in one click. This spring, Save the Redwoods League is kicking off a campaign to spread the word about protecting California's giant sequoias. Click here for a free "Save Our Sequoias" sticker for your hydroflask, laptop or notebook and show your love for these majestic trees.