April 15, 2021
Commentary: Santa Cruz County Tourism Can Help Power America's Economic Recovery If Congress Acts Now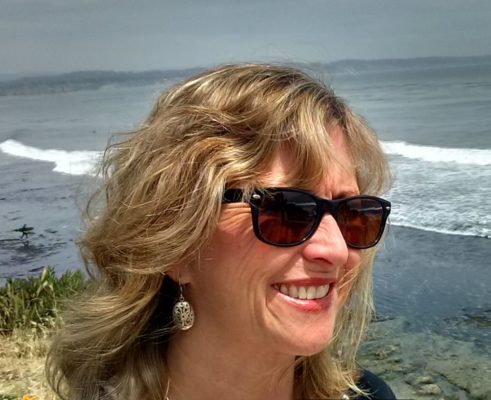 While the robust pace of vaccinations in the U.S. continues and as our local COVID numbers steadily decline, hope that a return to normal is on the horizon. However, a resurgence of Santa Cruz County's travel economy is far from inevitable.
Hotel occupancy data indicates that in 2020 losses in the lodging sector were approximately 30%. The impacts on owners of hospitality businesses and employees as a result of COVID would be hard to underestimate. Operating restrictions, closures and a need to enforce mask mandates and a number of "clean and safe" protocols required nothing less than a transformation of business practices for local hospitality businesses. Many businesses have had to close permanently. The lodging, restaurant, and retail sectors have been hit particularly hard.
A bipartisan bill has just been introduced in Congress that includes substantial measures to quickly bring visitors back to Santa Cruz County and our entire region, as well as to destinations across the country, a necessary step to help rebuild our local economy: The bipartisan Hospitality and Commerce Job Recovery Act provides much-needed stimulus to help restore the millions of travel jobs lost to the pandemic. The bill's bipartisan cosponsors include U.S. Rep. Jimmy Panetta, who represents much of the Central Coast, including Santa Cruz County. Visit Santa Cruz County supports this legislation for the necessary good it will do to incentivize Americans to travel, restore jobs and hasten a broader economic recovery.
Santa Cruz County, like so many communities on the Central Coast, is deeply reliant on visitors whose tourism dollars power our local economy. In 2019 – the tenth consecutive year of tourism growth – visitor spending totaled over $1.1 billion into Santa Cruz County's economy, supporting over 15,000 jobs locally: a revenue source that was gutted amid the pandemic. Estimates in California range from a 30% to 50% loss in tourism spending – an indication of tens of millions of dollars lost that supported locally owned businesses and their employees.
The travel and tourism industry is our lifeblood; it's part of who we are as a community, and its absence this past year was felt tremendously, in so many ways. Tax revenues generated by visitor spending are a vital source of income for Santa Cruz County, funding local services such as police, firefighters, roadways, libraries, and more. The lodging tax (TOT) in 2019 alone totaled over $20 million in locally collected taxes. Visitor spending directly affects not only our economy but our local quality of life.
Specifically, the Hospitality and Commerce Job Recovery Act would provide: a temporary business tax credit to revitalize business meetings, conferences, and conventions; an individual tax credit to stimulate non-business travel; a temporary entertainment business expense deduction to help entertainment venues and performing arts centers recover; and tax relief for restaurants and food and beverage companies to help restore food service jobs and strengthen the entire American food supply chain.
Without additional relief and stimulus measures, it is estimated that it will take at least five years for the travel industry to recover from the economic fallout of the pandemic. That is far too long to wait, especially considering the numerous businesses in our community that are struggling today – and the many that have closed over this past year. This is our industry's toughest challenge yet, but with the right policies in place, we know an expedient recovery is within reach.
If Congress can do its part, Santa Cruz County's hotels, restaurants, retail shops, and attractions will be able to recover more quickly and get back to doing what we do best—welcoming visitors from near and far and providing world-class hospitality.
Meetings Permitted in California
Governor Newsom announced last week that beginning today, private events or meetings, including receptions and conferences will be allowed to be held indoors at a maximum of 150 guests or attendees and outdoors at a maximum of 100 guests or attendees. Under the new public health guidelines, a COVID-19 test or proof of full vaccinations will be required to attend indoor events in California. Outdoor event capacity may be increased to 300 guests provided that all guests are tested for COVID-19 beforehand or can provide proof of full vaccination. Hotels must adhere to the state's Blueprint for a Safer Economy, individual county health department guidelines, and CHLA's Clean & Safe Guidance for Meetings and Events. This is promising news for Santa Cruz County hoteliers and meeting venues, which provides a critical additional revenue stream for the hospitality industry.
The new health protocols include live events and performances. Beginning today, venues with a maximum capacity of 1,500 may only operate at 15% capacity (200 people). That capacity may be increased to 35% (525 people) if all guests have been tested for COVID-19 beforehand or can provide proof of full vaccination. Venues with a maximum capacity above 1,500 may only operate at 10% capacity or 2,000 people maximum. That capacity may be increased to 35% if all guests have been tested for COVID-19 beforehand or can provide proof of full vaccination. Venues hosting indoor live events and performances must comply with physical distancing rules and are encouraged to utilize advance ticket sales, to create designated areas for eating and drinking on-site, and to limit attendance to in-state customers.
Performance venue operators are reminded that the Shuttered Venue Operators Grant program, which includes over $16 billion in grants to shuttered venues, will be administered by the U.S. Small Business Administration (SBA) on a first-come, first-served, and priority basis. Eligible applicants may qualify for grants equal to 45% of their gross earned revenue, with the maximum amount available for a single grant award of $10 million. $2 billion is reserved for eligible applications with up to 50 full-time employees.
Eligible applicants include:
Live venue operators or promoters
Theatrical producers
Live performing arts organization operators
Relevant museum operators, zoos, and aquariums who meet specific criteria
Motion picture theater operators
Talent representatives
Each business entity owned by an eligible entity that also meets the eligibility requirements
Click here for an FAQ sheet and here to sign up for action alerts.
COVID Update: 120-Mile Travel Advisory Lifted, Domestic Travel Resumes, CA to Lift Virus Restrictions on June 15th
Widespread vaccine availability, test positivity rate near a record low, and health and safety protocols maintained by the general public are all factors that played into last week's announcement that domestic travel is opening up once again – with over 20 million vaccines distributed statewide. Most importantly for the lodging industry, hotels and other hosts may resume full occupancy without social distancing.
Today, California residents 16 and older are eligible for the COVID vaccine and on Tuesday, June 15th, California will fully open its economy if two criteria are met:
If vaccine supply is sufficient for Californians 16 years and older who wish to be inoculated; and
If hospitalization rates are stable and low
It was previously expected that one of the first recipient groups of the vaccine — people over the age of 65 — eager to get out of their bubble, would be the first sector of the population to travel. However, with increased vaccine availability, the hospitality and travel industry is expected to see an increase in hotel bookings across all demographics as the public receives both doses.
Last week, the Centers for Disease Control and Prevention (CDC) said that fully vaccinated Americans can resume domestic travel, so long as they wear a mask in public. Fully vaccinated individuals who travel are not required to get tested before or after their trip, nor do they need to self-quarantine upon their return.

The CDC also announced that fully vaccinated Americans can travel overseas, as well. However, those traveling internationally should adhere to any testing and quarantine guidelines enforced by their destination or home jurisdiction.
According to Destination Analysts, while vaccine passports are being debated in the political realm, it appears that, particularly for certain activities, an important proportion of American travelers is in favor of proof-of-vaccination policies. When asked how comfortable they would be with vaccine passports being used widely in the U.S. to allow access to public activities, 52.0% said they would be comfortable or very comfortable — a feeling strongest among older travelers and those who have already been vaccinated.
On average, American travelers believe the United States is 52.6 percent back to normalcy right now. Nearly half believe their life will be back to "normal" by September.
ERC County Blueprint Status Report
The weekly County Blueprint Status Report related to COVID-19 in Santa Cruz County is available for the week of April 13, 2021, in English and Spanish. These updates are provided by the Economic Recovery Council of Santa Cruz County (ERC). Information from the ERC aligns with state and county health officials, Governor Newsom's Blueprint for a Safer Economy, the Santa Cruz County Health Services Agency, and SAVE Lives Santa Cruz County.
Arrivals, Departures, and Kudos!
Welcome, Robb Woulfe, Executive Director at the Santa Cruz Museum of Art and History, and to Valeria Miranda, new Executive Director of Pajaro Valley Arts! Congratulations to David Honda, City of Watsonville Police Chief on his retirement. And goodbye and thank you to Robert Singleton, Executive Director of the Santa Cruz Business Council as he leaves to take on his new position with Bird Scooters. Congratulations to Santa Cruz Wharf Supervisor Jon Bombaci who recently retired after four decades with the wharf and the City of Santa Cruz. And former VSCC board member Chuck Allen, who is being honored by the Pajaro Valley Chamber of Commerce and Agriculture as Man of the Year – congrats!
Community Input Wanted on Two Fronts: New City Manager and Telework Survey
The City of Santa Cruz is asking for community input as it searches for a new City Manager. Community members can participate by defining the most important issues facing the City and the key attributes they hope to see in the next City Manager. Responses will be accepted through May 1. Find the links to the survey in both English and Spanish here! And tri-county regional transportation agencies have developed a telework survey, designed to get a better understanding of future plans of businesses and organizations around working remotely, post-COVID, and provide perspective from a land use and real estate outlook. Click here to take the survey, which closes on April 23rd.
Clean + Safe Kudos!
Congratulations to the Ocean Echo Inn & Beach Cottages and the Comfort Inn Beach-Boardwalk Santa Cruz which received Clean + Safe certification from the California Hotel & Lodging Association (CHLA). As a reminder: all lodging properties are members of CHLA and have the capacity to become certified as a benefit of their membership. Find out how your property can become Clean + Safe certified here!
Did you know……
that the City of Santa Cruz has announced that a limited number of permitted vendors on Beach Street to operate at designated sites for the 2021 tourist season? Vending is currently prohibited at this location, and vendors violating this order (Executive Order 2020-21) can be issued a fine or ticketed with a misdemeanor. Click here for additional information on the application process, conditions for application approval, important dates, and frequently asked questions. Applications will be accepted through Monday, April 26, 2021.