January 30, 2020
IN THIS ISSUE…
PAST TRAVEL FORECASTS…
VSCC Accepting Nominations for Board Seats
Visit Santa Cruz County is now accepting nominations for its Board of Directors. A 25-member Board of Directors governs VSCC. Board terms are two years in length and begin with the new fiscal year on July 1, 2020. The board is comprised of representatives of various regions of the county and a cross section of lodging representatives as well as other businesses and organizations affiliated with the travel and tourism industry. Responsibilities include active participation at board meetings and general advocacy for the tourism industry.
The VSCC Nominating Task Force will review all nominees for board seats. For more information about serving as a board member, or to receive a nomination form, please call 831.425.1234. Nomination forms may be downloaded here requested via email to dharris@santacruz.org, or picked up in person at the VSCC offices and year-around visitor center, 303 Water Street, Suite 100, Santa Cruz. The deadline to submit The deadline to submit nomination forms is Friday, February 14, 2020.
Santa Cruz County Shines at New York Media Mission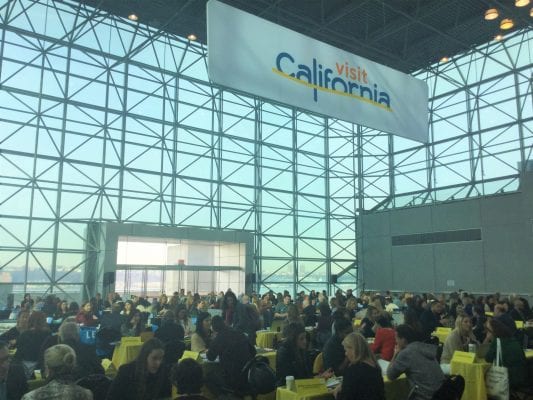 Visit Santa Cruz County's Communications Director Christina Glynn recently returned from Visit California's New York Media Mission held January 22 – 25. This multi-day event included a press reception, editor breakfast at Meredith Publishing, a digital influencer panel discussion, and participation in the International Media Marketplace during the New York Times Travel Show.
Thirty-two destinations from throughout California attended the series of events, which provided valuable one-on-one time with editors, and freelance and staff writers in the largest media market in North America. The media mission kicked off with International Media Marketplace at the Jacob K. Javits Convention Center during the New York Times Travel Show, with over 500 qualified consumer, lifestyle and travel media in attendance. VSCC participated in two dozen pre-scheduled appointments with journalists, freelance writers, and social media influencers. The following day, 51 staff writers and editors from 40 publications and outlets attended an editor brunch and networking event at Meredith Publishing, Visit California's content creator including staff from Health, Real Simple, Martha Stewart Living, Travel + Leisure, Eating Well, and other Meredith publications. The media mission concluded with an influencer gathering where delegates met with bloggers and social media influencers eager to showcase California destinations on their platforms.
Partnering with Visit California-sponsored media events provides VSCC with a cost-effective way to stretch its public relations budget to reach major metropolitan-area consumer, lifestyle, and travel media outlets. Increasing visitor awareness of Santa Cruz County through media exposure results in increased revenues to the county in the long-run.
2020 State Visitor Guide Provides Elevated Exposure for VSCC Partners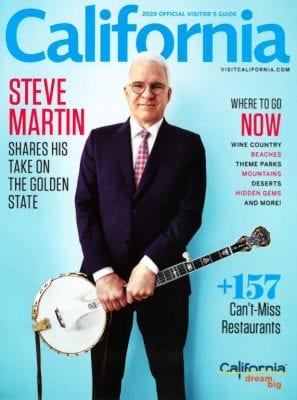 Visit California has launched the 2020 California Visitor's Guide featuring Visit Santa Cruz County partners presented in a "Let's Cruz" branded co-op ad on page 9. This 193-page magazine is one example of how VSCC continues to participate in a carefully-curated selection of highly-targeted print opportunities for the benefit of partners: local Santa Cruz County businesses. Annieglass and Best Western Plus Capitola by-the-Sea are both featured. It is available for free at the VSCC year-around visitor center at 303 Water Street in Santa Cruz, or for sale at Bookshop Santa Cruz.
The 2020 California Visitor's Guide is poly bagged with the Official State Map and a Road Trip guidebook, and is distributed to 500,000 travelers domestically and in Canada. The guides are available at all 17 California Welcome Centers, select newsstands, and can be ordered direct on VisitCalifornia.com/cvg or downloaded digitally. The guide highlights the diverse regions of California offering suggestions for things-to-do, places to stay and where to dine. Readers can access podcasts, videos and other vital travel information through a multimedia platform found within the guide. The cover features comedian, actor and long-standing California resident Steve Martin.
Human Trafficking Reminder
Since 2013, California law has required that certain businesses and locations are required to post notices providing hotline numbers for people to call for help if they are being forced to engage in any activity – from construction work to factory work or from housework to sex work – and aren't allowed to leave. Hotels, motels and bed-and-breakfasts are required to post the human trafficking assistance signs, but compliance with the law has been spotty at best. Businesses that fail to post the required signage can be fined $500 for a first offense and $1,000 for every subsequent offense. The California Hotel & Lodging Association offers 30-minute online training at no cost to CH&LA members, in both English and Spanish. Click here to read more.
Legislative Update
Under a new California law (SB 970) – with the support of the California Hotel and Lodging Association – hotels and motels, excluding bed and breakfast inns, must provide at least 20 minutes of classroom or interactive training to all employees who are "likely to interact or come into contact with a victim of human trafficking." Employers must comply with this training and education no later than Jan. 1, 2020. Read more here.
All Hail King Tides Lodging Specials!
Did you miss out on the King Tides last month? Not to worry! The King Tides will be back this month February 8th and 9th. This natural occurrence provides an additional opportunity for lodging properties to offer a special rate during this time. If you have a last-minute special you'd like VSCC to promote, let us know about it by emailing cglynn@santacruz.org and we'll share it on our social media channels!
Public Input Wanted on Transit Options
The Santa Cruz County Regional Transportation Commission (SCCRTC) in partnership with Santa Cruz METRO is seeking input from the public on the Transit Corridor Alternatives Analysis Draft Goals/Screening Criteria/Performance Measures and the Draft Initial List of Alternatives. The deadline to submit input is Thursday, February 13th. However, a series of public open house meetings on February 11th in Santa Cruz and February 12th in Watsonville will be held where you can view displays and talk one-on-one with project team members.
State and Federal Tourism Funding Approved
Good news for domestic and international marketing efforts! Statewide, California's tourism industry has given a resounding "Yes" to the Visit California Marketing Renewal, which extends the organization's funding through 2025. The renewal passed with 95% of votes in favor — the highest approval rating since Visit California's inception, even among the largest pool of voting stakeholders to date! And regulation reauthorizing Brand USA through Fiscal Year 2027 passed Congress with solid dual-party support and was signed into law by the President in December. Brand USA inspires international travel to the U.S, creating thousands of jobs and generating billions of dollars toward the nation's economy. Click here to hear a special message from Roger Dow, president and CEO of the U.S. Travel Association.
Plastics Ban Update
Hyatt Hotels announced last month that it will replace individual bottles of shampoo, conditioner, shower gel, and lotion with large-format bathroom amenities, following similar moves by Marriott International and InterContinental Hotels Group. According to Forbes, eight million metric tons of plastic ends up in our oceans every year and if major changes don't occur, there could be more plastic than fish in our oceans by 2050.
DID YOU KNOW…
that 2020 marks the 400th anniversary of the arrival of the Mayflower to the shores of Cape Cod? The Brand USA is predicting that this historical milestone will bring about renewed interest in ancestral tourism – in particular visitors to the US hoping to trace their ancestral roots to the 102 passengers and 30 crew members aboard the historic ship. Click here to read about more travel trends industry experts are predicting for the new year!