February 7, 2020
IN THIS ISSUE…
PAST TRAVEL FORECASTS…
VSCC Launches 2020 Spring Campaign
Visit Santa Cruz County (VSCC) has launched its annual Let's Cruz Spring Marketing Campaign! This yearly promotion – which launches on March 1st – is an effort to entice visitors during the pre-season and get consumers thinking about their summer vacation. The integrated campaign will include a refreshed "Let's Cruz" commercial, online marketing campaigns in targeted Bay Area digital outlets, and a specialized social media component. Although the contest will go "live" on March 1st when entries will be open, click here for a special preview!
From now through May 31, 2020, Santa Cruz County fans who log on to http://www.letscruz.com can enter the Let's Cruz Vacation Getaway Contest for a chance to win a two-night stay in a three-bedroom condo at the Pajaro Dunes Resort, a $150 "Capitola Dine & Shop Experience" gift certificate in Capitola Village, an Annieglass Craftbar Experience for four, tickets to the Santa Cruz Beach Boardwalk, Roaring Camp Railroads passes, and a choice of four activities to customize the Santa Cruz Vacation experience. The contest will also be integrated into VSCC's social media channels and featured on Twitter, Facebook, and VSCC's blog. Weekly giveaways on Facebook will also take place throughout the campaign.
The Grand Prize winner will be able to customize the vacation package with four activity choices, including a tasting at Venus Spirits, stand up paddleboarding at SUP Shack, kayaking with Kayak Connection, a craft beer tasting at Lupulo Craft Beer House, a massage, and hot tub treatment at Well Within Spa, an excursion with Stagnaro Whale Watching, gift cards for the Crow's Nest or Shadowbrook restaurants, sailing on the Chardonnay, surfing with Richard Schmidt Surf School, wine tasting at Bargetto Winery, and a spa treatment at Chaminade Resort & Spa. All prizes will also be given tickets to Roaring Camp Railroads and day passes to the Santa Cruz Beach Boardwalk.
Tickets to Roaring Camp Railroads and the Santa Cruz Beach Boardwalk will also be included in the weekly giveaways. A special prize package will be promoted exclusively to the Boardwalk's Big Kahuna Club members of a two-night stay at the Santa Cruz Dream Inn and a special prize package for Dogtrekker e-news subscribers will be offered which includes of a two-night stay at pet-friendly Chaminade Resort and Spa.
VSCC's "Let's Cruz" commercial will be part of a major TV ad campaign focused on targeted drive markets in the Central Valley including Stockton, Modesto and Sacramento in addition to the San Francisco Bay area – regions which generate over 80 percent of Santa Cruz County's annual visitor base. The contest will also be promoted through VSCC's monthly visitor e-newsletter, targeted on-line marketing strategies, social media and web banner ads on various travel-related websites.
The television and online marketing strategies will ensure strong regional exposure to potential travelers within targeted drive markets to Santa Cruz County.  A diverse array of digital campaigns through SF Gate, The Inertia, Bay Area Parent, Surfline, Diablo, The Outbound, and Metro will reach bay area subscribers.  A dedicated Visit California e-newsletter about the spring contest with destination content will be sent to their subscriber list.   
These marketing efforts are supported by the Tourism Marketing District. The Let's Cruz Vacation Getaway Contest is sponsored by Visit Santa Cruz County and the following partners: Annieglass, Capitola Village, Chaminade Resort & Spa, Dream Inn Santa Cruz, The Hotel Paradox, Pajaro Dunes Resort, and the Seascape Beach Resort.
VSCC LBGTQ+ Initiative – Next Steps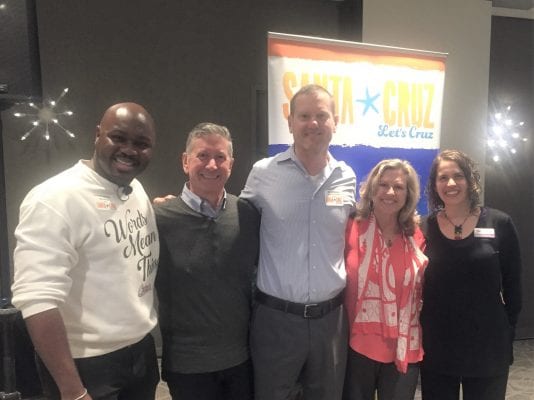 Thank you to all tourism industry and community members who attended VSCC's Hospitality Forum and Training Seminar last month. Over 100 local tourism industry representatives including hoteliers, small business owners, restauranteurs, attractions staff, and community members attended the event. , Special thanks to the Santa Cruz Diversity Center, special guest speakers David Paisley with Community Marketing & Insights (CMI), Joe D'Alessandro, CEO of SF Travel, Cornell Verdeja-Woodson, Global Head of Diversity, Equity, and Inclusion at Looker and the Diversity Center's Triangle Speakers Panel.
Here are important take-aways from the day and more information:
David Paisley, Senior Research Director at Community Marketing & Insights (CMI), an LGBTQ+ research firm based in San Francisco shared data gathered in the fall of 2019 about perceptions about Santa Cruz County as a visitor destination. The survey showed that an impressive 20% of Bay Area LBGTQ+ participants indicated taking an overnight trip to Santa Cruz County in the past year, and that Santa Cruz County is considered the most LGBTQ-friendly destination of the regions tested by far (81%). The research points to greater Santa Cruz County visitation and interest by lesbian and bi+ women compared to gay and bi+ men, and that Millennials are more likely to visit Santa Cruz than older generations. Connecting with a partner or friend were among the top five reasons to visit Santa Cruz County. It could be that the act of connecting with loved ones in Santa Cruz is just as important as the attributes of the destination. The top three reasons that LBGTQ+ visitors from the Bay Area traveled to Santa Cruz County were the Santa Cruz Beach Boardwalk (50%), the beach (47%), and to relax (43%). Restaurants and hiking were the other top motivators. Click here to download David's presentation!
For free additional LBGTQ+ travel information, visit the CMI website. To learn more about the Santa Cruz Diversity Center's Triangle Speakers for businesses click here, or email Deanna Zachary, Development and Community Relations Director. If you could not attend this event, but would like to learn more about how to include LBGTQ+ training at your business, email VSCC. The event was supported by many local businesses and industry representatives including: Staff from the Santa Cruz Dream Inn, Beach Street Inn & Suites, Capitola Hotel, Ocean Echo, Chaminade Resort & Spa, Shadowbrook Restaurant, Friends of Santa Cruz County State Parks, Roaring Camp Railroads, the Santa Cruz Beach Boardwalk, Santa Cruz Wharf, Bayside Hotel Group, Cabrillo Festival of Contemporary Music, Best Western Inn – Santa Cruz, Holiday Inn Express, Kendall & Potter Property Management, Downtown Association of Santa Cruz, Boulder Creek Golf & Country Club, and others attended.
VSCC Encourages Local Organizations and Event Planners to Submit Events for Free to SantaCruzEvents.com
Visit Santa Cruz County (VSCC) is encouraging local organizations and businesses to utilize www.santacruzevents.com to submit their events on a year-around basis. This free tool allows for over 1 million visitors to the website to find out about festivals, events, concerts, and other things to do while visiting the area. Locals too can learn about where to go, what to do, and what to see on a daily basis, and choose from the over 300 events countywide that are tailored to families, art lovers, foodies, recreation fans, history buffs, those traveling with pets, wildlife aficionados and others which are housed on the site annually.
VSCC's website is the official spot for destination information and also features the Top 5 things to do in the area on a weekly basis. The Top 5 list is a roundup of featured events which enjoys elevated placement on the website, and is distributed to countywide hotels and points of interest for the benefit of visitors and locals. Top 5 events are promoted weekly through Visit Santa Cruz County's Facebook, Twitter, and Instagram channels.
Submitting an event is free, easy, and accessible on www.santacruzevents.com: an online form can be found from a link on the Events section of the website. To qualify for inclusion on VSCC's site, the event must take place within Santa Cruz County, be submitted 14 days or more in advance, and be of interest to visitors to Santa Cruz County. Events can be submitted up to one year in advance. All events require a photo to accompany the information to be featured on the site. VSCC provides step-by-step instructions to assist in submitting event information. Do you have questions about submitting events? Email us!
Arrivals and Departures
Welcome Robb Woulfe, new Executive Director of the Santa Cruz Museum of Art & History. And the City of Santa Cruz has a new Assistant City Manager, Laura Schmidt!
Save the Date: Santa Cruz Small Business Seminar
The Santa Cruz County Chamber of Commerce and California State Treasurer Fiona Ma are sponsoring a free seminar for small businesses. Speakers from the Franchise Tax Board, CalSavers Retirement Program, and others will be in attendance. Seminar is free to the first 50 respondents who RSVP. Space is limited. Click here for more information and to register.
Information on the Corona Virus
Coronavirus is a respiratory illness caused by a new virus named 2019-nCov, first identified in Wuhan, Hubei Province, China. This new coronavirus has resulted in more than 1,000 confirmed cases in China, including cases outside Wuhan City. While the majority of the reported cases are in Mainland China, 11 cases have been confirmed in the U.S. with three of those being in California. Here is what you need to know about the Corona Virus, and a fact sheet to share with your staff.
Save the Date: CH&LA's California Legislative Action Summit
The California Hotel & Lodging Association's Legislative Action Summit will be held on March 24th in Sacramento. Now in its 19th year, Summit activities include a Legislative Issues Briefing on the most significant topics affecting California's lodging industry. The Summit also includes an in-depth analysis of California's political landscape by CHLA's lobbying firm, Public Policy Advocates. Click here to register.
Did you know…
that the City of Santa Cruz began construction of the Coastal Rail Trail Segment 7 – Phase I Project last month? The 1.2-mile long segment will run from Bay Street/California Street to Natural Bridges Drive. Construction is expected to be completed in about eight months, by the end of summer 2020. The segment will feature a paved multi-use trail, 12 to 16 feet wide, with 11 roadway crossings from Bay Street/California Street to Natural Bridges Drive and a prefabricated bridge over Arroyo Seco channel, a retaining wall west of Almar Avenue and additional vehicle and bike parking at and around New Leaf Market. The Coastal Rail Trail includes 20 projects that when completed will provide a 32-mile long separated bicycle/pedestrian path along the coast and is a part of the Santa Cruz County Regional Transportation Commission's Monterey Bay Sanctuary Scenic Trail Network Master Plan.