Welcome to Santa Cruz County! We've gathered some need-to-know information for a fun, relaxing, responsible, and safe visit to Santa Cruz County! Take a look below for information on what to expect while you're here, safety guidelines, what's open, best practices, and more!
SAFETY FIRST
First and foremost, if you are feeling ill, please stay home, get well, and reschedule your visit to Santa Cruz. We are looking forward to your long awaited return (or your first time visit), but we want to keep both you, and our community safe.
As of November 21, 2021 at 11:59pm, the Santa Cruz County Health Officer issued a Health Order "requiring all individuals to wear a face covering when indoors regardless of vaccination status." For more information, please read the full release.
Please remember that many businesses are adding additional safety measures to protect their staff and customers. When visiting a business or point of interest, please be mindful and compliant with their specific safety guidelines. Examples may include but are not limited to use of hand sanitizer before entry, mask requirements, and capacity limits for guests or customers admitted.
WHAT'S OPEN?
Santa Cruz County is open for business and ready to welcome you! Hotels, resorts, spas, restaurants, wineries, attractions, museums, parks, and more – take a look below for what to expect during your visit!
LODGING
Hotels, vacation rentals, bed and breakfasts, RV parks, campgrounds, and short term rentals are all open to guests and eager to help kick-off your vacation. Whether you've been itching for a coastal retreat by the sea, a quaint B&B, or a vacation rental for family and friends, Santa Cruz County has plenty of options for your long awaited vacation. And to support a safe, clean environment for workers and customers, many Santa Cruz County lodging properties have been Clean + Safe Certified by the California Hotel and Lodging Association (CHLA).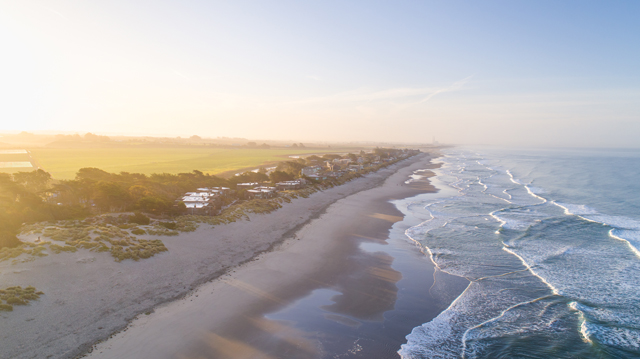 BEACHES
The beaches in Santa Cruz County are calling! With 29 miles of coastline, folks can find a spot to enjoy the panoramic beauty and ocean breeze of the Monterey Bay. From busting beaches by restaurants, shops, and attractions, to quiet hidden coves in north county, Santa Cruz is ready for your perfect day on the sand. Please remember to #PackYourTrash and belongings during your visit! Here's a great pro tip for your beach day: bring a garbage bag and just fill it up and pack it out with you! Tossing trash and beach toys (which are non-recyclable) into an overflowing garbage can WILL result in trash and unwanted plastic on the beach. Between birds, wind, and overflowing receptacles, our gorgeous beaches can get "trashed" in a flash when we don't do our part to recreate responsibly. If your spending the day at the Cowell Beach/Main Beach area, look out for the Recycled Beach Toy Boxes on either side of the Santa Cruz Wharf where you can drop your beach toys for donation – and to also help keep the beaches clean and pristine. Thanks for doing your part to help #KeepSCBeautiful and keep our beaches and ocean plastic-free!
And please also note: beach fires are only allowed where fire rings are provided. Occasionally, during extreme fire conditions, open fires may be banned on short notice. In the City of Santa Cruz's Main Beach and Cowell Beach, only propane or gas barbecues with stable legs, six inches off the ground and less than 20 pounds are allowed. No coal or wood fire bbqs are allowed on Main and Cowell Beach. Take a look at the graphic above that shares information on how to recreate responsibly at Cowell and Main Beach. And be sure to also watch this collaborative video that shares ways to Help Keep Santa Cruz Beautiful!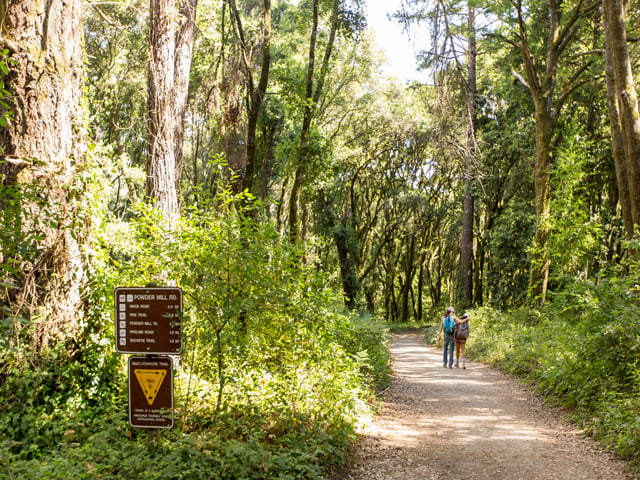 PARKS
Santa Cruz County State Parks are open, with the exception of Big Basin Redwoods State Park and parts of Rancho Del Oso due to damages caused by the August 2020 CZU Lightning Complex Fire. Parking lots are open and parking fees are in effect. State Parks have also recently announced the reopening of visitor centers and the return guided hikes, junior rangers, and other in-person interpretive programs at many Santa Cruz-area state parks. Please remember to mind any mask guidelines during your park visit as these guidelines can vary depending on the park, facility, or program.
DINING
From indoor dinning, expansive outdoor dining, curbside pickup, delivery, and takeout, Santa Cruz County eateries continue to safely serve their patrons. In many cases, including Downtown Santa Cruz, the Santa Cruz Wharf, and the Capitola Village, outdoor dining has been expanded to give even more space to customers and staff, which everyone is loving with Santa Cruz's great weather! Check our dining guide for an extensive list of eateries for all sorts of recommendations. And if you're dreaming of sipping some wine on the countryside, take a look at our Wineries & Tasting Rooms page for both outdoor and indoor tasting options.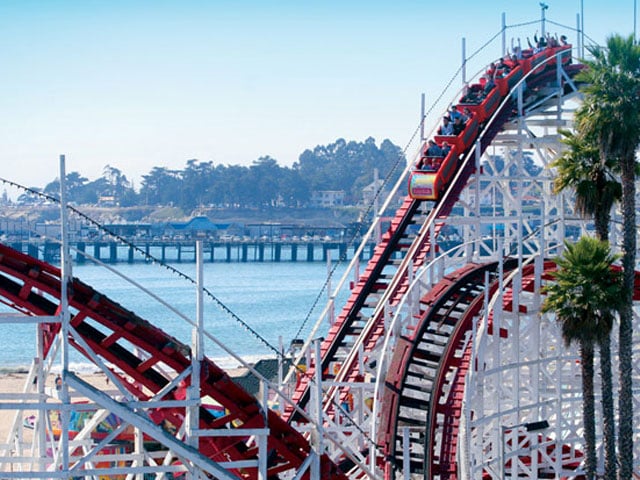 ATTRACTIONS & ACTIVITIES
Summer at the Santa Cruz Beach Boardwalk is ON! Rides, games, shops, eateries, the arcade, Fright Walk, laser tag, bowling, Neptune's Kingdom – you name it, it's back! And yes, that does include the legendary Giant Dipper! Per California face mask guidelines, the Boardwalk recommends all unvaccinated guests age 2 and older wear face masks when visiting the Boardwalk, riding rides or enjoying indoor shops, restaurants and attractions such as Neptune's Kingdom and the Boardwalk Bowl. Vaccinated guests are welcome to enjoy the Boardwalk without wearing a mask. For more information check the Boardwalk website.
Looking to explore the redwoods? Roaring Camp Railroads is open and welcoming visitors to take a historic ride through the forest – and even to the beach! As of June 15, 2021, and under the new guidance from the state, trains are once again operating at full capacity without six feet of distance between passengers. Masks are still required as recommended by CDC for all public transportation-related activities.
Looking for a little more hands-on time in the redwoods? Take a zip through the canopy at Mount Hermon Adventures. If you'd rather stick on the ground to explore the redwoods, check out some of our picks for the Best Hikes. Whether you want to take the pups or the kids, the Santa Cruz Mountains offer great hikes for all!
For more attractions and activities like surfing, kayaking, sailing, and stand up paddle boarding, check our website.
POINTS OF INTEREST
The Santa Cruz Wharf, Capitola Village, and Downtown Santa Cruz offer a vibrant array of restaurants, small businesses, shops, and outdoor spaces. Enjoy these fun, eclectic points of interest, just remember to mind individual businesses' mask policy.
FINAL THOUGHTS
Please remember to be kind, courteous, pack your trash, and respect the safety measures in place and our community. For more information on visiting Santa Cruz County, top recommendations on where to go and what to do, and continual travel inspiration, follow us on Facebook, Instagram and Twitter.