Santa Cruz is a renowned destination for wine and craft beer but, recently, it's also begun attracting the attention cocktail and spirits fans thanks to a small-batch distillery producing a game-changing gin and the only "tequila" produced in California. Opened just two years, Venus Spirits is racking up awards for its delicious, organic spirits that have started popping up in some of the best restaurants and bars along the California coast. To truly appreciate the cool things happening under their label, you need to visit their stylish Westside tasting room and discover one of Santa Cruz's best kept secrets.
MEET SEAN VENUS
If you've already discovered this local gem, you've likely met Sean Venus. The affable owner of Venus Spirits found his way to distilling after years as a craft beer brewer and organic food brand developer. Both experiences helped prepare him to launch Venus Spirits in the spring of 2014. One sip and it's obvious what distinguishes Venus from the big name brands that populate supermarket shelves. Sean's handcrafted spirits are creamy and richly flavored with none of the unpleasant thin taste or stinging burn often associated with lesser products.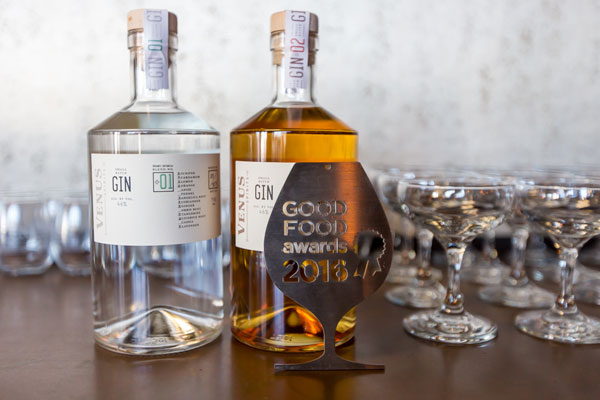 HANDCRAFTED SPIRITS
Take Venus' popular gin, for example. If you're someone who has steered clear of the spirit, you'll be converted by their Gin Blend No.1. Mellowed by citrus and warm spices, it's infinitely smooth and utterly delicious with none of gin's infamous bite. You can credit a virtual garden of botanicals like lavender, ginger, orange, and cardamom whose perfectly balanced blend reflects the sweet coastal air of the nearby shore.
Sean says, "Santa Cruz has inspired not only the flavor profiles for our gins, but the drive to continue to develop new products."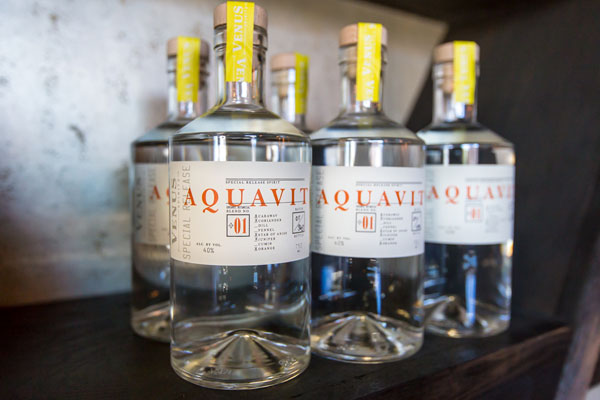 One example of an unexpected product might be Venus' aged gin. Dubbed Gin Blend No. 02, this amber-hued spirit is gently rested in oak barrels producing an even warmer spirit that is killer in a Negroni. Another unique spirit that Venus produces is Aquavit, or "Water of Life," a traditional Scandinavian spirit that's flavored with caraway and citrus.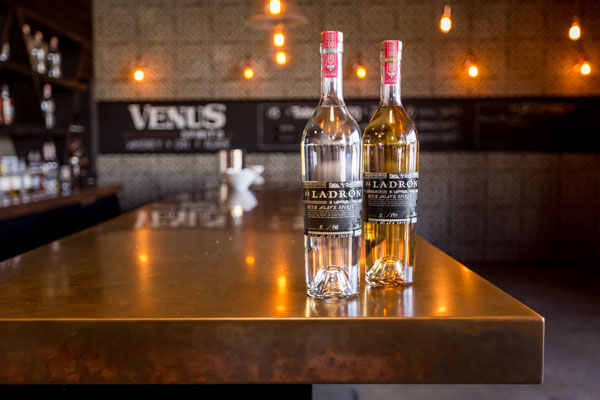 Then there's El Ladron, or The Thief. We might refer to it as a tequila but like Champagne and Cognac, tequila is tied to a specific geographical location. Since the term tequila can only be applied to agave spirits produced in the Tequila region of Mexico, Venus uses the generic descriptor "blue agave spirit." Yet there's nothing generic about this flavorful, ultra smooth sipper that is available as a blanco, reposado and very limited añejo.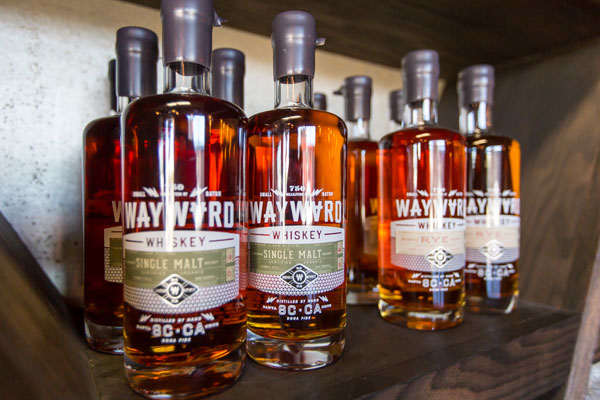 Venus also has fun with the oaky, brown spirit that's played a huge role in the recent cocktail revival: whiskey. There's a Rye, scotch-like Single Malt, and upcoming Bourbon. In fact, Venus is about to launch a Whiskey Membership program that will allow 150 participants to receive quarterly bottles of exclusive productions like a cask strength version, 100% wheat variant, and a triple blend of rye, corn and smoked malt. A release party for the program kicks off January 2017.
THE TASTING ROOM IS OPEN
Venus encourages visitors to drop by and sample its products at their handsome Westside tasting room. Sip spirits, play corn hole, and give belly rubs to a sweet pup named — what else? — Juniper. Drop by Friday evenings from 5 – 7 p.m. when tasting room staff pours signature cocktails that make use of Santa Cruz's vibrant seasonal produce. Think delicious cocktails crafted from fresh strawberries, plums, and peaches. To help get you inspired, we've included one of their cocktail recipes below
"I want people to leave the distillery with a new appreciation for handcrafted spirits and a better knowledge of how they're made," says Sean. "We hope to show people that spirits can be enjoyed for their nuances and used to enhance cocktails, not to be buried in them."
IF YOU GO
The tasting room is open from 1 – 7 p.m. every Friday and Saturday and 1 – 5 p.m. each Sunday. Tasting fee is $15 for 4-5 samples. Fridays from 5 – 7 p.m., visitors can choose seasonal cocktails in lieu of tasting samples. All bottles are available to purchase on site. // Venus Spirits, 427 Swift Street, Suite A, Santa Cruz, venusspirits.com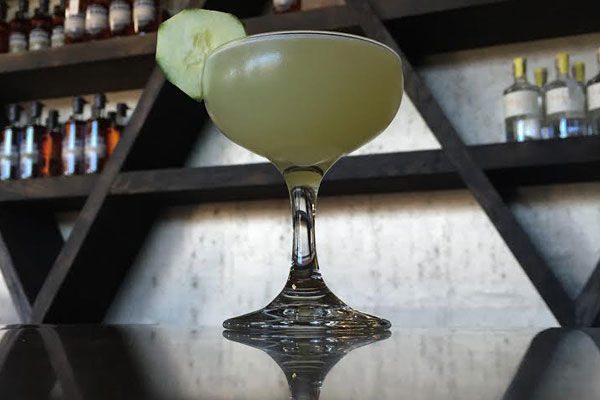 GARDEN OF EDEN COCKTAIL
Created by Andrew Hansen
1 1/2 oz. Venus Gin Blend No. 01
3/4 oz. Fresh lime juice
3/4 oz. Simple syrup
2 Slices cucumber
Pinch of basil
Muddle basil and cucumber with lime juice and simple syrup in a cocktail shaker. Add gin, fill with ice, shake and strain into a chilled cocktail glass. Garnish with a slice of cucumber.
Makes 1 drink
****
PLUMINT
Get 'em while they're ripe! Here in Northern California plums are in season May to November, so take advantage of these sweet juicy fruits with this plum & mint cocktail.
Makes 1
1.5 oz Venus Gin Blend No. 01
1 oz plum syrup*
.75 oz fresh lemon juice
2-3 fresh mint leaves
Splash of soda water
Muddle mint, plum syrup and lemon juice in a shaker. Fill with ice, add gin and shake until chilled. Pour into a glass with ice and top with soda. Garnish with a mint leaf.
*Plum syrup
Combine equal parts chopped plums and sugar and macerate together. Let sit for a few hours or overnight. Add 1 part water, stir well or shake until sugar is fully dissolved, then strain. More or less water can be added to desired sweetness/thickness.
OR
Combine equal parts sugar and water in a saucepan over medium high heat. Add chopped plums and let simmer until sugar is completely dissolved. Strain and allow to cool.