2019 is wrapping up and we're taking a look back to see what our fans loved most on our Facebook and Instagram feeds! Take a look below for some of the best of the best of 2019 based on fan likes, comments, and shares. Enjoy the gallery and rest assured that we will keep providing more of this wildly beautiful, adventurous, and inspiring Santa Cruz County content in 2020! And don't forget to keep tagging @visitsantacruz & using #visitsantacruz in your posts!
Getting Lost in the Woods
Our followers appreciate the whole, wanderlust, get outside vibe. Fans loved this enchanting koi pond found in the Santa Cruz Mountains on the Pogonip Trails which happens to be on our list of the Best Kid-Friendly Hikes.
Perspective is Everything
Anyone who has had even a glimpse of the Santa Cruz County coast knows its beauty, but aerial photos keep giving us a whole new level of appreciation. Just look at his aerial view of the Wharf and Boardwalk area. In our post, we asked the question, "If you could be anywhere in this photo, where would you be?"
Boardwalk Classics
The Santa Cruz Beach Boardwalk has been a photographer's playground for decades and 2019 brought some more great shots. The beachfront rides, games, vibrant colors, delicious treats, and 'endless summer' atmosphere make it an iconic photo-op that's always a must when visiting. But this year, the Boardwalk's top feature was this sunset stunner that had everyone's jaw-dropping.
Surf's Up
It's no secret surfing has some deep roots in Santa Cruz – in fact, it's the birthplace of mainland surfing! We loved seeing the incredible response from this photo of the classic West Cliff surfing etiquette sign with the caption, "Throw a (hand) up in the comments if you've ever surfed in Santa Cruz Co!" Spoiler: many of our fans have surfed Santa Cruz, while others are itching to get their boards in the water for the first time.
Natural Beauty Meets Artsy Intrigue on the Davenport Coast
It's no surprise that this Instagram-worthy location broke into the top spots for 2019 yet again. The Old Davenport Pier combines natural beauty, historical intrigue, and artistic flair into one framed shot. A location well worth the visit on your North County adventures.
Surprisingly Adorable
Who knew seagull chicks were so cute? Well, many of our fans didn't and they sure appreciated seeing these adorable little leopard babies enjoying the morning sun on the Santa Cruz Wharf.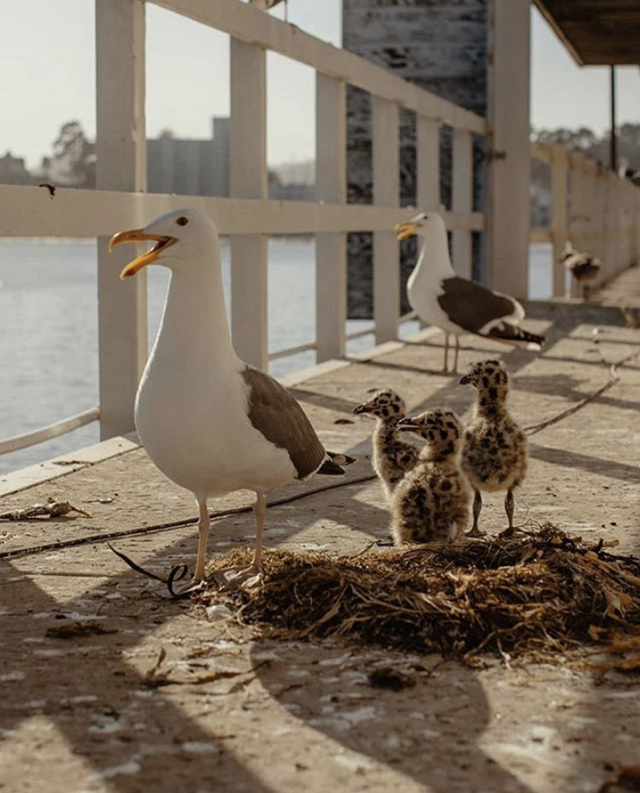 February's Dreamy Snowfall
Santa Cruz County locals and visitors appreciate the 300+ days of sunshine, but when we get that rare snowfall, pretty much everyone freaks out with excitement. This dreamy snowy photo from Bonny Doon in the Santa Cruz Mountains created quite a buzz in February.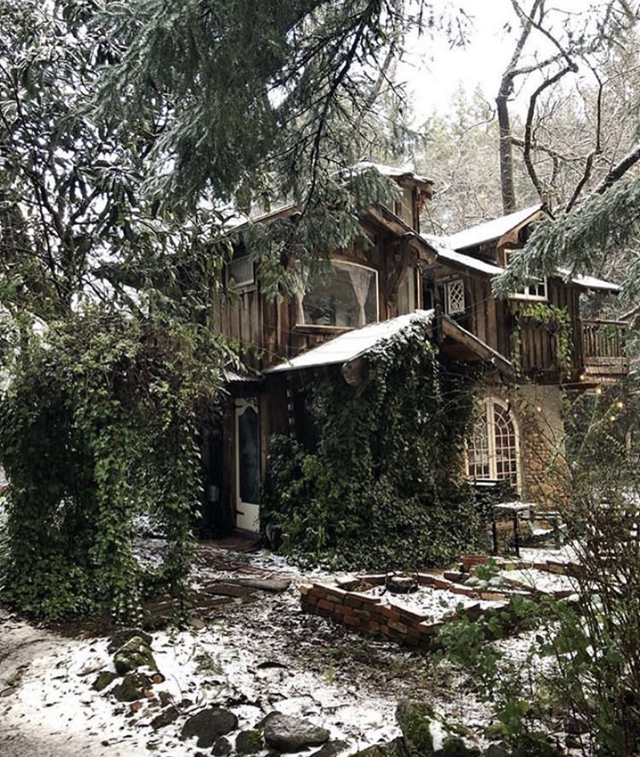 More Rugged Davenport Coast
The less developed northern coast of Santa Cruz County has become a more widely known must-see in recent years. Places like the already featured, Old Davenport Pier, plus Shark Fin Cove and Panther Beach, are arguably some of the most Instagrammable locales in the county. Here are a few more fan favorites from the year below.
Event Love
Classic Santa Cruz events were big winners again this year. Event info is easily seen and shared on Facebook and on our Instagram Stories and a few fan favorites were Monarch Butterfly Tours, Friday Night Bands on the Beach at the Boardwalk, Woodies on the Wharf, and Train Rides at Roaring Camp Railroads. Expect us to keep sharing info on the best Santa Cruz County events!
King Tides Continue to Reign Supreme for 2019
We shared lots of info on California King Tides in 2019 and they proved wildly popular to our fans – so of course, we're already sharing info for 2020's dates! These naturally occurring and predictable events are when both the highest and the lowest, most dramatic negative tides occur. These extreme low tides pose prime conditions for tide pooling, miles of beach walking, and extended beach exploration. So be sure to mark your calendar for the January and February 2020 dates!
Waterfalls & River Trails
Waterfall hikes continued to be a fan favorite in 2019 and people loved checking out our list of the Best 5 Waterfall Hikes in the Santa Cruz Mountains. But the popularity of water in the mountains was not limited to waterfalls; our fans loved exploring the River Trail at Henry Cowell too! Get all the info you need to be floating along the river in 2020.
Thanks for taking a look at the best of the best of 2019 and be sure to follow us on Facebook, Instagram, and Twitter for more of your favorites in 2020! Happy New Year!
Updated August 2020