If you asked me a few years ago about my workout of choice, running would not even register on my exercise radar. Fast forward to today, and here I am training for my first half marathon!
Since I discovered the joy of running in the great outdoors, I have not once been disappointed with the natural beauty Santa Cruz County has to offer. Breathtaking ocean views…check. Towering redwoods and coastal mountains…check, check. Woodlands, grasslands, wetlands…it's all here, so strap on your running shoes and explore Santa Cruz County! Here are five runs to start you off:
SEACLIFF STATE BEACH
A flat, mile-long path along Seacliff State Beach in Aptos is a perfect running venue for beginners, or anyone interested in being just steps away from the sand and waves. Picnic tables, BBQs, bathrooms and a visitors center make this a super family-friendly beach…I've pushed my jogging stroller here and run alongside my kids riding their bikes. When you're ready to kick it up a notch and get your heart rate up, climb the famous stairs—all 151 of them!—located opposite the historic "Cement Ship" and pier.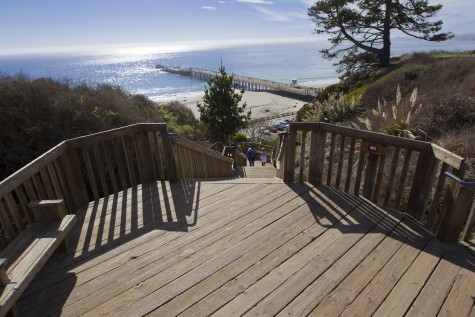 Address: 201 State Park Dr, Aptos, CA 95003
Parking: $10 Day-use fee
THE FOREST OF NISENE MARKS STATE PARK
There are over 30 miles of trails at Nisene Marks…Last weekend, I explored 4 1/2 of them on the Aptos Creek Fire Road before turning around to complete my 9 miles. Call me silly, but I couldn't get this one song out of my head the entire time: Walking in a Winter Wonderland. Only I was running, and instead of seeing glistening white snow, I saw shimmering shades of green literally everywhere I looked. Plus, it is technically winter. The trail gets pretty steep beyond the Porter Family Picnic Area, but there is comfort in knowing what goes up must come down.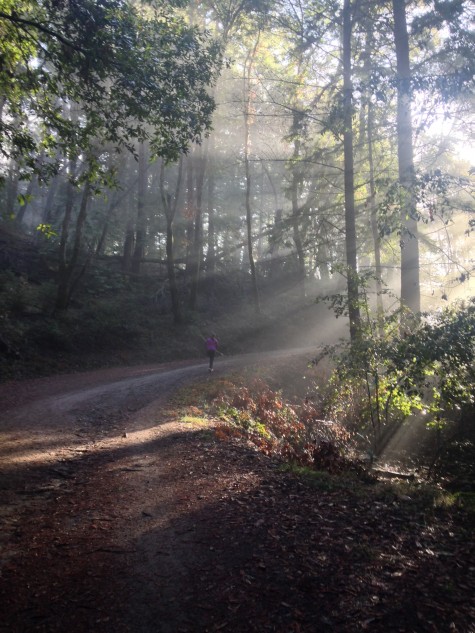 Nisene…a magical wonderland indeed!
Address: 100 Aptos Creek Rd, Aptos, CA 95003
Parking: $10 Day-use fee
DELAVEAGA PARK
DeLaveaga Park is a Santa Cruz city park that boasts picnic areas, ball fields, a playground, golf course, archery range, disc golf course and some fun hiking trails. In the same vein as Nisene, the Enchanted and La Corona Trails are a mostly uphill battle, but the reward is the view from the top…and bragging rights, of course. Not everyone can say they've run to the "Top of the World." In all honesty, I vote this place "Most Likely to Sprain an Ankle," due to the uneven trail covered in odd-shaped rocks and branches, but it's easily one of the most satisfying 4.5 mile round-trips I run.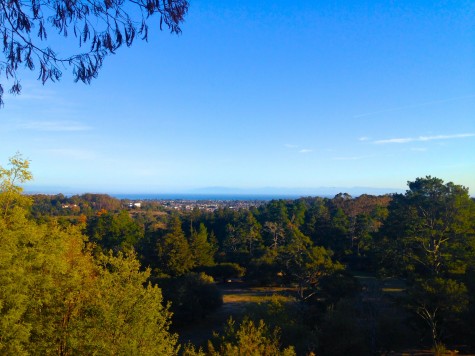 The view from the Top of the World Lookout (La Corona)
Address: 850 Branciforte Drive, Santa Cruz, CA 95060
Parking: Free parking available on-site.
WEST CLIFF DRIVE
Spain is famous for its Running of the Bulls, but why run with the bulls when you can run with the dolphins, otters, sea lions, harbor seals, and sometimes whales?! I am amazed at the glimpses of wildlife I see along this scenic 2.5 mile curvy stretch of sidewalk on West Cliff Drive. Special mile markers embedded in the path between the Sea & Sand Inn and Natural Bridges State Beach help you keep track of your distance there and back, and plenty of benches offer a rest stop along the way and a chance to take in the incredible ocean views.  Disclaimer: You may be stopping to take pictures more than running!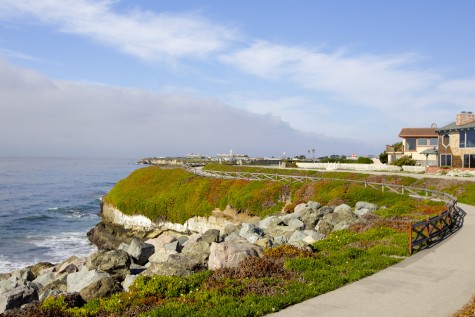 Address: West Cliff Drive, Santa Cruz, CA 95060
Parking: Paid parking is available at the Santa Cruz Municipal Wharf and Natural Bridges State Beach. Free parking is available at Lighthouse Field State Beach and limited spaces along West Cliff Drive.
WILDER RANCH STATE PARK
And because ocean views never get old, you must check out the Old Landing Cove Trail at Wilder Ranch State Park. Starting at the park's parking lot, this 2.6 mile loop hugs the rugged coastline where steep rocky cliffs drop down to tide pool formations, rock islands where seals gather, and sandy coves that would make great post-run resting spots. This is a place that rejuvenates my running spirit. No need to listen to music…the crashing waves and wide variety of birds provide the running soundtrack here!


Address: 1401 Coast Rd, Santa Cruz, CA 95060
Parking: $10 Day-use fee
Discovering new trails to run definitely helps keep me motivated. Where are your favorite places to run in Santa Cruz County?