WHAT BROUGHT YOU BOTH TO THE SANTA CRUZ AREA?
Bonnie: I grew up in Santa Cruz and moved away when I was 22 for roughly a decade. Even while living in other parts of the country, Santa Cruz was always my home and where I felt the strongest pull towards. I grew up surfing and between the ocean and my family all being here, I made the decision to move back four years ago. Santa Cruz has never felt more like home to me as it does now.
Genevieve: I came to Santa Cruz from Los Angeles to go to UCSC – after being advised against it by my guidance counselor because it is so "alternative" here ha, ha, ha! And I dropped out after three years of feeling absolutely overwhelmed. I had no idea what I was doing there, but I am forever grateful that it brought me to this town. It wasn't until I dropped out of school that I truly found my niche. I lived and worked downtown and made some lifelong friends in the dance community. I moved to San Francisco and Oakland for a few years, but ultimately, Santa Cruz was where my heart was, and I moved back here three years ago.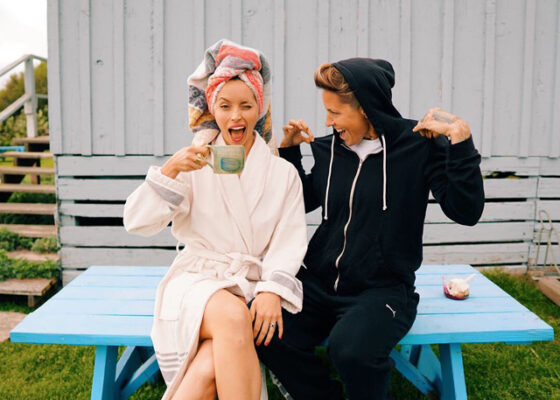 HOW DID YOU TWO MEET?
Bonnie: We met for the first time several years ago at the Wily Minx Holiday Cabaret at Motion Pacific where Genevieve was performing. I was taken aback by Genevieve and struck up a light conversation at intermission. There was no real interest on her end with me so I backed away slowly and went about my evening. The same thing happened several months later at a mutual friend's birthday party, and at that point I felt that it was clear that she wanted nothing to do with me, so I aborted the mission. Little did I know, Genevieve already knew who I was before that first dance performance and had a huge crush on me, which made her incredibly shy and awkward to be around me. Years later we matched on an online dating app and have been inseparable ever since. Genevieve wasted no time asking me out after we matched, and I wasted no time asking her to marry me. I knew on our first date – which lasted nine hours – that she was my mate in life, and I still get so excited when I realize that she is my wife!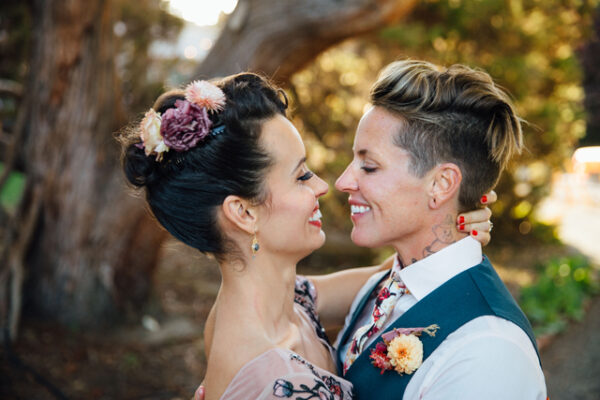 TELL US ABOUT YOUR WEDDING!
Genevieve: Our wedding was the absolute best day!! We got married at an incredible historic home on Ocean View Avenue overlooking the Santa Cruz Beach Boardwalk and the ocean. Leading up to the wedding we were a bit nervous about the weather because we chose an October date, but it ended up being absolutely perfect all day and into the evening. It was a true Indian summer wedding in Santa Cruz. We love Swanton Berry Farm in Davenport, rain or shine, and getting a fresh berry cobbler and a cup of cider and playing board games. I also love going to movies, specifically at either the Nickelodeon or the Del Mar movie theaters, because they have so much flair and the people who work there are always so kind. Bonnie and I love going on local camping adventures, setting up a bed in the back of the truck, and sleeping under the stars.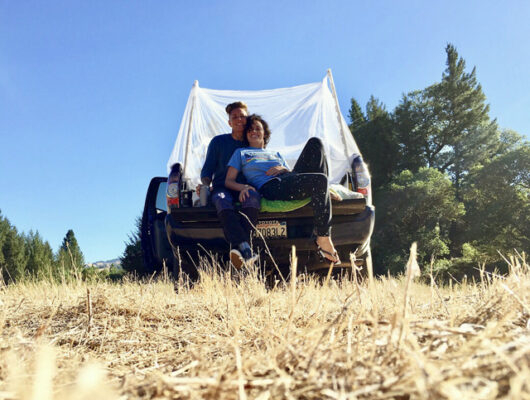 LET'S TALK ABOUT FOOD! WHAT ARE SOME OF YOUR FAVORITE SPOTS TO NOSH?
The food scene here is amazing. We absolutely LOVE Malabar, Bad Animal, Bantam, Akira, and Gabriella Cafe for date nights. For quick and easy we love Charlie Hong Kong, The Parish for late night delish food, and grabbing snacks and coffee from Cat and Cloud.
WHAT IS ONE PLACE VISITORS TO SANTA CRUZ COUNTY SHOULD NOT MISS?
Rockview Drive sunsets are truly mind blowing.
WHAT DO YOU HOPE A VISITOR'S EXPERIENCE HERE IS LIKE?
I hope that their experience here is nothing but a sweet and welcoming time. Santa Cruz has jaw dropping beauty unlike anywhere else I have been in California, but it isn't as accessible without local knowledge. I hope that if a visitor is here and asks a local for advice on where and what to do, that they interact with a kind and open local who directs them appropriately.
IS THERE ANYTHING ELSE YOU'D LIKE TO SHARE WITH US?
If you come here to learn how to surf, please get an instructor or ask a local where to go. We have some great surfing schools, and surfing is part of our culture and history.