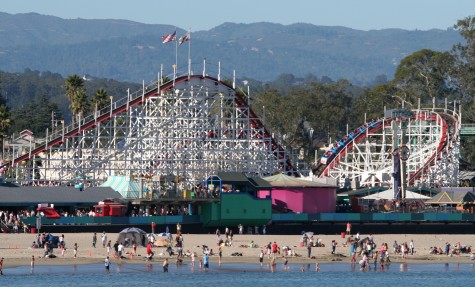 The summer after my freshman year at UC Santa Cruz, I found a job and housing with the best commute ever. After a short bus ride and walk, home was just a roller coaster ride away on the world-famous Giant Dipper. I especially couldn't help myself on Mondays and Tuesdays, then known as "50-cent Nights" at the Boardwalk, and by the end of summer, I had memorized every drop, twist and turn, and the exact moment to smile for the cameras. My favorite part was the climb to the very top, when I could take in the surrounding beauty of my new home for just a few seconds before AAAAAAAAAAAAAAAAAAAAA!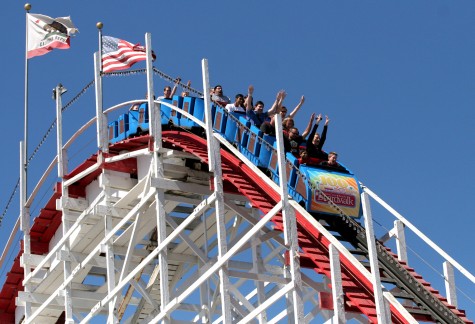 Fast forward to today, and not only is the Giant Dipper turning a whopping 90 years old this year, but I have four children and at least three of them are tall enough to ride for the first time! Since it opened on May 17, 1924, the Giant Dipper has thrilled generations of Boardwalk visitors, so it's no surprise that the many riders who once held tight to their seats, now hold dear memories of the historic wooden roller coaster. If you have a story to tell, share it with the Boardwalk here and stay tuned for upcoming birthday festivities in honor of the Giant Dipper. Here are a few of our favorites: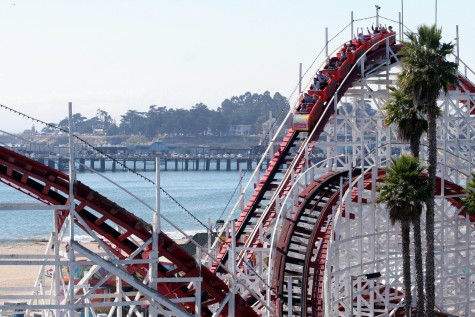 I was 14 and had never ridden the Giant Dipper. I was nervous, but was going to go through with it. That was the best choice I had made in my life. I'm now an avid roller coaster fan and always ride the Giant Dipper 10 or more times on every visit. My nephew and I ride in the very back, and it's the best ride out there. – Krysz , 1984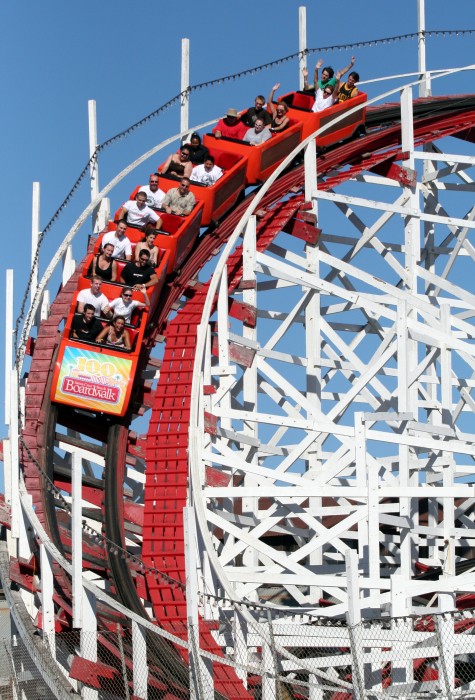 When I finally got enough courage to go on the Giant Dipper, I was terrified. I went with my dad through the hall, wanting to turn back. We got on the middle of the long train. When we took off, I was thinking, "What have I gotten myself into?" I closed my eyes when we began to climb, and re-opened them when I felt safe. Unfortunately, we were just about to hurdle down the biggest drop! Before I could shut my eyes once again we were flying down the track. To my surprise, I loved it, even when I flew out of my seat and my dad had to pull me back down! Afterwards, I wanted to ride it over and over. For all of the first time riders: Don't be scared in the darkness or right before the drop. And never, ever ride in the very front or back your first time! –  Mari, 2001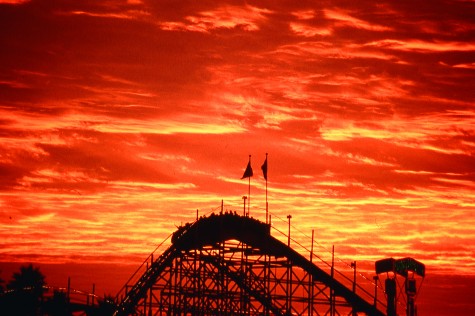 On June 10, 1995, my wife Cheryl and I were married on the beach just below the Dream Inn. It was a beautiful clear Santa Cruz summer morning and we had 120 of our friends and family celebrating with us. At the conclusion of the ceremony we had the usual cake & a toast for luck, but a trip to Santa Cruz is never complete without a stroll down the Boardwalk. My new bride and I, wedding dress, tuxedo and all, together with a large group of our family and friends made the walk to the Boardwalk and proceeded to ride the Giant Dipper! We managed to have enough people in our party to take one whole roller coaster train. My wife and I rode in the front car and had the time of our life… – Steve and Cheryl, 1995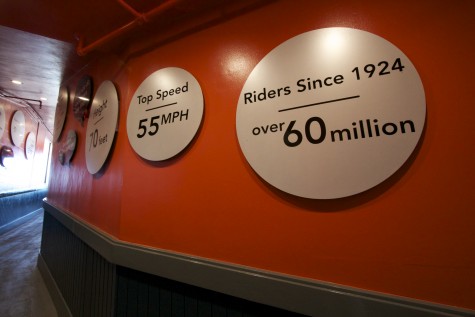 Giant Dipper Fun Facts:
Age Status: Oldest roller coaster in California & 5th oldest roller coaster in the U.S.
Construction: Built in 47 days at a cost of $50,000
Making History: Designated a National Historic Landmark in 1987
Original Ride Fare: 15 cents
Speed: Up to 55 MPH
Height of Main Hill: 70 feet
Movie Appearances: The Lost Boys, Dangerous Minds, Sudden Impact, Sting 2
Total Riders Since 1924: Over 60 million!
All photos courtesy of the Santa Cruz Beach Boardwalk.