All photos by Garrick Ramirez
Whether you're looking to boost your Etsy game or bring home a thoughtful memento of your time in Santa Cruz County, D.I.Y. classes are for you. In just a few hours, you'll learn new skills-from painting to pottery-and craft one-of-a-kind objects in settings that swap formalities for fun. Plus, today's workshop-providers go beyond the grade school craft table with adult beverages you can sip while you shape. For crafty types, it's like a bootcamp for your Pinterest-fueled fantasies. For souvenir hunters, you can ditch the snow globes for handmade keepsakes plus the memory of creating it. Roll up your sleeves, get inspired, and start crafting at the following creative spots.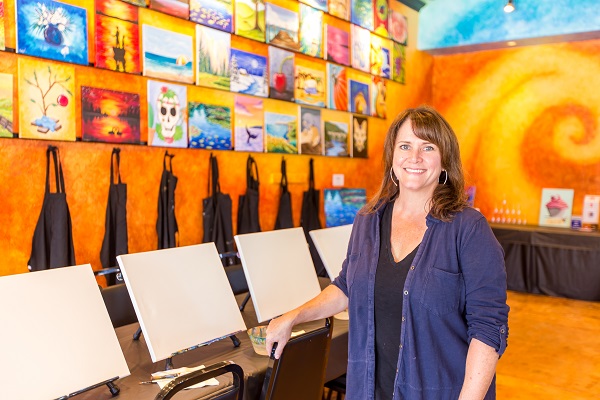 It's Bob Ross meets happy hour at this "paint and sip" art studio where artists provide an evening painting lesson, and you provide the BYOB drinks. No art critics, here; it's about having fun, socializing, and learning the basics of painting without the commitment of multi-day classes or expensive art supplies. All supplies are provided for each two to three-hour class-check the online calendar for upcoming courses and accompanying images to be painted, from Monet's water lilies to local icons such as Steamer Lane (classes range from $35-$45). Instructors walk you through every step of the process, so there's no experience necessary, and no need to feel intimidated. "We're not jumping out of an airplane!" reassures owner and lead instructor Kimberly Godhino. You need only bring the delicious goodies-pack a picnic basket or grab takeout from one of the many nearby eateries-plus your favorite beer or wine. The Capri Sun set (ages 7 +) get their own weekend morning classes while parents are free to shop Midtown's many boutiques. Quick-drying acrylic paints mean everyone takes home their masterpiece at the end of class. The experience proves a new, super affordable way to catch up with friends over happy hour drinks!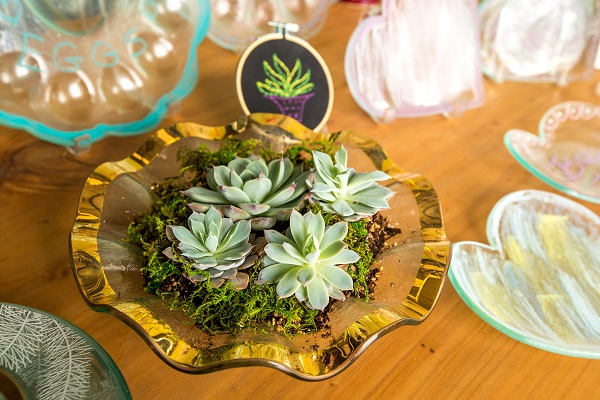 Gaze upon the luscious high-end glassware at Annieglass, and you might have two thoughts: how can I craft something like that…and what delicious wine can I fill it with? You'll find the answer to both queries at the aptly named Craftbar, a hands-on workshop space and tasting bar tucked within Annieglass' Watsonville production facility. In addition to decorating your own glass plate with owner Annie Morhauser, weekend classes instruct convivial groups how to design a succulent garden, fashion a clay pinch pot, or dabble in macramé and jewelry production. Plus, each class comes with a complimentary drink from the curated selection of local wines and craft beers (soft drinks are also available).
*Check their site for upcoming workshops.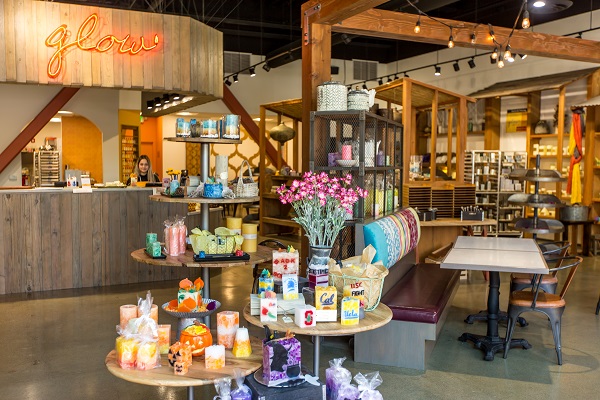 Glow Candle Lounge
Inspiration abounds at this vibrant, downtown workspace where artists of all ages and skill levels can design candles from scratch! To get started, select your shape, size, and colors. Then, choose from a seemingly endless assortment of pips-small wax shapes-and curio objects to accent your candle with everything from mermaids to mustaches. Next, choose a fragrance by sampling aromas such as lavender, sparkling mojito, and birthday cake. When your candle is set, bring it to the Hot Bar, where staff will fill it with the wax color of your choice, freeze it, and smooth out any imperfections. Your finished candle is ready in four hours (or one hour for a $5 express fee). No need to sign up for a class; just swing on by and get crafting. Prices include the cost of your candle ($6 to $38), plus a studio fee ($10/adults, $9/kids).
When you're ready for more inspiration, check out our guide to the many artisan products crafted here in Santa Cruz County.