Throughout Santa Cruz County this fall, art lovers and artists alike are rejoicing at the return of the Open Studios Art Tour. Welcome back, little lime green Open Studios yard signs! Welcome back, chatting with artists in their own studios and discovering an art piece you simply must have in your life! As with so many things, COVID did a number on Open Studios last year, and it's good to have it back.
Many Santa Cruz County locals have their favorite Open Studios artists, but how is a visitor to even know where to begin? Like microclimates, Santa Cruz County boasts a wide diversity of artists working in a huge array of mediums: painting, ceramics, sculpture, metalworking, assemblage. Jewelry making and gourd art. Encaustics and paper. It is a rich and varied landscape.
The good news is that chances are better than ever you'll find something or meet somebody interesting on your Open Studios journey, however, you begin it (and there's help; see the link below). As the four people profiled here demonstrate, Santa Cruz County artists are an intriguing bunch – and they're looking forward to seeing you this year.
South County artists will show Oct. 2-3 and Oct. 16-17, and North County artists will show Oct. 9-10 and Oct. 16-17 (find maps and a guide here).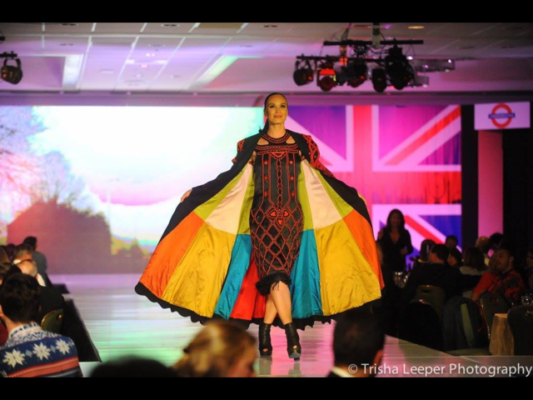 Fiber Arts/Textiles
Nigerian-born Bayo was practically fated to create his boldly patterned, regally styled wearable art: his family has been weaving and dyeing cloth for nine generations, and his father made traditional clothing for Nigerian royals. For a moment back in the Nineties when he was a drummer with a dance troupe on a cultural exchange tour through the U.S., Bayo may have thought his calling lay somewhere other than fabric. But when a costuming crisis arose, his fellow performers, aware of his background, turned as one to him to solve the problem (which he did). And when the tour came to Pajaro Valley and he met textile artist Rachel Clark, who was to become his mentor, fabric and fashion took their place again at the front of the line in Bayo's life. So did Santa Cruz, which he found "so very warm and welcoming," with redwood forests like Henry Cowell Redwoods State Park where he goes to listen to the quiet and the birdsong and to remember gratitude.
Today, Bayo creates splendid coats, gowns and skirts from cotton and linen fabric woven and dyed by his siblings at home in Nigeria. He tells stories through his pieces. "Coming from Nigeria, textile is kind of writing to them," he says. "A pattern has a lot of history in it. So when I'm creating and I'm remembering something, I find a way to put it into my textile, my pattern."
A 17-year veteran of Open Studios, Bayo is looking forward to reconnecting with friends he's made through the tour. "The pandemic, it took a toll on everybody," he says. "Just to let us all know that we're still alive and we get to see each other. Laugh, talk. That's one of the things I'm looking forward to."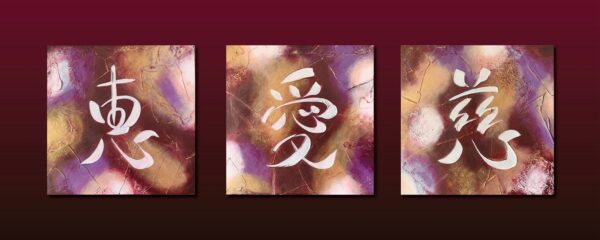 Mixed Media
First-time Open Studios artist Haruko DeArth learned calligraphy as a schoolgirl in Japan, as many children did; she never thought about making it an art form. But after years of life in the U.S., she developed a renewed appreciation for her culture. And when, 15 years ago, she dipped a brush in acrylic paint and wrote the characters of her children's names across a canvas to mark a life event, a calling was born. Now her pieces combine abstract forms with the characters for concepts and values – ideas like "Compassion," "The Path" and "Serendipity" — that she hopes people find inspiring and helpful.
"My passion for creativity derives from my love and compassion toward fellow humans who all have their own challenges in life seeking happiness and a purposeful life," she wrote us. "My hope is to offer something empowering where they draw strength, empathy, and love toward themselves and to the world."
An avid runner, DeArth gravitates toward West Cliff Drive and the trails around Natural Bridges State Park for renewal. "Santa Cruz provides me with sources of inspiration for my creative work and personal growth," she says. "I cannot think of a better place!"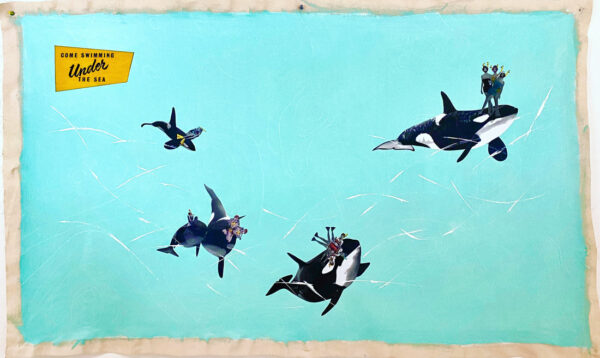 Mixed Media
Leslie Morgan's preferred medium has morphed and shifted countless times, but one constant runs throughout her work: water. Her love for it began in the swimming pools of her hometown on the hot, dusty West Texas plain, where swim practice and the aquamarine waters of the pool provided "a form of relief and sanctuary." The pieces she creates now in her Santa Cruz and San Francisco studios – whether photography, collage, resin or large format acrylic, whether abstract or whimsical, impressionistic or clever – all include the blues and greens of water. "Those colors are burned into my eyeballs," Morgan says. "I was really drawn to Key West because the color of the water was very similar to swimming pools. I lived there 10 years."
When she finally burned out from her work as a clinical psychologist, Morgan, a self-described risktaker, moved to the West Coast and started building on a lifetime creative streak. She began learning different styles: photographic collage, printmaking, sculptural paintings, acrylics. She divided her time between San Francisco and Bonny Doon, with studios in each locale. Driven out of Bonny Doon by the fire last year, she is now ensconced near downtown Santa Cruz, a bike ride away from the Emma McCrary Trail in Pogonip and Cowell's Beach, where she swims daily, often from the mile marker buoy back to shore, where the water is an entirely different thing. "The ocean changes to this deep, deep navy blue, and it's scary and exciting and cold and it's just – there's always a little element of fear," she says. "And to me that's restorative."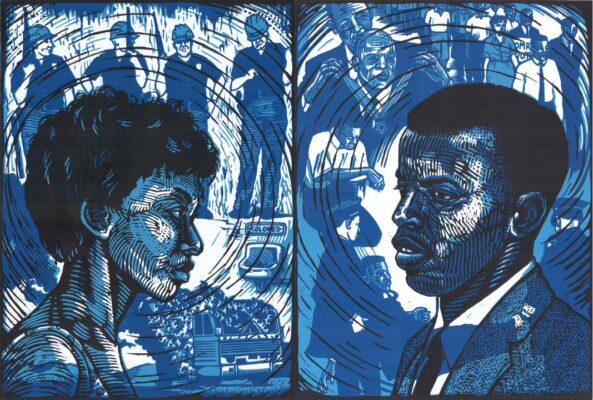 Printmaking, Linocut, Mixed Media
Melissa West's journey from painting to printmaking began 15 years ago, the day she set out on the Camino de Santiago in northern Spain. Weary of her day job as a webmaster and ready for a change, the former art school student drank in the Romanesque architecture and stark landscape of the pilgrimage trail, but when she returned home and tried to paint it, it didn't work. The paintings lacked the antique edge of what she'd seen. "It wasn't the right feel," she says. "And then I thought, 'Prints.' And I just jumped in and carved like 20 in a row." A move from the East Bay to Santa Cruz County followed, as did marriage, and West's new artistic and domestic life was underway.
As fans of West, a 13-year Open Studios veteran, already know, her prints range in subject matter from fairy tale landscapes to social commentary, often wrought with a cartoonist's wit and knack for telling a story in a single frame (West wanted to be a cartoonist in junior high). For example, "A Prayer for Democracy," part of the beautiful Prayer Flag series, features an absurdly gerrymandered district resembling a QR code on the wall of a voting place manned by a vaguely malevolent poll worker. West's newest series, Freedom Riders, spotlights Civil War heroes depicted with the economically rendered stories of their struggles in the background.
You'll also find paintings of sweeping landscapes and trees at her studio, for West loves hiking in the Land of Medicine Buddha and at the Forest of Nisene Marks State Park, where "it seems like there are endless trails." For West, most of those seem to lead to creative spaces, and we're the luckier for it.