"She flies through the air with the greatest of ease,
that daring young mom zip lining through the trees."
Yes, that daring young mom was ME—I zip lined with Mount Hermon Redwood Canopy Tours and it wasn't even on my 2014 bucket list. But it should be on yours!
Having lived and hiked in Santa Cruz for nearly 20 years, I feel like I know redwoods. In fact, all of my out-of-town visitors get the Henry Cowell Redwood Grove treatment where they can actually crawl and stand inside a real redwood tree…always impressive.
I'm used to craning my neck and staring up into the sky at the seemingly endless redwood giants, but now, now I've seen these beauties in a whole new light–from 150 feet up in the air! And the crazy thing is, I still didn't see the tops of some of those trees.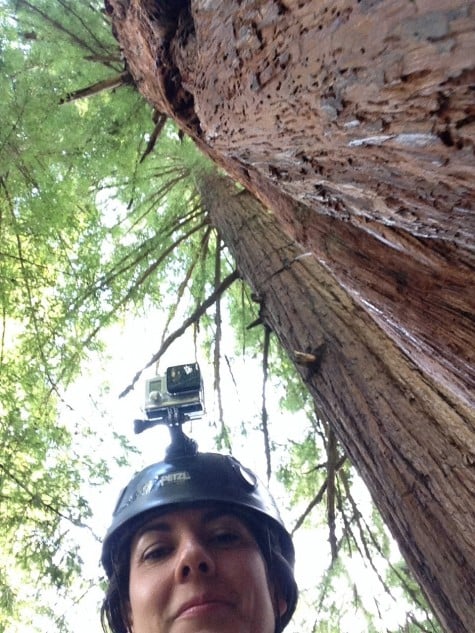 Those are some tall trees!
Was I nervous? Um, YES! But that is where the witty, knowledgeable and skillful Mount Hermon staff comes in. Leading each 2-hour tour are two guides who will keep you safe above all (pun intended), and entertained, or perhaps distracted, with jokes and fun facts about the trees.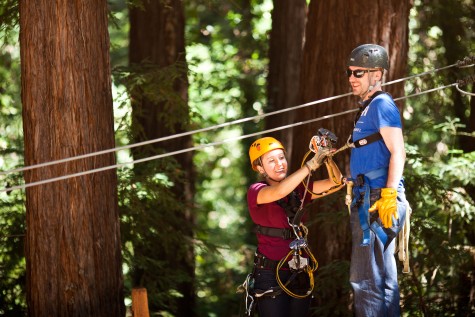 Safety check: They'll do the clipping, you do the zipping!
Their mission is to send you back into the world, and onto the ground, having learned something about the forest, the redwood eco-system and yourself.
Mission accomplished for this daredevil:
The Mount Hermon zip line course is one of the prettiest in the world with scenic views of trees and mountain streams, all uniquely located in a lush green mixed forest of first- and second-growth redwoods. You can zip from the youngest tree on course, about 100 years old, to the oldest, somewhere between 800 and 1200 years old.
Did you know redwood trees are the tallest trees in the world? Or, that they thrive on coastal fog? And when I say thrive…think 280 feet tall! That's the size of the tallest redwood on this zip line course, although far from the tallest on record.
The first zip was a scary leap of faith, but by the third zip, I fully trusted the experience. I was able to look around, look down and not use my hands to break my speed. I never did do a "cannonball," but I had to save something for my next time, right?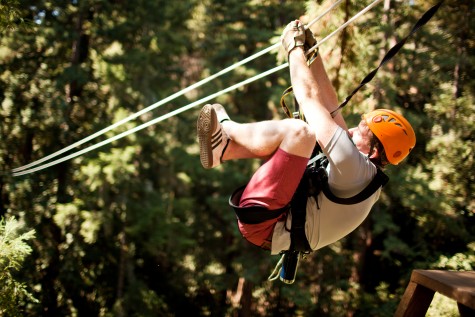 The infamous cannonball…for those who have a need for speed.
I truly enjoyed seeing the redwoods from a whole new perspective and I may be returning soon. My almost-10-year-old son is chomping at the bit to fly through the trees!
WEBSITE: redwoodcanopytours.com
WHAT: A 2-hour guided tour through the redwood canopy on 6 zip lines & 2 sky bridges
REQUIREMENTS: Ages 10+, height at least 52 inches, weight between 75 and 250 lbs.
COST: $89
WHO: Family, friends, co-workers…zip lining is perfect for a unique date, family fun, office team building…the possibilities are endless.
FUN FACT: The oldest zip liner on the Redwood Canopy Tours at Mount Hermon was 96 years old!
GOOD TO KNOW: It can get chilly while standing on a shady platform 150 feet up in the air. Even on a sunny day, I recommend wearing long pants and a sweatshirt. Cameras and video cameras require a wrist strap, but if you'd rather leave the camera behind, there are 2 built-in photo opportunities on the course.
OPTIONAL: Bring a GoPro or rent a GoPro helmet camera on the tour. It's also optional and perfectly acceptable to scream your head off or make Tarzan calls through the air–it's all about having fun!