All Photos by Garrick Ramirez
Burly lumberjacks, Hawaiian princes, and a protester who wore a dress made from hot dogs are just some of the fascinating characters that fill Santa Cruz's rich history. Below, we've listed a few of our favorite historical stories as well as the spots to experience them firsthand. Yep, we love getting lost in Wikipedia too, but local history is best explored in person.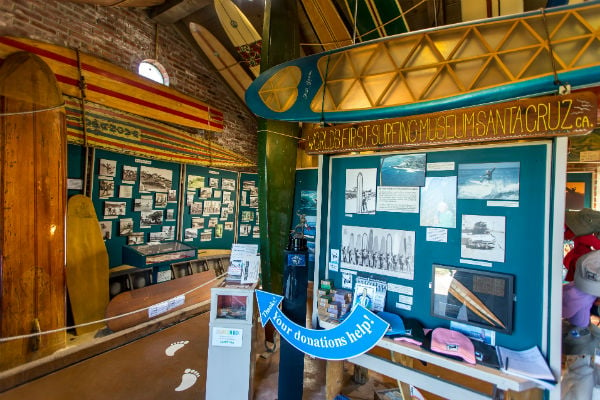 #1: Hawaiian Princes Bring Surfing
Did you know that Santa Cruz is the birthplace of mainland surfing? Using boards fashioned from redwood planks, three Hawaiian princes showed locals how to hang ten in 1885. You can learn this history at the Santa Cruz Surfing Museum which chronicles 100 years of local surf culture. Housed in the iconic Mark Abbott Memorial Lighthouse overlooking famous surf break Steamer Lane, the cozy museum is crammed with vintage photographs, surf memorabilia, and surfboards, including one sporting a jagged shark bite.
#2: Mega Shark of the Mountains
One of the most unique things unearthed in the Santa Cruz Mountains is a tooth belonging to a Megalodon, a prehistoric shark that was thought to be three times larger than a Great White. What was it doing in the mountains? Well, 10-12 million years ago, all of the Santa Cruz Mountains was underwater! You can marvel at the massive tooth at the Santa Cruz Museum of Natural History which invites visitors to discover local animals, geology, and native people through enthralling, hands-on exhibits.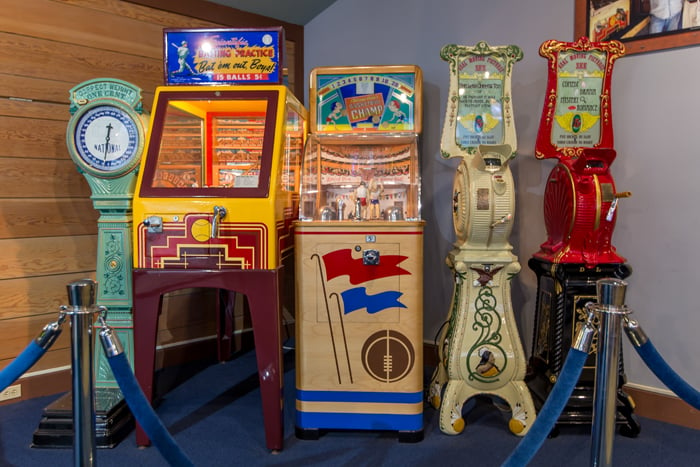 #3: Indoor Pool Acrobatics
From 1927 to 1945, fearless children and adults performed acrobatics high above an indoor salt water pool for weekly Water Carnivals held at Neptune's Kingdom at the Santa Cruz Beach Boardwalk. Today, the hangar-like structure houses a mini golf course and arcade, but you can still see the steel arches that held equipment used by the daring acrobats. On the second floor, you'll also find the fantastic Historium, a fun collection of Boardwalk memories starting with its opening in 1907.
#4: Where's Sotola?
Capitola, California's oldest beach resort town, was almost renamed Sotola in 1929 after a meeting was held to propose merging with neighboring Soquel. Sadly for Sotola supporters, the nays outweighed the ayes. For more history on this charming seaside town, head to the Capitola History Museum. Exhibitions change every year, you can see what's new and exciting at the Capitola History Museum here!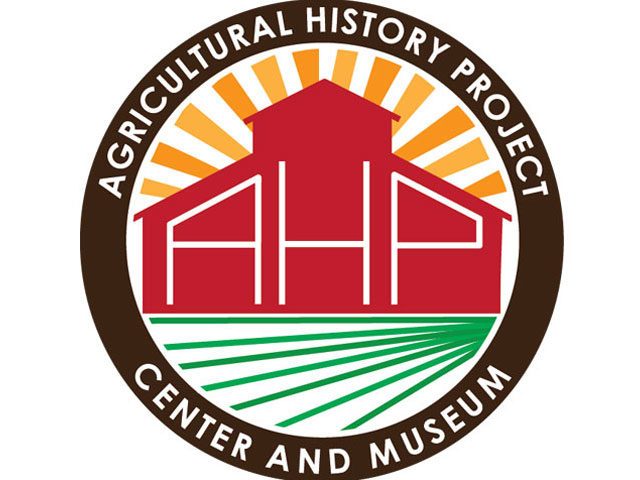 #5: Welcome to Apple City
With 14,000 acres of apple orchards, 7 frozen food plants, and 152 commercial dairies, Santa Cruz County was better known for its agriculture than its beaches in the early 20th century. The Agricultural History Project details Santa Cruz's rich food production history with family-friendly collection of artifacts and exhibits-including a virtual tractor that kids love-at its home in Watsonville, a town once dubbed The Apple City. The museum is only open on the second Saturday of each month, but they're happy to offer tours on other days with advance appointment.
#6: Local News Comes From Leaves
In 1916, Luther E. McQuesten became publisher of the Mountain Echo, a Boulder Creek newspaper that faced a paper shortage and overdue subscription fees. His solution? He printed four editions on cottonwood leaves, giving new meaning to the term "leaflet." You'll find two of these leaves at the San Lorenzo Valley Museum which welcomes the public free of charge. Housed in a stunning 1906 church constructed entirely of old-growth redwood, the atmospheric space feels like stepping back to a time when the valley teemed with saw mills, lumberjacks, and saloons.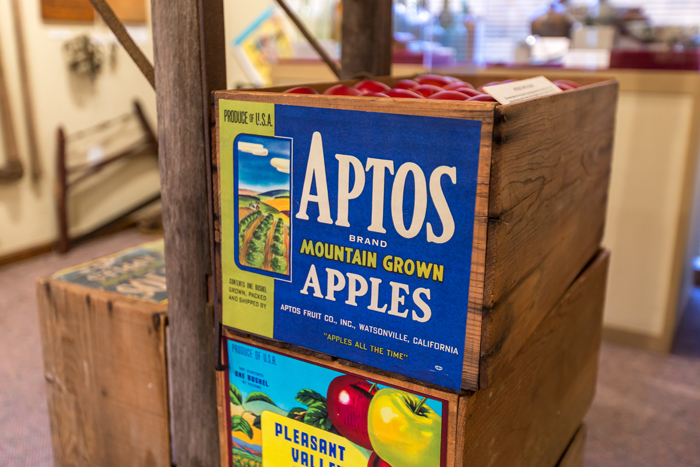 #7: Aptos' Place in History
The seaside village of Aptos was a popular a vacation destination long before California became a state. In addition to trade, Native tribes from the central valley – who today we refer to as Miwoks-trekked to these shores for the same reason you and I do today: great seafood, beautiful beaches, and perfect weather! The Aptos History Museum packs a lot of stories like these into a cozy space that's filled with artifacts and cool old pics including some amazing ones of the SS Palo Alto, the famous cement ship tussled by storms.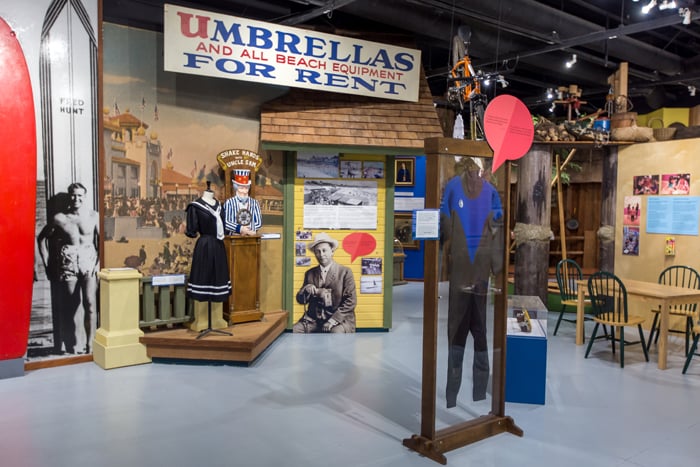 #8: The Meat Dress
Santa Cruzans may have bore witness to the first meat dress, long before Lady Gaga. As a means of protest, former model Ann Simonton donned dresses made from hot dogs, steak, and lunch meats in "counter-pageants" staged outside the Miss California event held annually in Santa Cruz. Simonton is just one of many historical figures featured at the Santa Cruz Museum of Art & History. The museum's wonderfully immersive history gallery details local history-from the Mission Era to the present-as well as the captivating people who helped shape it.
Piqued for more insight on Santa Cruz history? Visit our site which details more fascinating stories like the ones above.